JahRoc Galleries are excited to welcome Liv Vardy into the gallery as our Artist In Residence starting on the 27th April.
Liv Vardy lives in the Margaret River Region and has developed a loyal social media following and client base for her atmospheric abstract paintings.
Liv Vardy creates from her own private studio at home that is not open to the public, and has embraced this opportunity of being able to paint in the gallery and to have such a great place to meet some of her followers in person while she is here.
Take advantage of this amazing setting to meet Liv Vardy and watch her create her detailed acrylic and oil canvases.
This event is running during the 2019 Margaret River Open Studios.
LIV VARDY at JahRoc Galleries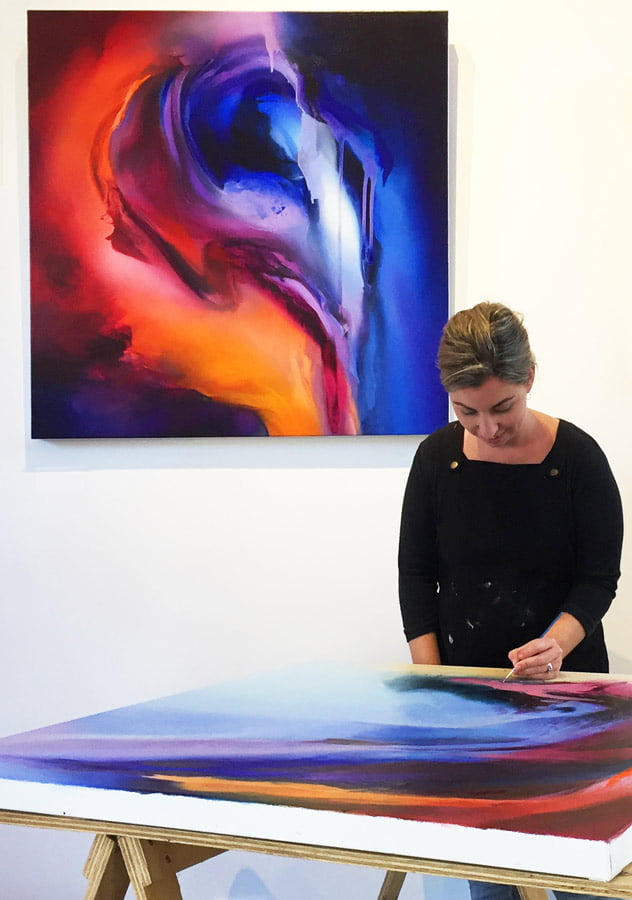 SATURDAY  27th APRIL – 10am – 4pm
TUESDAY  30th APRIL – 10am – 2pm
WEDNESDAY  1st MAY – 10am – 2pm
THURSDAY  2nd MAY – 10am – 2pm
FRIDAY  3rd MAY – 10am – 2pm
SUNDAY  5th MAY – 10am – 2pm
MONDAY  6th MAY – 10am – 2pm
THURSDAY  9th MAY – 10am – 2pm
FRIDAY  10th MAY – 10am – 2pm
SATURDAY  11th MAY – 10am – 4pm
Liv Vardy looks forward to meeing you in the gallery
Liv Vardy has been busy creating some amazing new paintings which will be on exhibition and for sale during her Artist In Residence.
LIV VARDY EXHIBITION @ JahRoc Galleries: 27th APRIL – 13th MAY
Gallery of Exhibition Artworks