Enjoy reading about contemporary jeweller Evelyn Henschke who answers questions about the age old traditional craft of glass bead making.
Getting to know….Evelyn Henschke
When did you first feel the desire to be artistic and realize you had talent?
The desire to create something goes back to my early childhood. I was always busy with all sorts of materials, paper, buttons, beads, fabric, paint, clay. Talent – I don't know. I just love my craft and I guess that many people can connect with that and feel that passion goes into a piece.
Where did you learn your art?
At the State Academy for Glass and Jewellery in Germany, where I was apprenticed as a jeweller.
What inspires you most?
Anything, but predominantly nature. I constantly absorb colours, textures, shapes. My mind seems to shuffle all those impressions and spit them out through the alchemy of glass.
What message are you sending to the viewer of your art?
Be playful
Describe your studio…
Two rooms converted into galaxies – including black holes – of art and craft material. I am a hoarder, a collector. One room is my workshop with my bead making torch, jewellers' bench and shelves filled with 204 different colours of glass, specialized tools and many, many bits and pieces. In the second room I have a three meter long table where I can spread out all my beads and pearls, put them together, shuffle them again, try a different combination, discard it and start all over again.
Describe your typical day of creating art…
Dropping off my daughter at Kindergarten, brew a coffee. Have a look at my bead bench, possible orders. Do I have to stock up on specific colours – or can I just PLAY. In case of the latter, I light my torch, fire my kiln and drift into my own space, let my mood choose colours, decorate with gold, dots, stripes, give the soft glass a tug, a twist, a push a squeeze, let it settle. Losing myself in the endless options of the alchemy of glass.
What mediums do you use and why?
Glass and South Sea Pearls. Glass got me hooked with its diversity. Hot – cold, soft – hard. Endless options I can explore while I have a great time.
Pearls are alluring and form an intriguing partnership with my beads.
What are you working on now?
Continuing my creative journey, experimenting with brighter colours, more daring colour combinations and pushing the boundaries to develop more depth and dimension in my beads. Always simplifying my beads, then making them more intricate, simplify again… starting all over. I am often astounded to find where this process takes me.
What do you love most about what you do?
Losing myself in my own space. Producing something completely unexpected and be mesmerized by it. And, most importantly, create something that brings joy.
Where can you see yourself in 10 years time?
I am pretty sure that I will still make my beads, my jewellery. Ten years ago I wouldn't have been able to imagine what my work looks like now. But I am certain that I will have pushed the boundaries further, stretched the possibilities more and still loving it.
Margaret River Jeweller Evelyn Henschke is passionate about her jewellery. Each colourful glass bead is lovingly hand made and artistically placed together with lustrous Australian or Tahitian South Sea Cultured pearls. The combination gives dramatic bold colour, and the design of the pieces gives the wearer options to change the look by interchanging coloured beads, or sliding them around, or clipping it up in a different way.

Evelyn was born in Germany where she trained in her early 30's at the Academy for Glass and Jewellery in Kaufbeuren. She moved soon after to Broome, WA, where she worked with prestigious jewellery retailer Linneys in creating a range of her captivating jewellery. She now lives in the South West of WA with her family.

Artist Biography

Evelyn Henschke was born in Germany in 1971. A trained Gestalt Psychotherapist, Evelyn applied to the Academy for Glass and Jewellery in Kaufbeuren, Germany in 2002. Due to her outstanding artistic skills, exception was made by the Academy to offer Evelyn a place in the exclusive jeweller's class where, at the age of 32 she was by far the oldest student.

Evelyn enjoyed three fantastic years inspired by her internationally respected teachers and the exuberance of her young colleagues. During this apprenticeship (2002 to 2005) Evelyn won several awards and took part in work experience with LINNEYS in Broome. This initiated a love of Broome and its' people that ensured her return. With the prestigious jewellery retailer LINNEYS, Evelyn created a captivating combination of her handmade glass beads and lustrous pearls.

In 2006, Evelyn held a solo exhibition at PEARLERS ROW Gallery in Broome. Showcasing in Broome's MONSOON GALLERY, MC ALPINE HOUSE and CABLE BEACH CLUB followed.

Today, The FREMANTLE ARTS CENTRE and THE BAY GALLERY in Broome display her jewellery. In the South West, Evelyn's work is represented by JahRoc Galleries in Margaret River.

In April 2011 Evelyn was awarded 2nd prize at the Vasse Art Awards.

The history of 'Bohemian' glass

The following excerpt is from a speech made by Trish Pepper at the opening of my showroom in Broome in 2007, it tells of my journey since arriving in Australia. I want to tell you a story. A story which involves courage, daring journeys, passion, tenacity, creativity, fine skill and integrity. It is a story of the glass bead from the Bohemian region of Europe. It is a story which goes back centuries to when a small group of German settlers discovered a fine place to make their glass products: the deep forests of "Bohemia" – Gablonz was found. It had the right minerals in the soil for glass making, oxides for making beautiful colours, forests and flowing water nearby for fuel and power to keep their furnaces hot. Their industry flourished and the glassmakers became famous for their work. Their main problem was successfully transporting their bowls and cups and other large objects to market over the bumpy roads. Sadly, despite careful packaging in straw and wooden crates, many breakages caused the glass workers to re-think their product. Smaller was better in this case and the good people of Gablonz became the specialists in Europe for glass bead and button making. Their beads and buttons were keenly sought by the fashion houses of Paris, and the colours looked like precious gemstones, at a fraction of the cost. Fashion jewellery was popular and Bohemian glass beads headed the list. Gablonz flourished over the years and may have continued to do so but for the political turmoil it was forced to contend with. At the end of the Second World War, boundaries changed and Gablonz found itself in Czechoslovakia and the German residents were forced to depart as communist Russia took power. Six hundred families bravely journeyed west and found a suitable place in Bavaria in Southern Germany. There they founded New Glabonz and with the same tenacity as their forefathers, set about their bead and button industry with renewed vigor. Still a cottage based industry with people working day and night at home and in community workrooms. During the 1950s a state academy was formed to preserve the precious skills of the silversmith, engraver, jeweller and glass bead lamp worker. Evelyn was apprenticed to this academy, attending from 2003 to 2006 and soon discovered her passion was for glass bead making. The next chapter of this story involves Australia and in particular Broome. Evelyn's journey matches her forefathers. She has shown passion, incredible courage, tenacity, skill, creativity and integrity to journey to this point today. Travelling to Broome and setting up a workshop and gallery has been a labor of love for Evelyn. The showroom a testament to her absolute dedication to her craft. She is an artisan, a master. People of Broome: The passion and vitality that Evelyn breathes into her work reflects in each and every bead which forms around her stainless steel wire in the cool mornings and evenings as she sits at her bench behind her lamp. She fears not the fire. We are indeed blessed to have her here in Broome so we can enjoy and wear her jewellery. The final chapter of her story was the introduction of pearls to her already gorgeous pieces. When a customer of Bill Reed of Linneys wanted something a little different and had previously seen amber and pearls set together, Bill suggested using Evelyn's beads to create a unique piece of jewellery. It was a marriage made in heaven! How each complemented the other: The sheen of the glass and the lustre of the pearl. Alex Ogg and Penny Arrow at Autore's Clipper Pearls personally chose pearls of "character" from their Quondong Point Farm at harvest this season. The pearls are divine and Evelyn uses them perfectly to highlight her beads. The beauty of each necklace is greater than the sum of its parts. People come to her showroom and delight in her story, her demonstration and most leave with a custom made piece of Evelyn's jewellery clutched tightly. Emails and cards arrive daily from happy customers saying how much they love their beads from Evelyn.

Trish Pepper Broome 2007

Many of the glasses I use to make my beads are still made according to centuries old formulas. There is glass that resembles amber, an other one looks like garnet, like ruby, emerald, one even has a mother of pearl sheen. But no matter how beautiful the colours are, more and more formulas disappear. They were always handed down from one generation of glass maker to the next. Today a lot of the glass production is wandering off to countries with cheaper production costs – quality and tradition disappear more and more. I find myself very fortunate to still have contact with some glass workers in New Gablonz. They supply me with the precious glass only a few people have access to. It makes me very sad that once their cellars are empty these treasures are gone for ever…
Evelyn Henschke Jewellery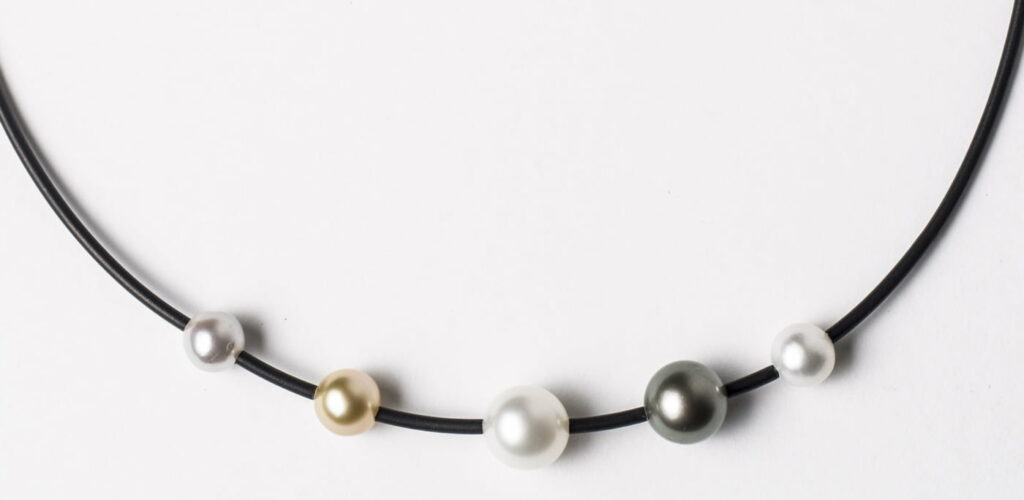 Gallery – Evelyn Henschke Studio Images
We currently have no Evelyn Henschke Jewellery available at JahRoc Galleries.