Who would have thought that over 30 years ago a couple of surfing mates, David Paris and Gary Bennett, would emerge as one of Western Australia's most respected and influential furniture designer and maker teams.

Some would say it was due to blazing their own trail of design, drawing from no particular era but preferring to be influenced by thousands of years of design culminating in the 90's and by being acutely aware of forms and textures that create their environment.

Others might say it has been their commitment to using materials that others were treating as waste such as demolished bridges / warehouses / wool stores and fallen trees left discarded on the forest floor. Perhaps, it was the way in which they cleverly combine timber, stone and iron to create functional art that people often observe and utter "Wow! I've never seen anything like that before!"

Whatever the reason, there is no doubt that collectors from around Australia and the world have given JahRoc Furniture their stamp of approval by purchasing their work.

JahRoc Furniture was founded by Gary Bennett in 1987, and after a year he formed a business partnership with David Paris. Together with their wives Lara Bennett and Joanne Paris, they own and run JahRoc Furniture manufacturing and JahRoc Galleries Online in Margaret River, Western Australia.
The JahRoc team gained iconic recognition for their retail space, JahRoc Galleries, located on the main street of Margaret River between 2003 – 2023. Gary, Lara, David and Joanne curated this inspirational and very successful Fine Furniture & Art gallery for 20 years until July 2023, when they decided to sell their beautiful main street property and opt for a lifestyle change. Read JahRoc's full history here…
The JahRoc team currently focus on custom furniture orders and online sales of furniture, art and jewellery and invite clients to make an appointment for furniture viewings and design consultations.
The Owners/Partners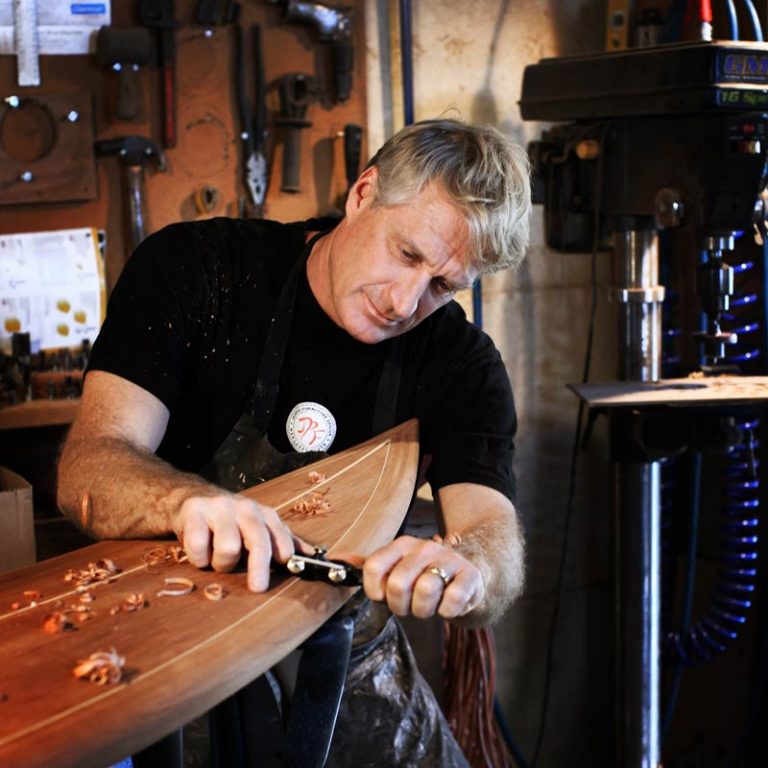 Gary Bennett
Founder/Owner/Partner, Managing Director, Designer, Maker
When did you become interested in making Furniture?
I first started making furniture for mum and dad and relatives in my Grandfather's shed when I was 14 but started tinkering making all sorts of things much younger probably at around 7 or 8. I made the decision to have a go making a living out of it when I was 25 having been doing carpentry from 15 so I had been in the timber/ construction trade for 10 years.
What is your role in the business?
I do pretty much all the design work at JahRoc, and make some custom orders and new stock for the gallery floor. I also work in sales, marketing, and business development. When we have building projects to do such as restoring the old flour Mill in York, building my home studio and our workshop in Margs as well as Gallery extensions and renovations then I take a design/project management and hands-on role in those as well.
What is your training?
I completed a Carpentry Joinery apprenticeship in 1979. I taught myself to design and make furniture. We are self-taught in business as well and have learned from many highly skilled consultants in various fields over the
What is your past experience before JahRoc?
I worked as a carpenter Joiner between my apprenticeship and starting JahRoc. In that period I was always self-employed and did all sorts of work from building timber houses in Qld to a surf shop/ restaurant in Phillip Island and installing kitchens back in WA.
What do you like about being part of the JahRoc team?
We have a fantastic team at JahRoc these days (and have had over the years) Dave is really good at running the operations at the workshop and keeping finances in order while Jo and Lara do an amazing job doing all things Gallery related. Mechelle has been an excellent addition to our sales team and Jagath is very good in the workshop helping Dave and I get the orders out the door to our happy customers. The reason I took on a partner 27 years ago was that I knew I couldn't do it all on my own and do it well. There are so many things in our business that I couldn't do well so I feel very really lucky to be surrounded by great people.
What keeps your passion alive for the business you run?
I still get a real buzz when I walk into our Gallery and see the wonderful things that we create as a team at JahRoc. To be creative and to make a living from it is very special. I am always a bit in awe of the life that JahRoc has given us. Probably one of the key things is knowing that the things we create become treasured possessions of our customers. So many of our customers have become good friends and that helps to keep the passion alive as well.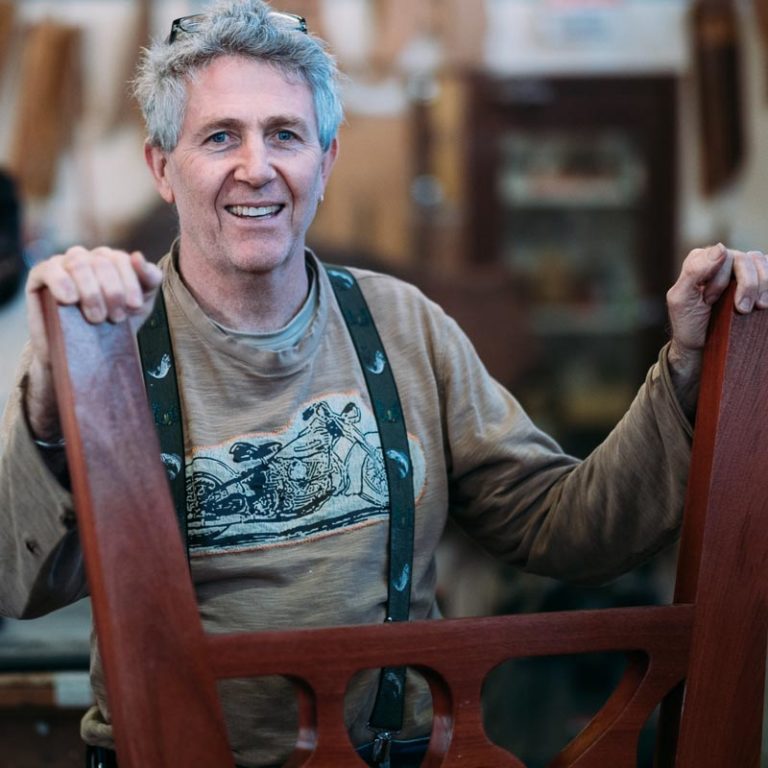 David Paris
Owner/Partner, General Manager, Furniture Maker
When did you become interested in making Furniture?
When I did my apprenticeship building kitchens, every now and then I would build some wall units and other types of furniture and I found this type of product much more rewarding. I then spent 3 years travelling and working around Australia mainly building kitchens, then 3 years around the world doing all sorts of things. When I returned I came back to Perth and saw what Gary was building and I thought that is amazing I would love to get my hands on building pieces of furniture like that….and away we went.
What is your role in the business?
My role is to run the workshop, ensure that the quality of our furniture is always going to exceed our customer's expectations and without fail that it will always stand up to the lifetime guarantee that we supply with each and every piece. I source all the timber that we use and am in charge of all the administration including financial control, budgets, reports.
What is your training?
I did an apprenticeship in Cabinet Making. I started studying accounting though found that rather dull, so I stuck to the tools. I have done numerous courses along the way on business management and sales training.
What is your past experience before JahRoc?
Left school in Kalamunda at 15 years of age and went straight into a cabinet making apprenticeship, then spent 3 years travelling around Australia, this is where I first met Gary – in a wreckers yard in Nambour looking for parts for our old Holdens. After 3 years of travelling the world, I formed a partnership with Gary in Jah-Roc Furniture.
What do you like about being part of the JahRoc team?
As it has been so long, it is a hard question to answer. I think the main thing is that you are forever growing and working out ways to deal with all the things that happen in business . It is a constant challenge, and with out the help of the whole team it would be a far less interesting or successful journey.
What keeps your passion alive for the business you run?
The main thing for me that keeps me getting up and coming to work is the amazing products we produce. We only get to see them for a very short time though I know from being in business for 27 years that the customers get to enjoy them for a much longer time. Some times I look at an amazing piece of timber that I have tracked down on one of my timber hunting trips out the back of nowhere and I wonder where it will end up. Then I have a hand in turning the raw timber into a fine piece of furniture and I hear back from the girls in the gallery how much the customer loved it. That keeps the fire burning.
Their Wives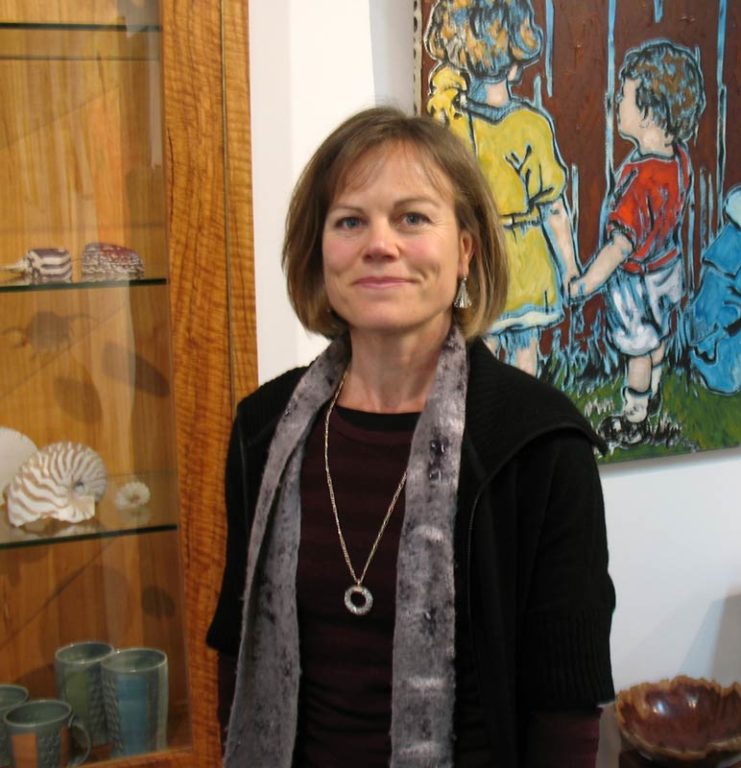 LARA BENNETT
GALLERY CO-MANAGER
How long have you been involved in JahRoc?
Since 1993. Gary and I met 6 years after he founded JahRoc, and I have been involved at varying levels ever since.
What is your role in the business now?
Gallery – Customer service/sales, Artist liaison, Curating, Website maintenance, Admin, Social Media.
What is your training?
In the above areas, I have learnt on the job. Part of being a business owner I think, you learn as you need to for the growth of the business.
What is your past experience before JahRoc?
I studied Naturopathy straight out of high school and worked as a bodyworker/masseuse for a Naturopath. I also worked in my dad's jewellery store in sales for a year or 2 before I met Gary.
What do you like about being part of the JahRoc team?
Being a part of a small family business is very rewarding. With the four of us we get a fuller more varied perspective on everything which has helped the business grow to where it is today. We are pretty lucky to all get on really well – so well that we live next door to each other!
What keeps your passion alive for the business you run?
When your customers become your friends. We have met so many great people through being able to supply them with beautiful things that they love. I think the integrity and honesty that we give out to our customers attracts these amazing people to JahRoc.Also the constant comments from people like "this is the best gallery I have ever been in" reinforces that we must be doing something right.
JOANNE PARIS
GALLERY CO-MANAGER
How long have you been involved in JahRoc?
Being Gary's sister – I have been involved since the beginning. My earliest memories are of selecting pieces of Toodyay stone from a friend's farm for our very first coffee table.
What is your role in the business now?
I work in the gallery side of the business in Customer Sales, Deliveries, Curating, and Liaising with the Artists.
What is your training?
We have employed various people to develop our expertise in areas such as sales, administration, marketing, business management, and planning. Being a small business new challenges have required new learnings as we aim to be as hands-on as possible.
What is your past experience before JahRoc?
I was a primary school teacher and also taught art. Once our children were born I left teaching and became more directly involved with the gallery side of the business. Many of my skills from teaching have been applied to my work within JahRoc.
What do you like about being part of the JahRoc team?
I enjoy working as part of a team with a shared goal and combining everyone's talents. I also enjoy the challenges that arrive as the business develops, grows, and responds to change. Being a family business, this expands to include our staff and we have made very special memories from our experiences together.
What keeps your passion alive for the business you run?
I have always had a passion for art and design in all things. I believe good design in furniture means it should also be functional, durable, and accessible.I find Artists fascinating and enjoy learning about each individual's journey as an artist. In the gallery, I love meeting new people. I am a much better shopper than a salesperson however this gives me an insight into what is important when seeking furniture and art for your home. New directions have extended me to learn new skills and that in turn keeps the passion alive.
Their Staff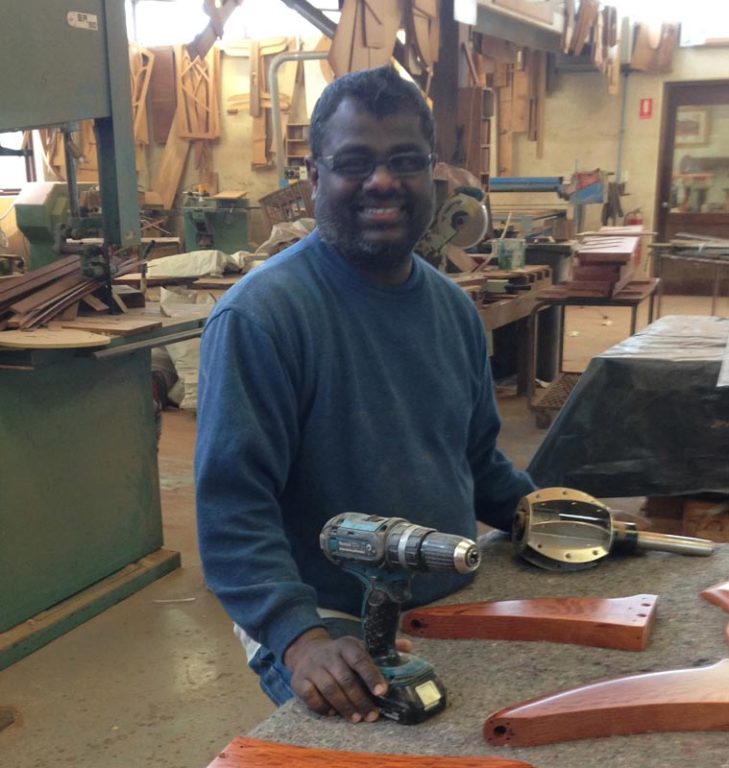 JAGATH PRASANTHA
FURNITURE MAKER
What is your role at JahRoc?
Build furniture to the quality guidelines of JahRoc. Manage staff members in the workshop and train them in all systems and quality control. Look after and keep record of all timber in the yard. Select correct timber for each job and use it economically.
How long have you been working for JahRoc?
Since 2007.
Why did you want to make the move to Australia?
Better future and good education for my kids.
What is your training?
Class 2 cabinet maker.
What is your past experience?
Ever since I was little, cabinet making has been my hobby. My actual past job experience is Factory manager in the Garment Industry in Sri Lanka.
What do you like about being part of the JahRoc team?
Friendly working environment.
What keeps your passion alive for the work you do?
I love my job, every day there is a new challenge and things to do.
---
JahRoc is a team dedicated to serving their customers. Nothing is ever too much trouble, and all the testimonials attest to this. We do what we say we will do, without exception. JahRoc's customer service does not stop as soon as the sale is made, but is an open-ended commitment.
Integrity | Experience | Knowledge | Service