JahRoc Galleries have been selling beautiful individual glass art pieces by Perth Glass Artist Margaret Heenan for many years now. She consistantly produces impeccably designed and made glass art using vibrant colours and patterns. She likes to work large scale like her 1m long table platters, and large round bowls that look more like a painting than a piece of glass. Here we are finding out what inspires Margaret Heenan to produce her glass art.
Enjoy getting to know…. Margaret Heenan
When did you first feel the desire to be artistic and realize you had talent?
The realisation I had artistic talent came early when I was at school (Oxford, England). I was an enthusiastic art student and always managed to achieve above average grades. However, I didn't formally pursue this until I was a mature age student studying for a Bachelor of Fine Art at UWA from 2000-2004. The interim years were spent training and working as a registered nurse in Oxford, then at Sir Charles Gairdner Hospital in Perth.
Where did you learn your art?
As a 2nd year Fine Art student at UWA I decided I would use the fascinating medium of glass. It is imbued with complex metaphors and dichotomies. For example, transparent/opaque, open/shut, it supports buildings yet can be paper thin; it can be smashed in an instant yet take months to create. It can protect you, yet kill you.
As UWA didn't formally "teach" glass studies, I enrolled in some weekend glass courses at Curtin University to learn some fundamentals. In my final year I was granted permission by UWA to enrol as cross institutional student to study at Edith Cowan University, Mt Lawley Campus, where Nein Schwartz was head of sculptural studies which included glass. There I studied with renowned glass artists David Hay and Holly Grace. I am most grateful for the support given to me by UWA, and in particular lecturer Penny Bovell.
What inspires you most?
Hmm. That is always an interesting question. I have 2 particular "looks" to my glass – painterly and linear. I am attracted by the orderly, colourful and repetitive patterns seen in vintage designs for my linear work. Typically these designs evoke a sense of nostalgia, having grown up in the "swinging 60's & 70's" when they were appearing on the mass market on wallpapers, home wares and textiles to name but a few.
My painterly work is strongly influenced by the Australian landscape, as are many artists. It is strong, with great clarity of light in particular. The colours, the shapes and complexity are wondrous. Eucalyptus trees, either in abstract form or representative often feature in my work. My husband and I are fortunate to own a rural property in Rosa Glen, Margaret River, so it is inevitable that the rugged Australian landscape subconsciously penetrates my spirit.
What message are you sending to the viewer of your art?
I hope that my enjoyment in the making is self evident. I prefer my glass to be considered as artworks rather than functional pieces. With my painterly pieces, the viewer is drawn to look at the depth within the piece, usually comprised of 3 or more layers of glass.
Describe your studio…
I am most fortunate to enjoy working from my studio which is within the family home. We knocked through 2 rooms to accommodate it. It is compact, comfortable, light and a pleasure to be in. I have old carpet on the floor, nothing precious. My kilns are under cover at the bottom of the garden.
My working table for assembling glass is electric. The 1200mm x 1200mm surface can be powered up or down. As I stand for long periods, the height of my table is 93cms from the floor. This allows me to work for extended periods without causing discomfort to my spine.
I have a separate area next to it for cutting the glass. Here, I need a bin (often an empty wine carton!) in which to discard unusable off-cuts of glass. This allows me to put it directly into the household rubbish bin for collection.
It is imperative to keep the cutting surface clean and orderly, otherwise I can quickly end up in a muddle, and glass doesn't like being muddled!! It can very quickly cut me, giving me a "sharp" reminder not to become blasé with it. Also there are a variety of rulers, glass cutters and glass pliers to one side.
My full sheets of glass are stacked in a custom-made compartmentalised shelf along one wall. The majority of sheets are 60cms x 60cms. They are housed according to colour, transparency or opacity. I have other smaller compartments for half sheets and smaller ones still for usable off cuts. It is vital to keep them orderly and easily visible. Along another wall I have shelves that hold all my powdered glass (frits) which are in jars which are arranged by colours.
Within easy reach are my 2 glass saws. They are water driven to keep the glass cool, thus preventing it from cracking due to heat. I have a glass grinder for refining the cut edges of glass which is also water driven. I use a light table for checking how well the edges are fitting together.
Describe your typical day of creating art…
My work is typically made with me standing, it is easier to cut or paint the glass, so I can be on my feet for many hours.
If I am starting a new linear design, I draw ideas on paper first. When satisfied I carefully redraw the design to scale, called a cartoon. Decisions on colour choice then have to be made, for example where the transparent and opaque glass looks best within the design. Then the process of cutting, grinding and fitting the sections of glass together begins. This can be very exacting, as the pieces must fit seamlessly together prior to firing. The glass has to be thoroughly cleaned prior to firing that includes all edges, especially any that have been ground, as this action produces a sugary substance that will leave a "dirty" mark in the fired glass. It is then taken to the kiln for the first firing. Sometimes more detail is added at the kiln. Various designs require multiple firings – full fuse, tack fuse and finally slumping, depending on the design.
For painterly pieces, which are much more spontaneous, I mix up my enamels with water to a creamy consistency and apply to glass using a variety of tools – for example brushes, eyedropper and sponges. This is allowed to dry and is fired into the glass. More layers of paint or frit glass can be added and fired again to build up the colour density.
I frequently work on both "looks" at the same time.
What mediums do you use and why?
I use System 96 fusing glass. It is made in the USA by Spectrum Glass. All the glass within a design must be of the same "family". That includes the frits. If not, then after firing the glass will crack, if not immediately, then certainly later down the track. There are 2 main producers of fusing glass – System 96 and Bullseye, both American. When I started out I used System 96 because it is a smoother glass and easier to cut. I have stayed with it ever since. I have had some of my work published in their catalogue, of which I am proud as it is seen all over the world!
The enamels I use are also American (Sunshine enamels) and are proven to be compatible for use with System 96 glass. I buy these from the Warm Glass website. These come in powdered form and can be mixed with a variety of mediums – water, pine oil etc. They are able to be fired up to 795 degrees C without losing their colour.
What are you working on now?
I have just completed a glass triptych of an abstract painting titled "ComeBack" by Rob Forlani for a client of his. I am currently working on 2 pieces for the Jah-Roc Gallery, Margaret River WA – both are retro/vintage table pieces.
What do you love most about what you do?
The Ying & Yang – predictable vs unpredictable. My linear work is considered and predictable whereas the painterly is often unpredictable and serendipitous. Opening the kiln and seeing the result can cause my adrenalin to increase! Making glass pieces that somebody likes enough to purchase is most rewarding and satisfying. Never regretting taking up glass studies in the knowledge that I have much more to learn on my artistic journey.
Where can you see yourself in 10 years time?
I do tend not to repeat pieces, but I would like my work to be recognisable as a Margaret Heenan piece! I will continue to experiment with the use of enamels in particular, and possibly make pieces that are comprised of many more layers, which requires further education for me in the process of the firing and annealing (controlled cooling) schedule of thicker pieces.
Skillful glass artist, Margaret Heenan works from her studio in Perth, Western Australia. Her kiln–formed work ranges from painterly through to linear. Margaret Heenan's painterly panels often incorporate other substances such as gold leaf and wire while her linear work is highly structured and restrained.

Since graduating from the University of Western Australia with a Bachelor of Fine Arts Degree in 2004, glass artist Margaret Heenan has concentrated on developing her practical skill in the process of kiln-formed glass at her studio in Perth, Western Australia.

The versatility and translucency of glass present the viewer with the opportunity to see through it in several different ways simultaneously. This multifocal vision resembles the photographic process, presenting imagery surprisingly reminiscent of landscapes. The scope of the artist's work ranges from painterly through to linear.

Margaret's painterly panels invariably evoke a strong connection with the land. By layering several sheets of glass, often trapping fine substances such as gold leaf, copper wire, strands of fibreglass and aluminium, the artist adds richness, texture and depth to her fluid-edged and singular works. Margaret works intuitively, painting high fire glass enamels directly on, under or between sheets of glass, often all three. Consequently, her presence becomes integral to the narrative of the work as she controls its translucency, colour and line. Her work is frequently fired four or five times in order to achieve the desired effect, inviting the viewer to look beyond the surface.

By contrast, her linear work is highly structured and restrained. She makes detailed drawings and paintings of the design prior to cutting the glass which must be accurate to achieve a seamless fit. The interplay between colour, transparency and opacity is of paramount importance, providing its own set of challenges. The result is an individual artwork which shares a personal engagement with the viewer.

Margaret's journey is continually evolving; her wish is to create rewarding art for the artist and audience.
If any of Margaret Heenan's impeccably designed and made glass art below catch your attention, JahRoc Galleries will be happy to discuss the process of commissioning a specific artwork.
Margaret Heenan Glass Art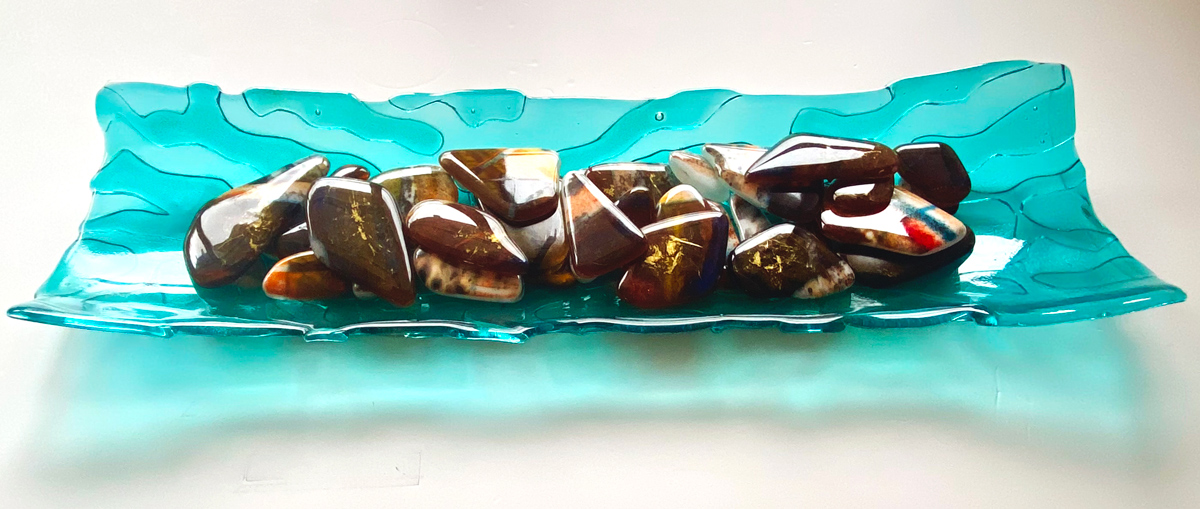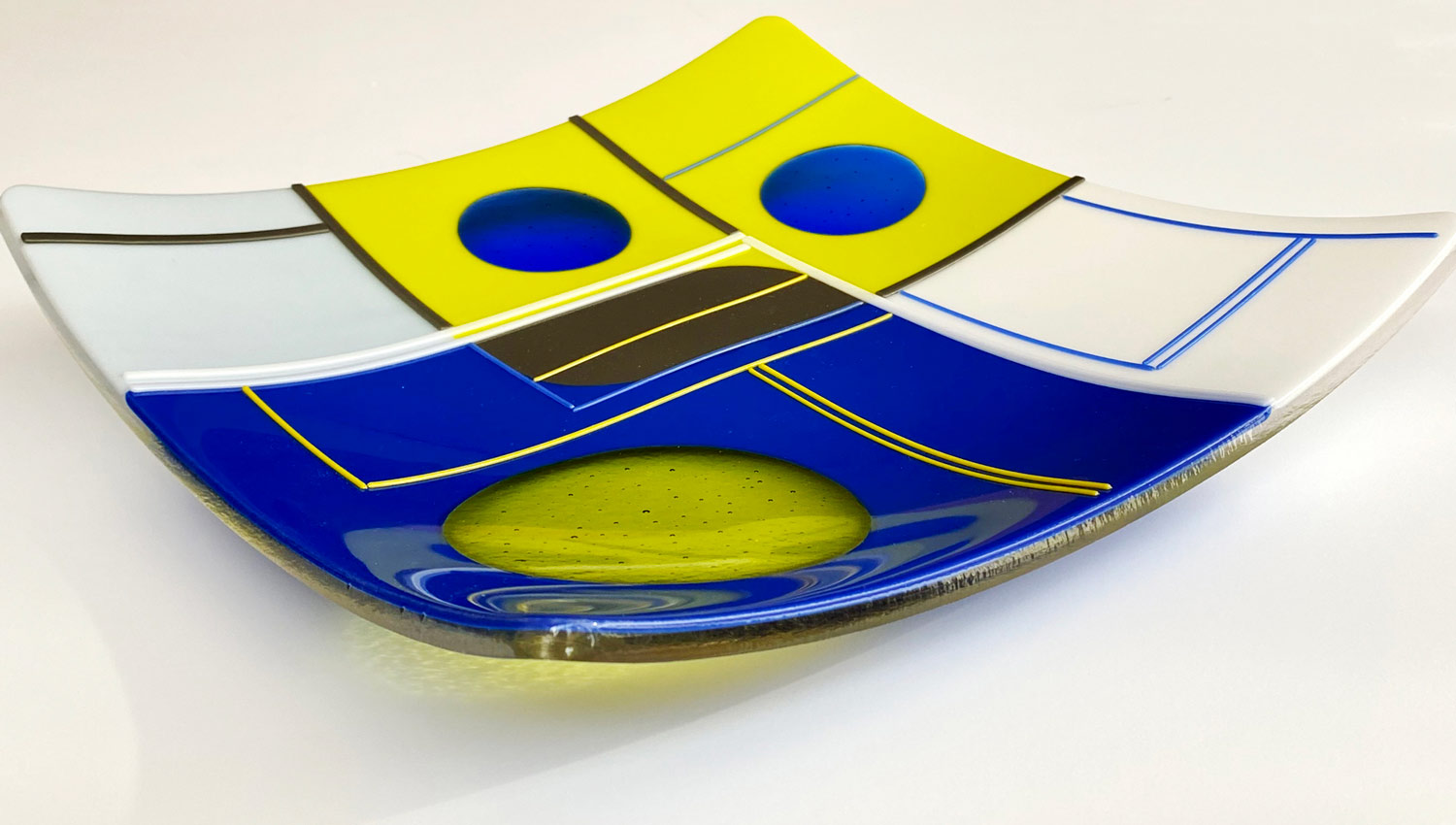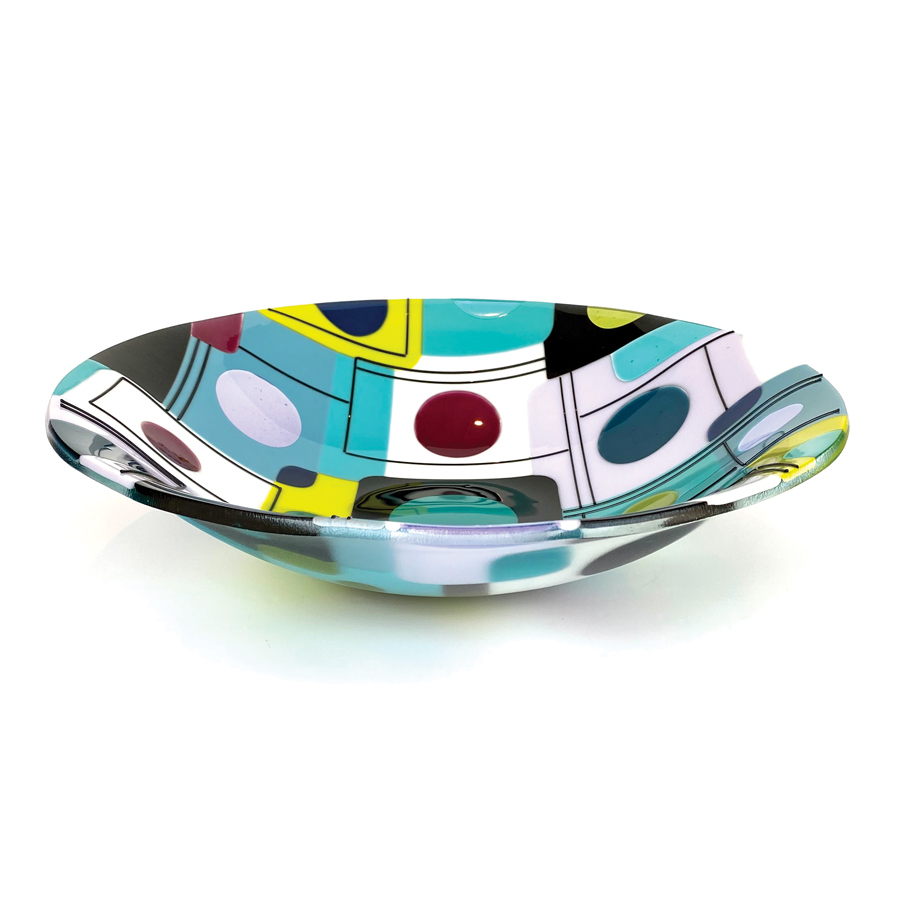 Margaret Heenan Recently Sold Artwork At JahRoc Galleries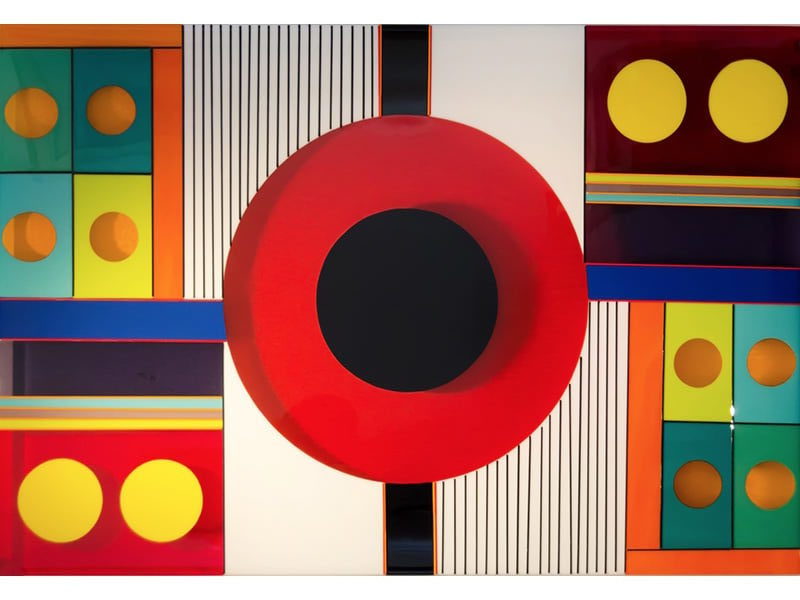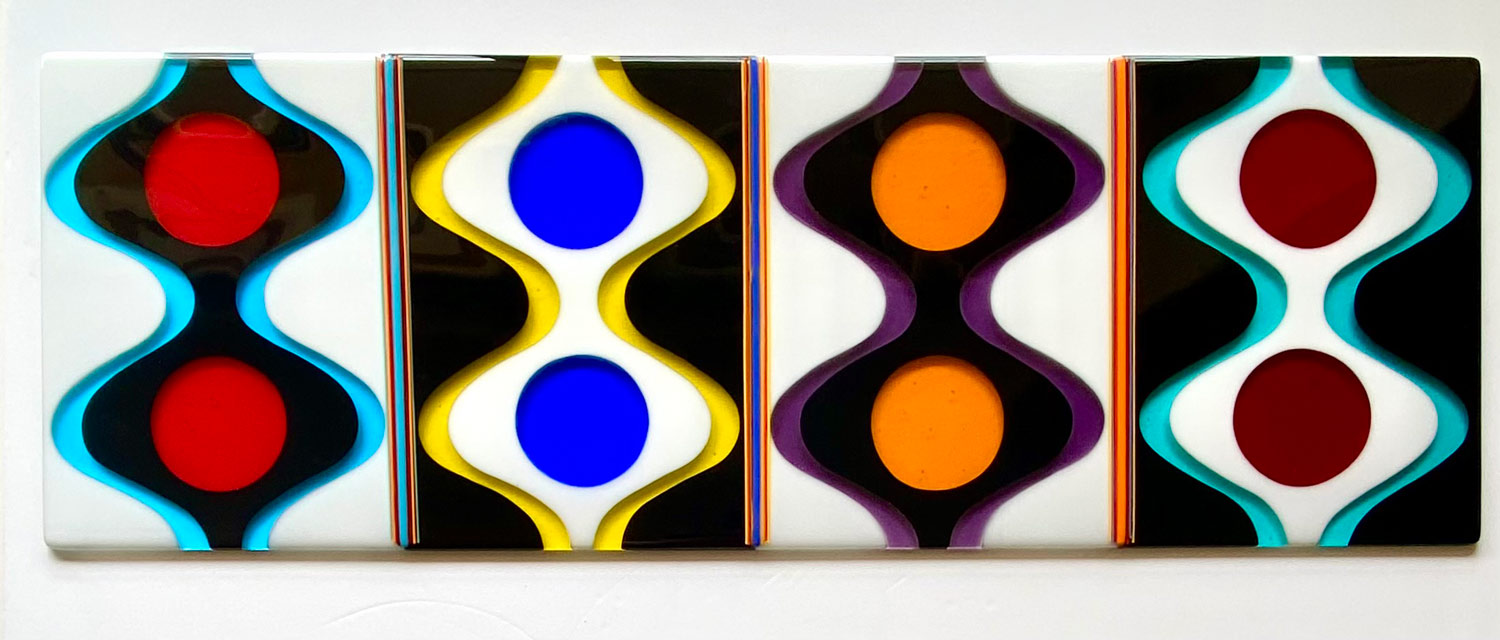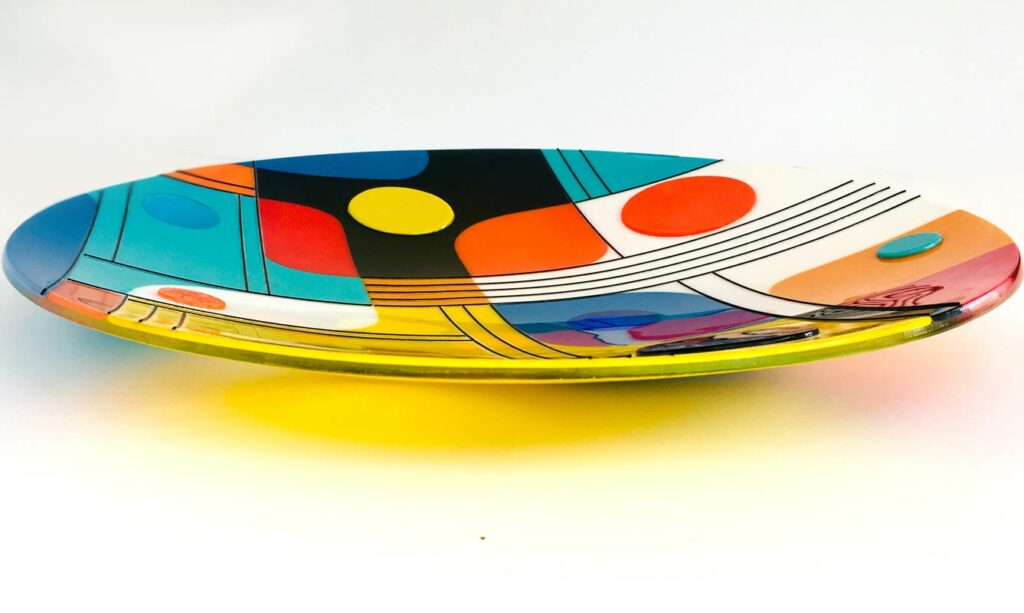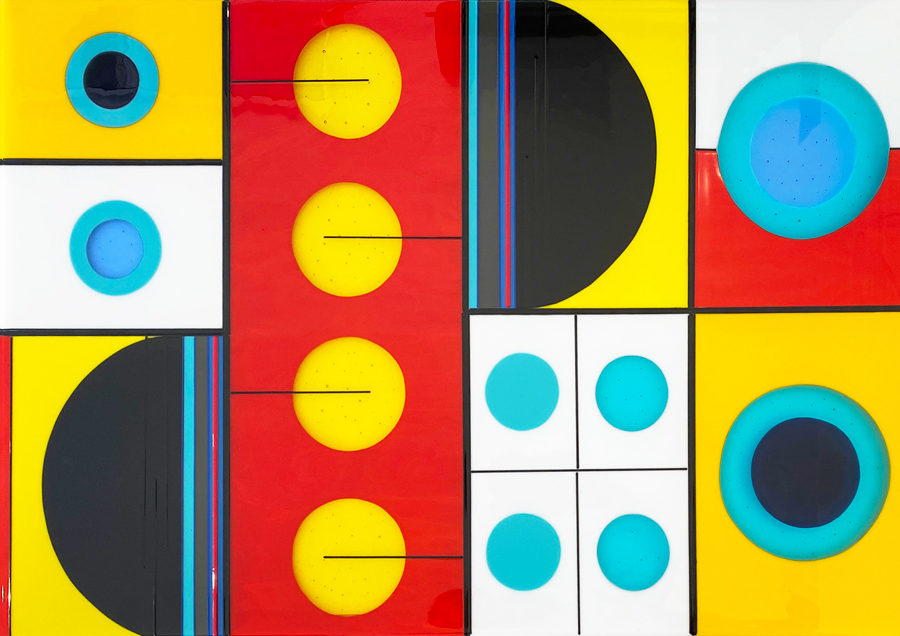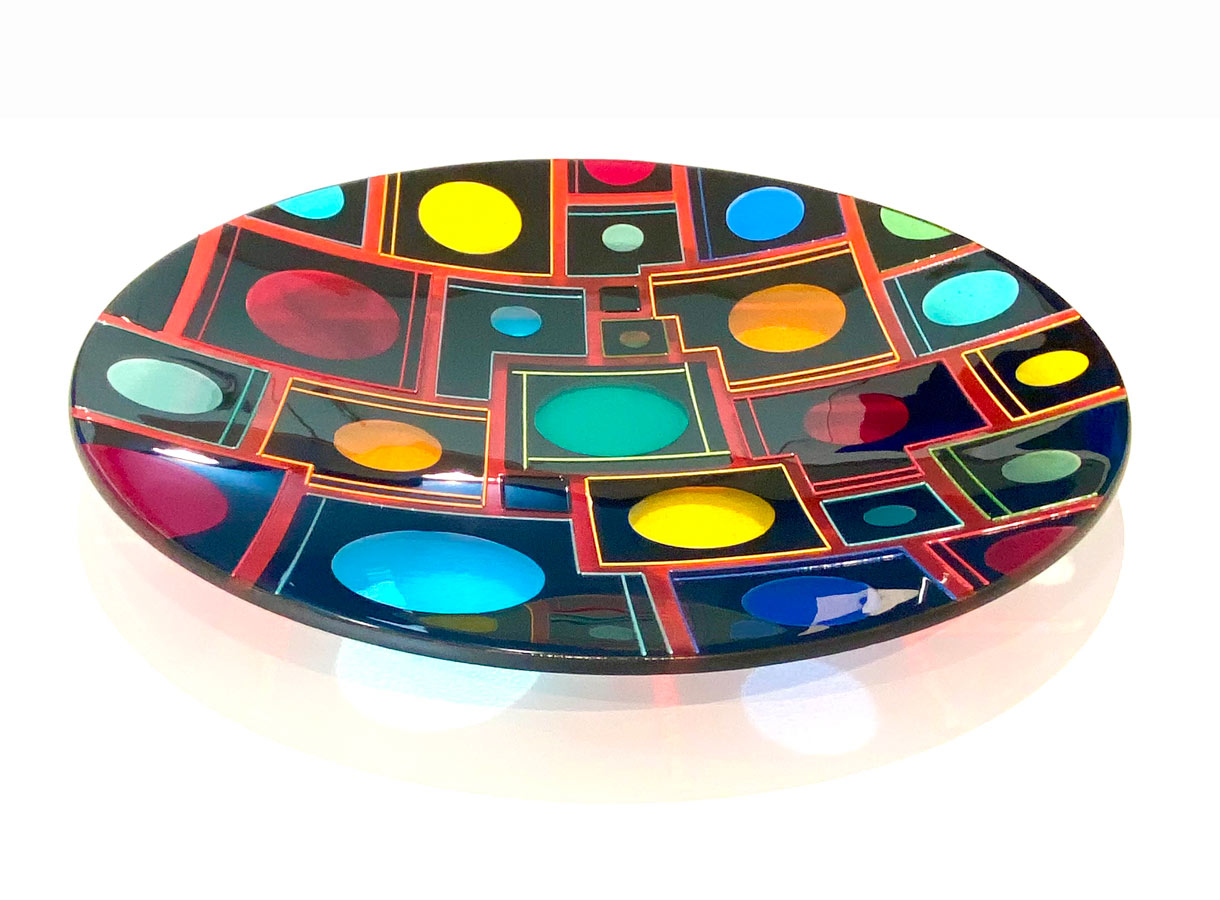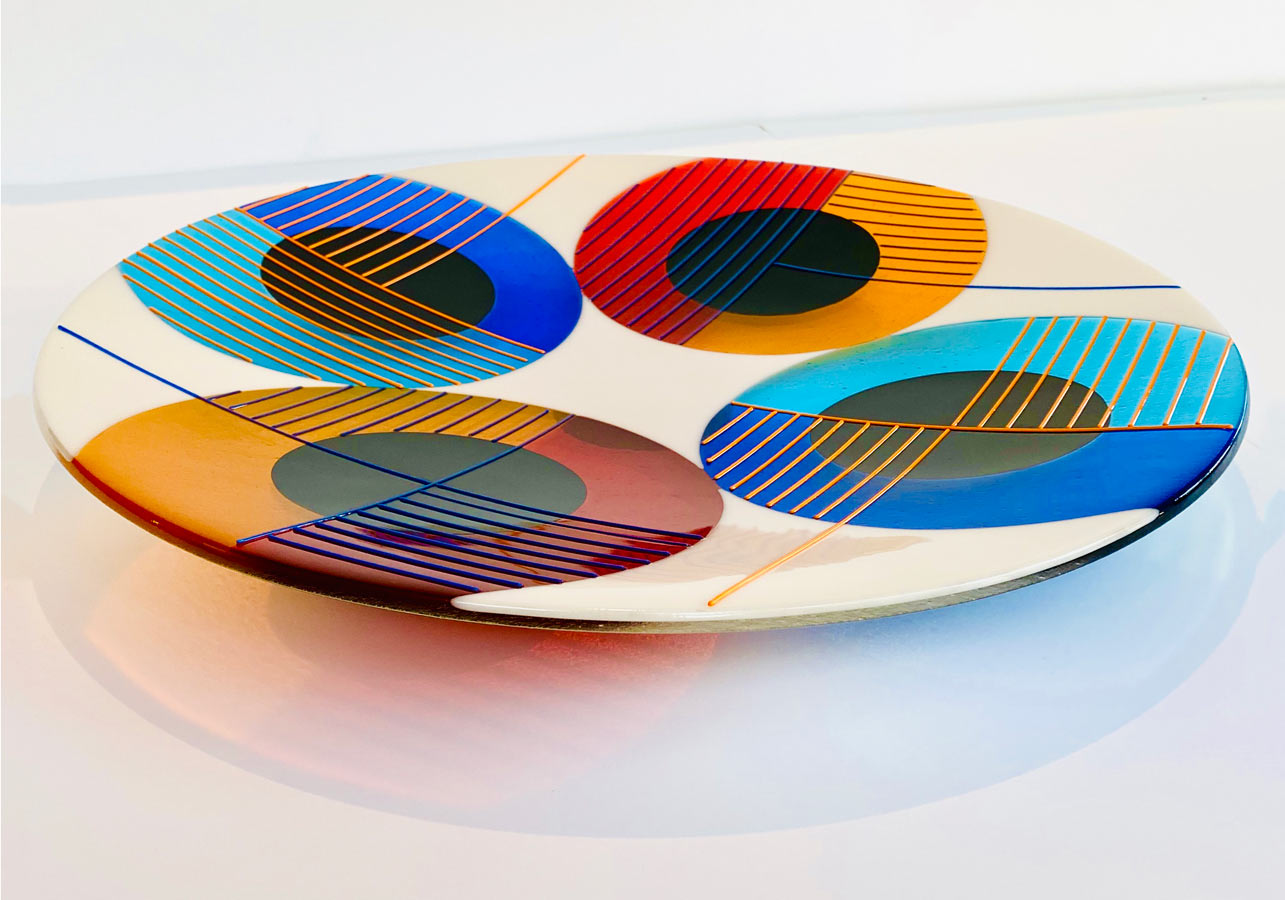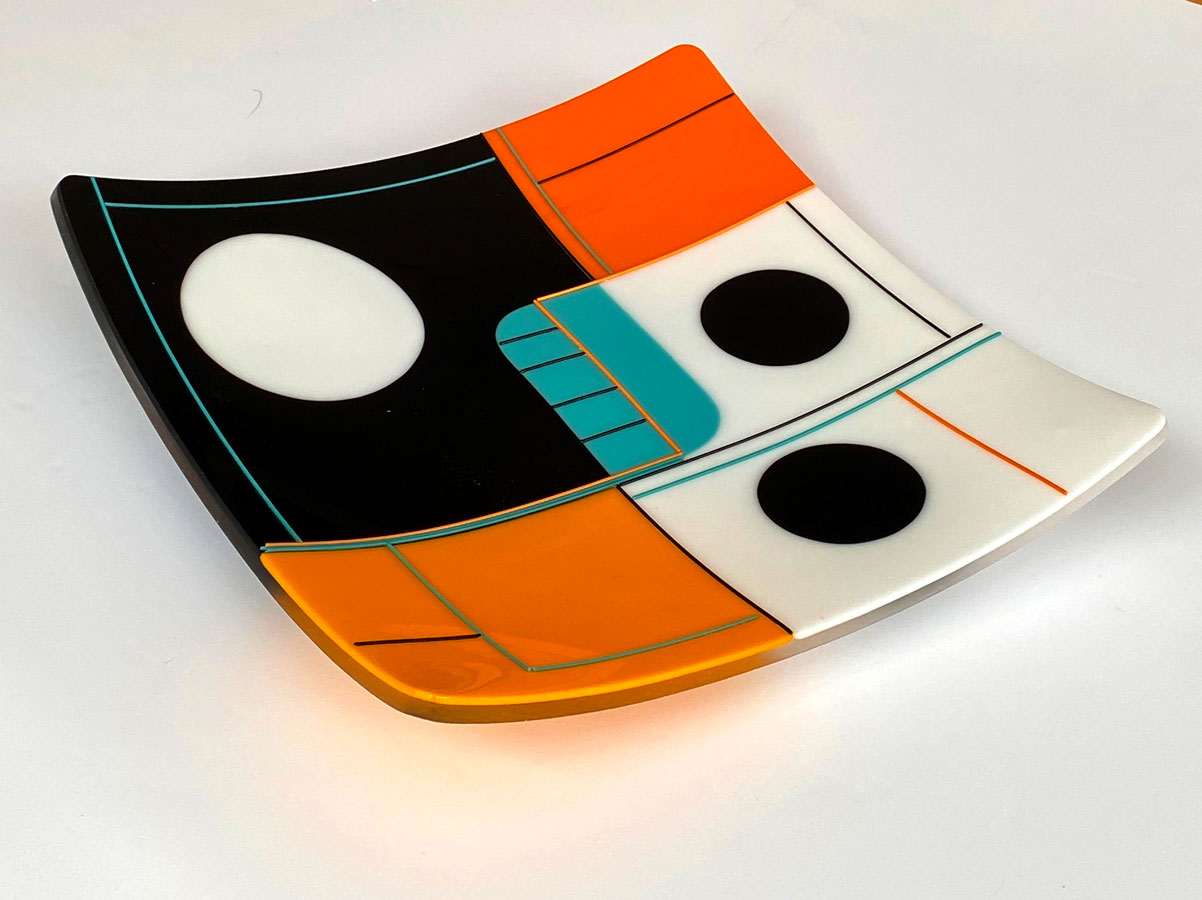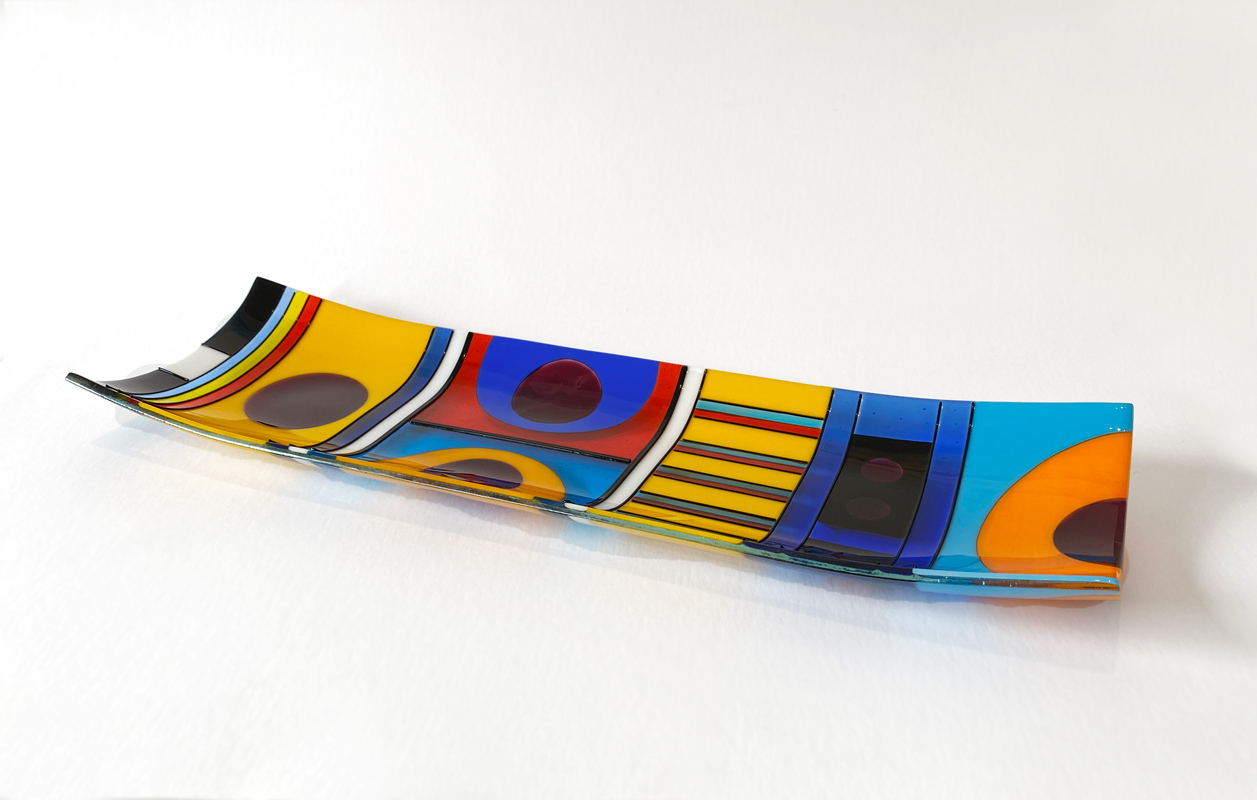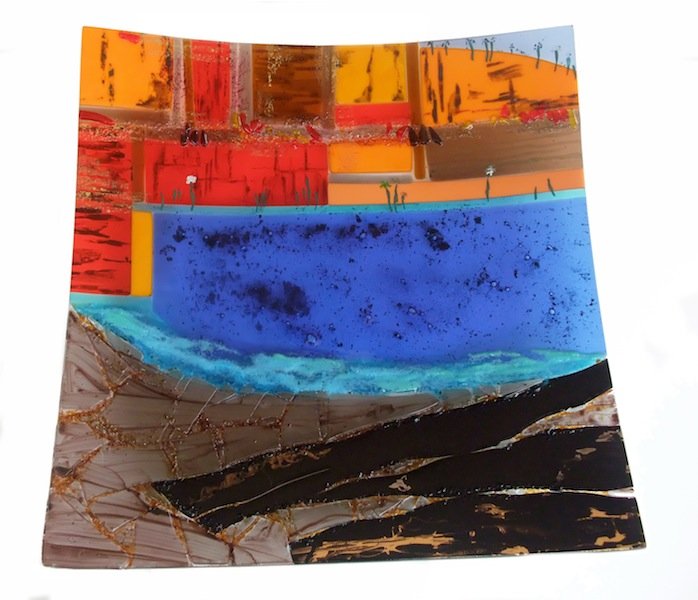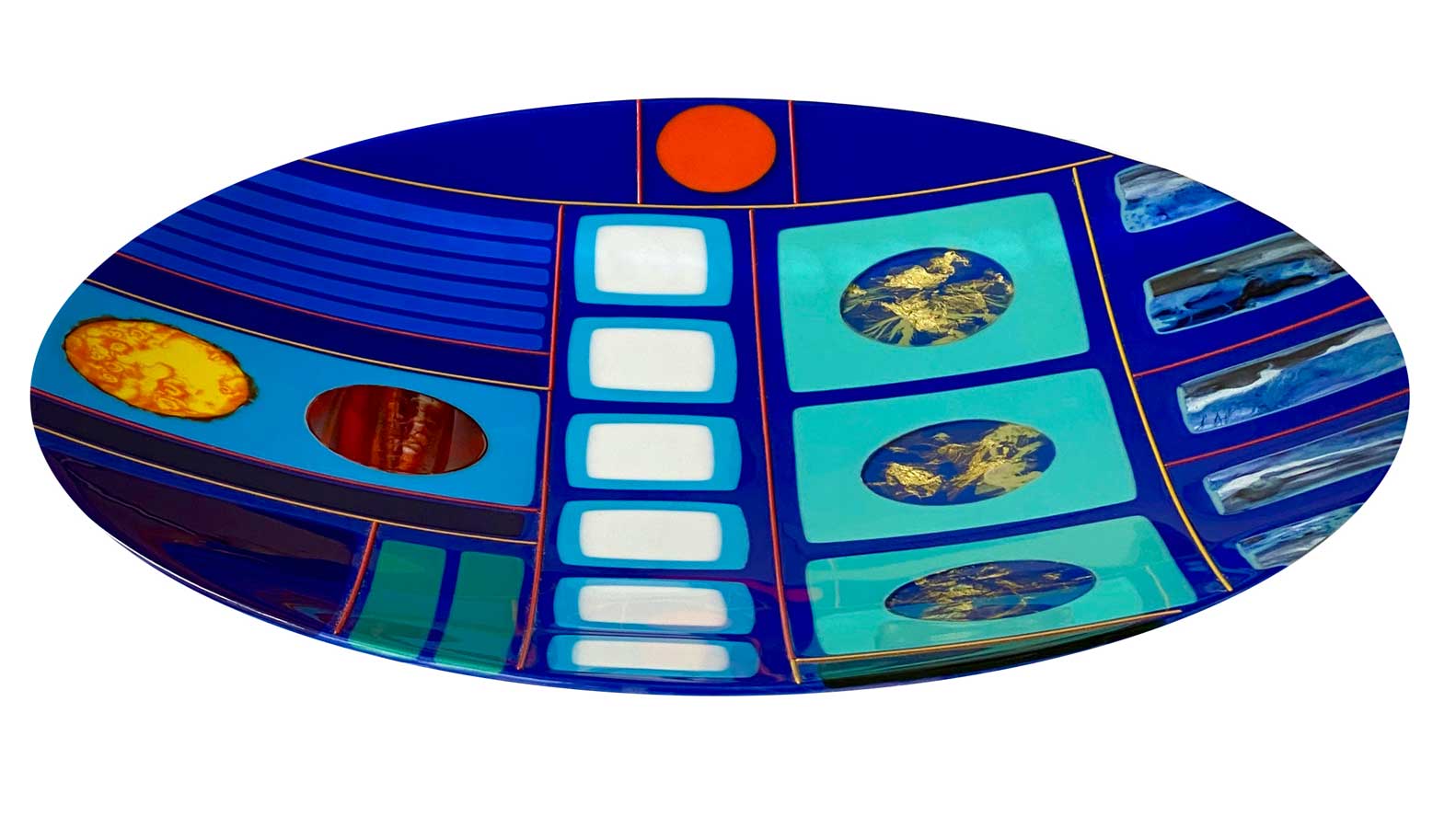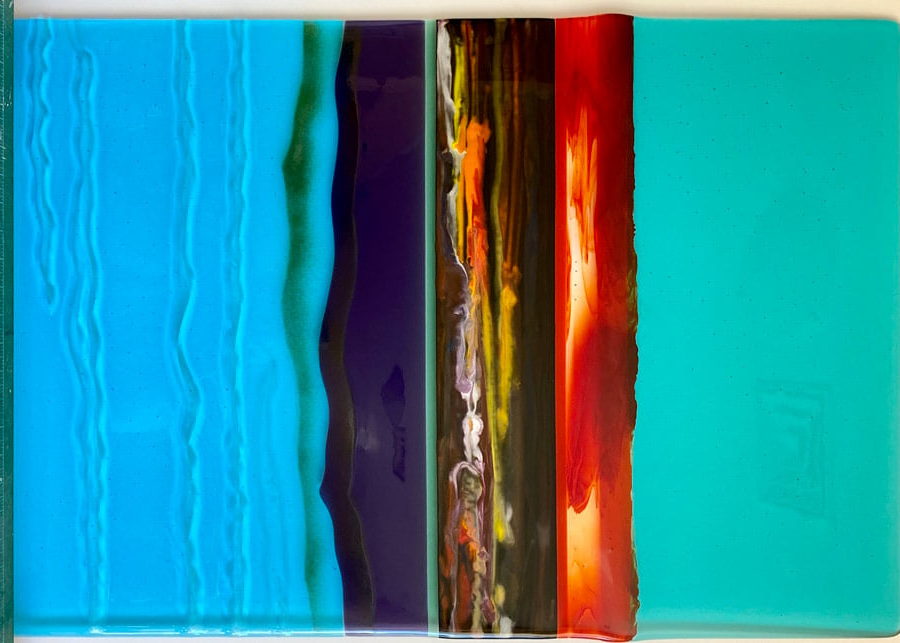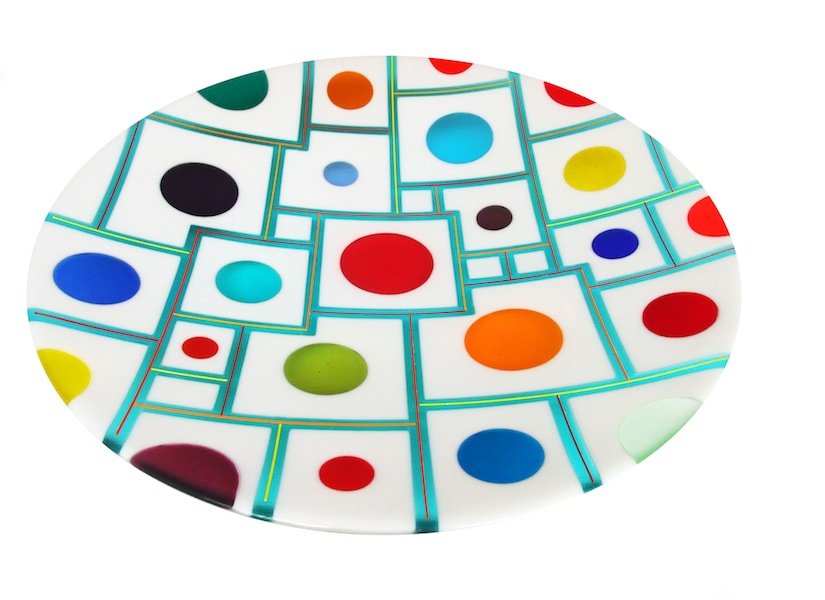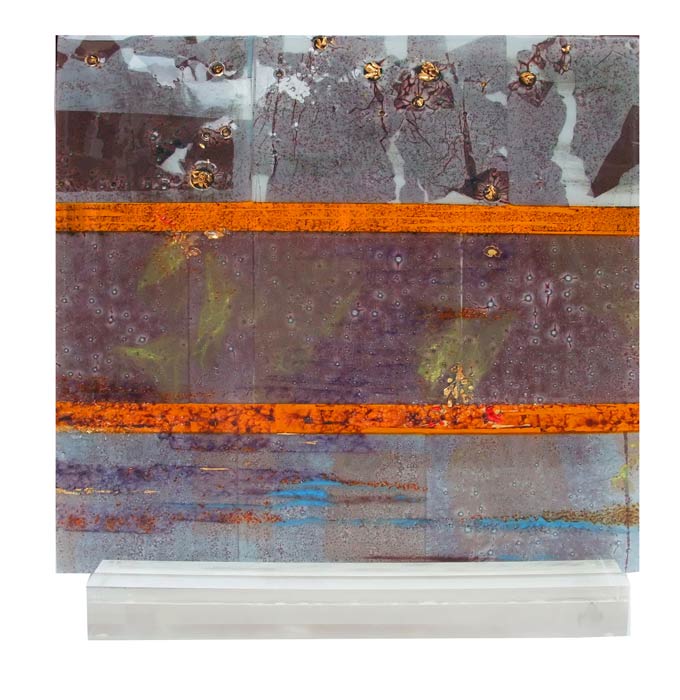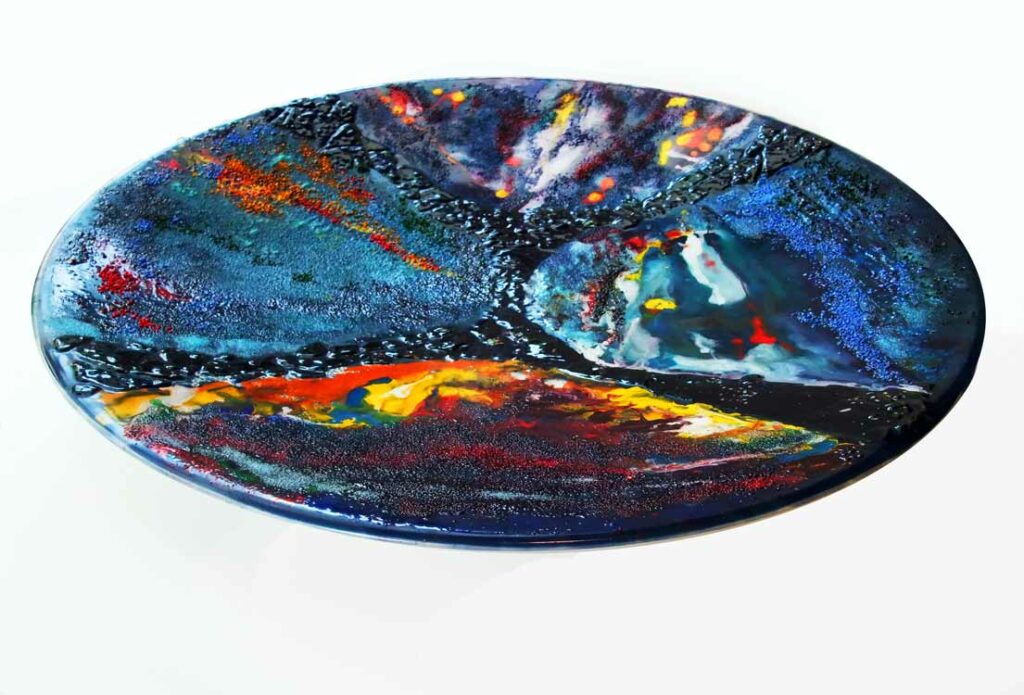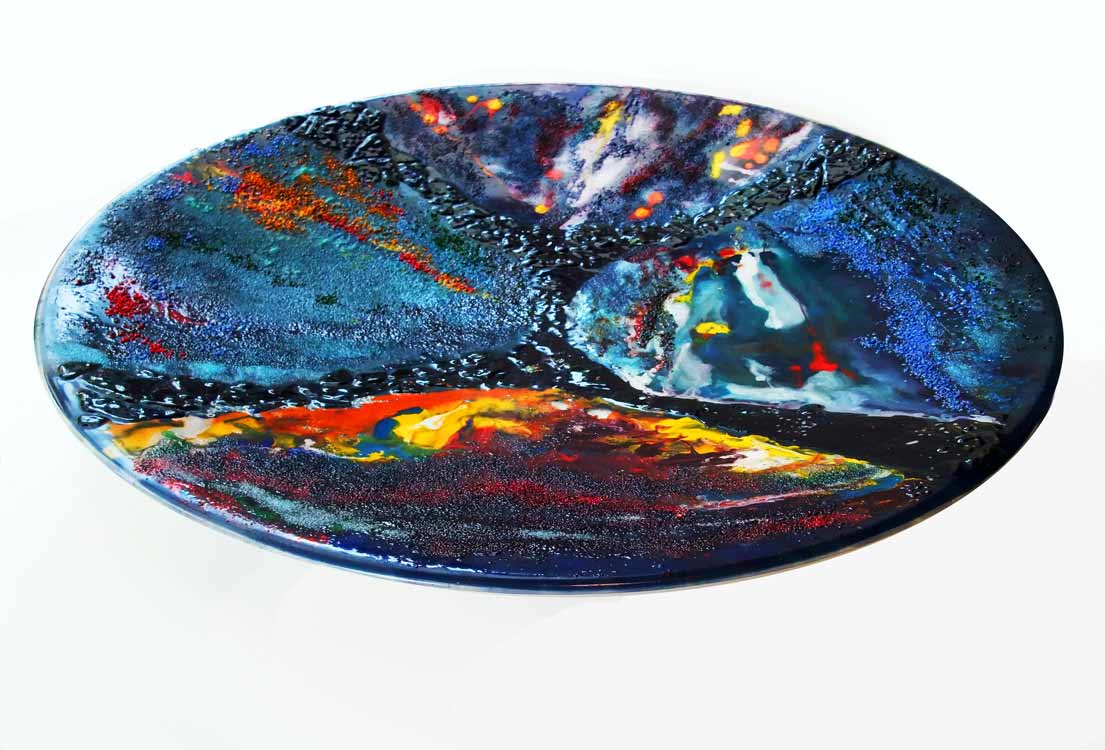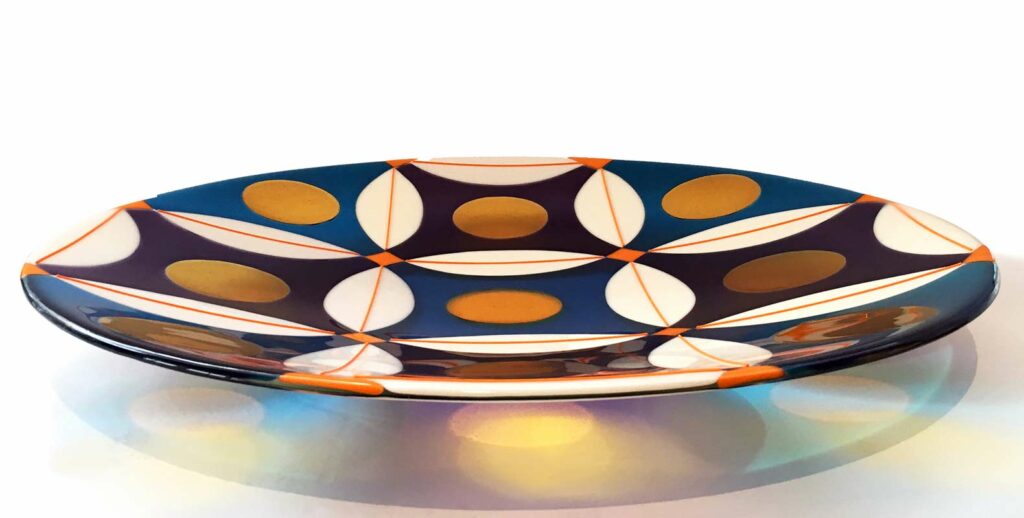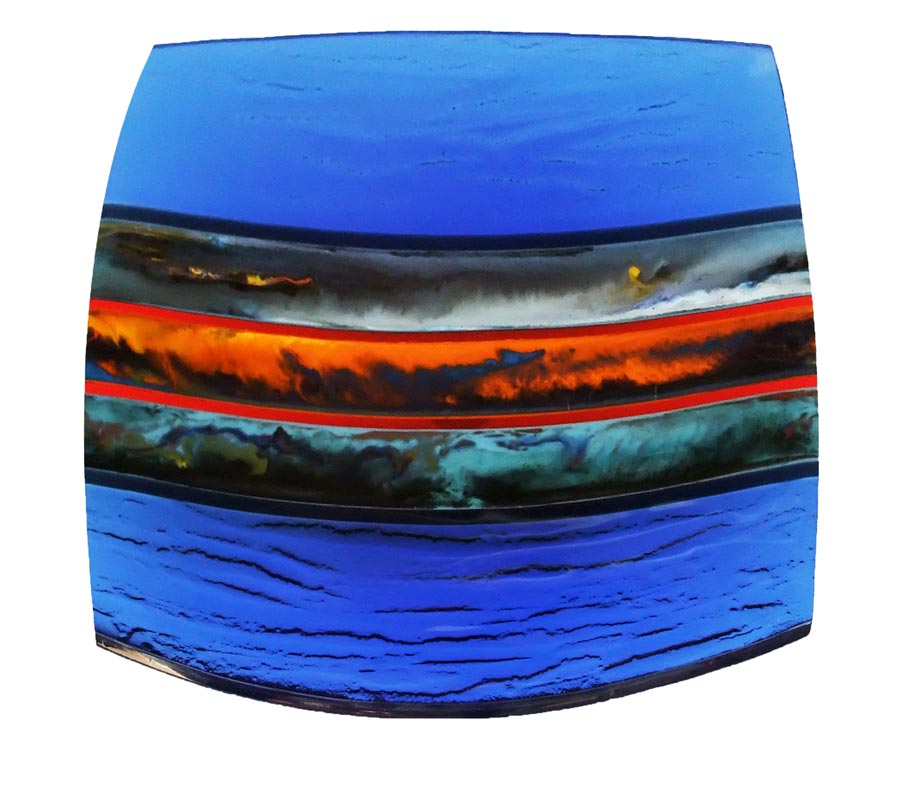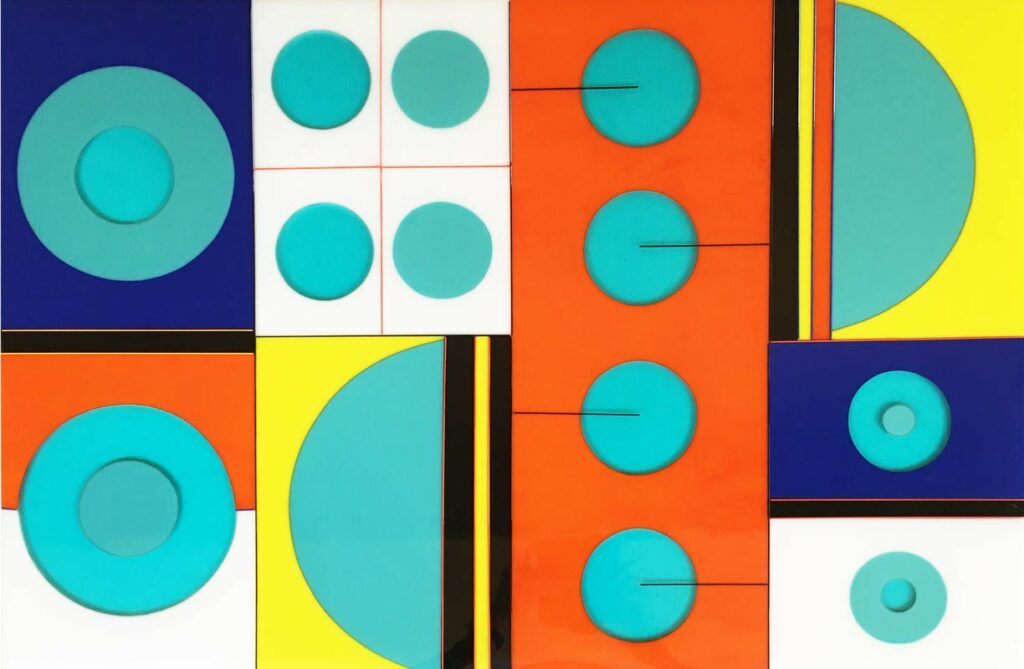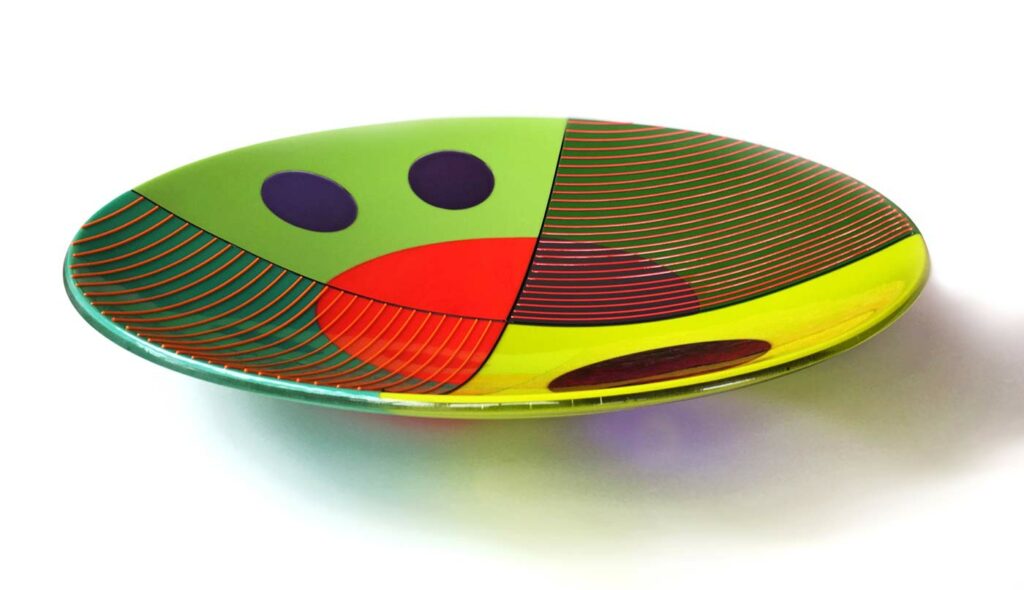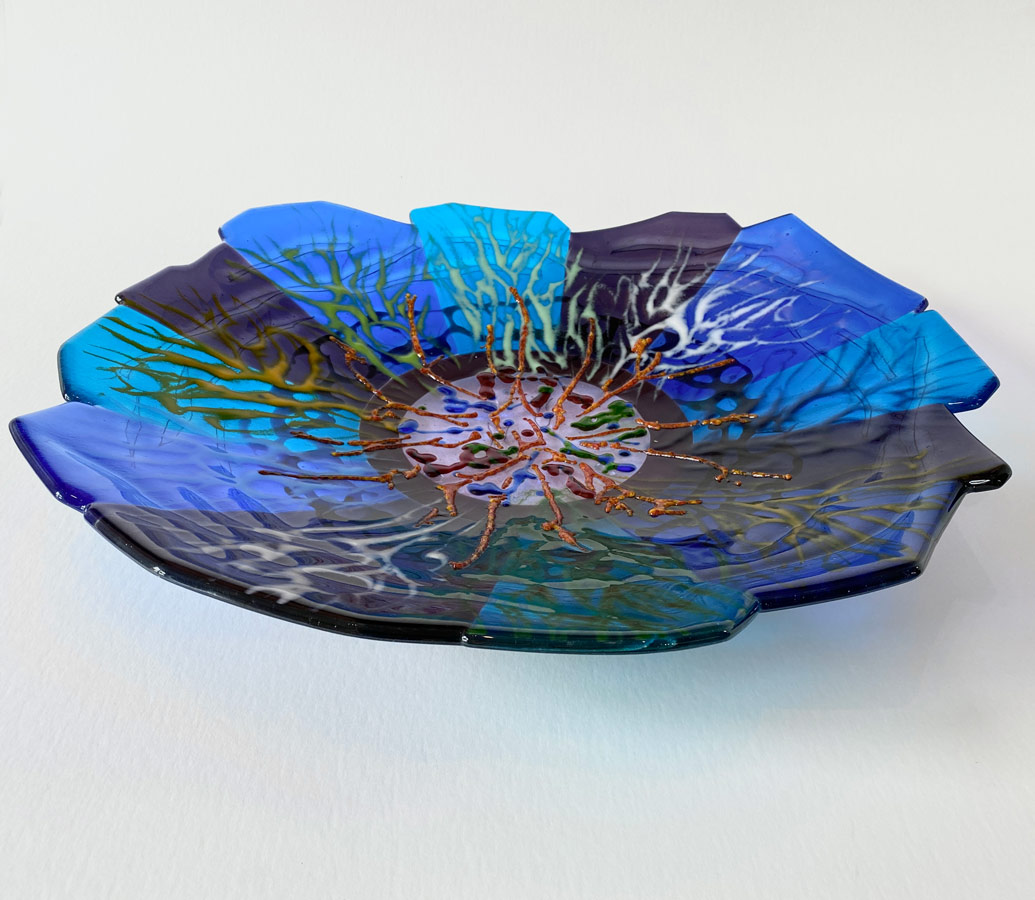 ---
We currently have no Glass Art by Margaret Heenan available at JahRoc Galleries.