Following in the footsteps of her family Gemma is a fourth generation jeweller based in the coastal town of Geraldton in Western Australia. Over the past fifteen years Gemma Baker has developed a unique style and is well known for her beautifully crafted jewellery, adorning wearers nationally and internationally.

Gemma has perfected the art of knitting pure silver and 18ct gold and her resulting Knitted Collection are truly unique and stunning pieces that often incorporate beautiful Abrolhos Island pearls and precious gemstones. Gemma Baker creates works of exceptional difference transcending the traditional production of jewellery to the making of important art.
Born in rural Merredin in the summer of 1969, the second eldest of four girls, Gemma Baker was happy when the family decided to move to the coastal town of Geraldton when she was eight years old. She adapted to the oceanic lifestyle instantly. The Baker family were returning to their roots as Gemma's great grandfather Douglas Harry Baker immigrated to Geraldton from Norwich, England in 1911, and opened a watchmaking and jewellery store in Marine Terrace.

This was the beginning of a family tradition of watchmakers and jewellers-now stemming four generations since Gemma Baker completed her jewellery apprenticeship in 2005.

Gemma's first employment saw her as a Gallery Assistant at the Geraldton Art Gallery, Augustus St in 1986. In the same year Gemma was crowned 'Miss Sunshine Festival Queen' In 1986 an opportunity arose in Gemma's fathers business, Leon Baker Jewellers, to join the sales team. This began a 20 year association with the jewellery industry, gaining experience in several leading Western Australian Jewellery Retailers. Gemma specialized in jewellery design, completing a certificate in jewellery design with the Gemmological Association of Australia, 1995. In the year 2000, Gemma commenced her Jewellery apprenticeship at Leon Baker Jewellers, completing in 2005.

Over the past ten years, Gemma Baker Jeweller has developed a unique style and is well known for her beautiful and passionately created jewellery, adorning wearers nationally and internationally.

'The Knitted Collection' is an ongoing exhibit at Jah Roc Gallery in Margaret River. This collection developed from a piece Gemma entered into the Jewellers Association of Australia 'Dare to Shine' Jewellery awards, 2003. The pieces feature hand knitted pure silver, 18ct gold, rare 'Abrolhos Island Pearls and intricate hand made clasps.
Gemma Baker Exhibitions At JahRoc Galleries
Exhibition
Intrinsic Form
March 2019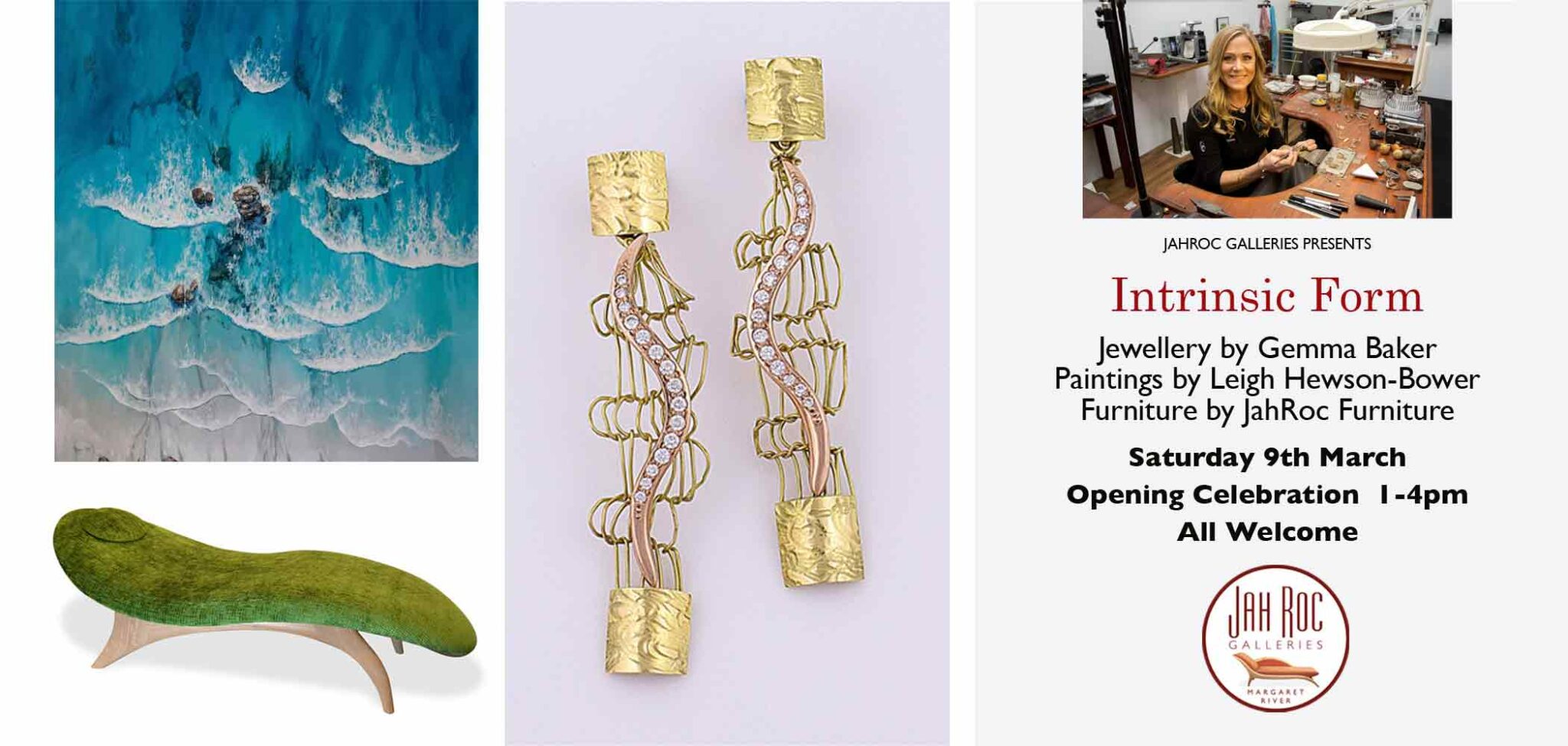 Click here to view exhibition artworks for Intrinsic Form.
---
Gemma Baker Jewellery At JahRoc Galleries
---
Gemma Baker In Her Studio