JahRoc Galleries is excited to represent accomplished Margaret River Artist, Lauren Wilhelm, and welcome the presence of her graceful paintings in our gallery. Enjoy this feature on Lauren who tells us a bit about herself and the passion behind her work.
Q&A – Getting to know Lauren Wilhelm….

When did you first feel the desire to be artistic and realize you had talent?
I can't ever remember not drawing or painting. My parents have kept quite detailed drawings from when I was very young; it's what I enjoyed most. Strangely, even from a young age I drew horses and almost classical figures in armour.
Where did you learn your art?
Murray Gill was a teacher of mine in primary school and when I studied Fine Art I had some excellent lecturers. Mostly I was self-taught though, through trial and error. Everyone needs to find their style and although you can learn certain techniques and tricks it's best to find things out on your own, I think.
What inspires you most?
History. Animals. Classical portraiture. Textures and the way colours can vibrate when they meet.
What message are you sending to the viewer of your art?
I'm not really sending a message or creating a narrative per se, but I like to hold a feeling when I'm painting, and sometimes it creates an emotional response in the viewer, I'm told. Sometimes the work is a tad dark but in a nicely melancholic, bittersweet way, I hope.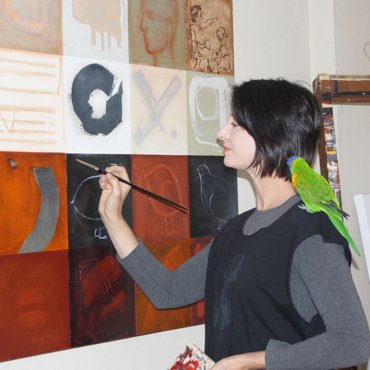 Describe your Studio…
I rented a wonderful 60s studio in a park in Northbridge in the city, which I shared with a few other artists for many years. Called Robertson Park Studio, it was heritage listed as the old City of Perth Band Practice hall, and full of light and space. But since moving to a 35 acre property near Cowaramup 18 months ago, I work from my garage while my studio is slowly getting built next to the house. The garage is not ideal but the environment is so pretty with all the bushland around it, that it makes up for everything. I have beautiful music playing while I work and my rescued rainbow lorikeet, Squishy, sits on my shoulder while I paint, and sings along.
Describe your typical day of creating art…
I'm in the studio by about 8.30am and generally work until midday as the light is better in the morning and it's cooler. There's so much work to do on the property that sometimes I find it hard to get into the studio, but I tend not to feel very grounded if I've missed a more than a couple of days. I try to be in there every day, even if I'm not feeling inspiration as I read somewhere once that that's the difference between a serious artist and someone doing it as a hobby. Some good work has come when I've not really felt like painting much, but I've been just playing and experimenting. I think it's important to enjoy the process, and not feel anxious about the outcome. The best work happens like that, for me.
What mediums do you use and why?
I use mostly oils but I enjoy acrylics for a change sometimes.
What are you working on now?
I'm working on some small works on wooden blocks. I really enjoy the texture after painting on canvas.
What do you love most about what you do?
I love that I get to work with my imagination and can make my own hours. I'm a bit of an introvert so I like spending time by myself, painting
Where can you see yourself in 10 years time'
Hmmm, that's a good one. I'd like to take a few years and paint from a studio in Italy, I think Verona would be nice! I have good friends in Italy and I love the lifestyle, and the history is so inspiring to me. I'm getting better at the language so I hope in 10 years I would have mastered all the tenses and be pretty fluent without agonising over it, like I do now. But I'd still like to be based in the south-west, happily in my new studio with Squishy.
Shop Lauren Wilhelm Paintings