Our DINNER with LARRY MITCHELL on Saturday night 4th April was an incredibly enjoyable evening, with an intimate number of guests enjoying the chance to get to know artist Larry Mitchell and his partner in life and art, Di Mitchell. We were treated to a memorable 4 course meal by local caterer Saul Atkinson and his team of professionals who served up delicious combinations including wines to suit. Acoustic guitar by Graeme Dickinson set the mood, and that speech by Larry Mitchell…….the intimate setting allowed guests to ask Larry questions which opened up a whole array of things to chat about and we managed to keep Larry talking for as long as we could!!!
To our guests who attended, it was a truly enjoyable experience getting to know every one of you, something not normally achieved by a regular visit into the gallery or a large exhibition opening event.
And how nice was it to see our own JahRoc Furniture being put to use.
Thanks to all for being a part of this inaugural dinner event at JahRoc, something we are sure to host again.
---
Listen to Larry Mitchell's opening speech..
Part 1….
Part 2….2nd half of speech
---
Radio Interview: Lauren from Radiowest talks to Larry Mitchell….
---
Photos from the night….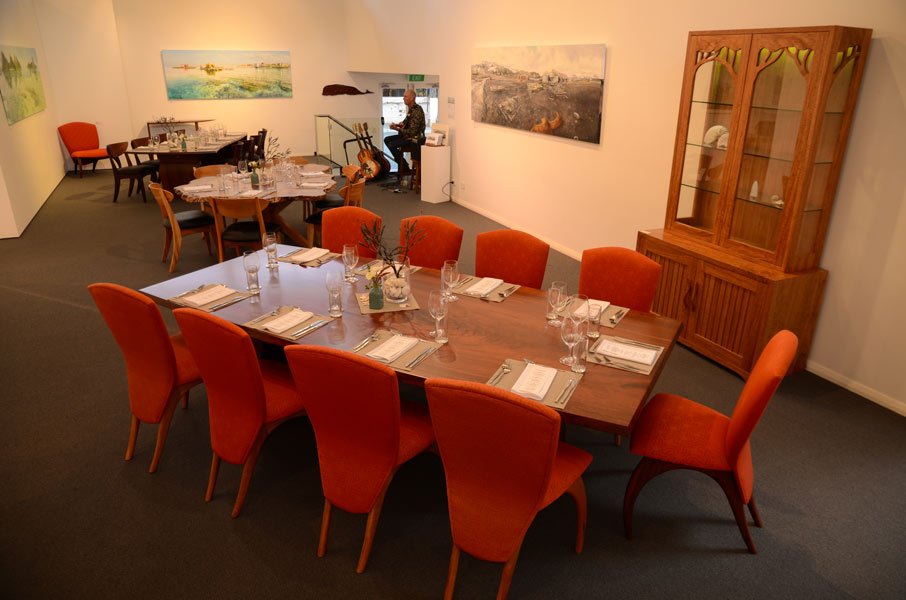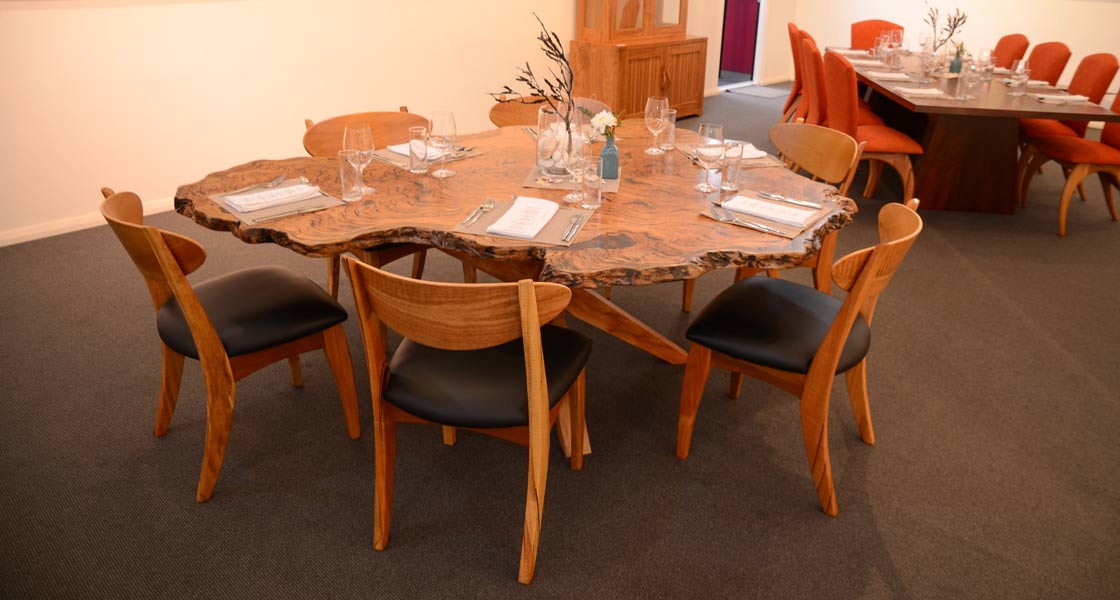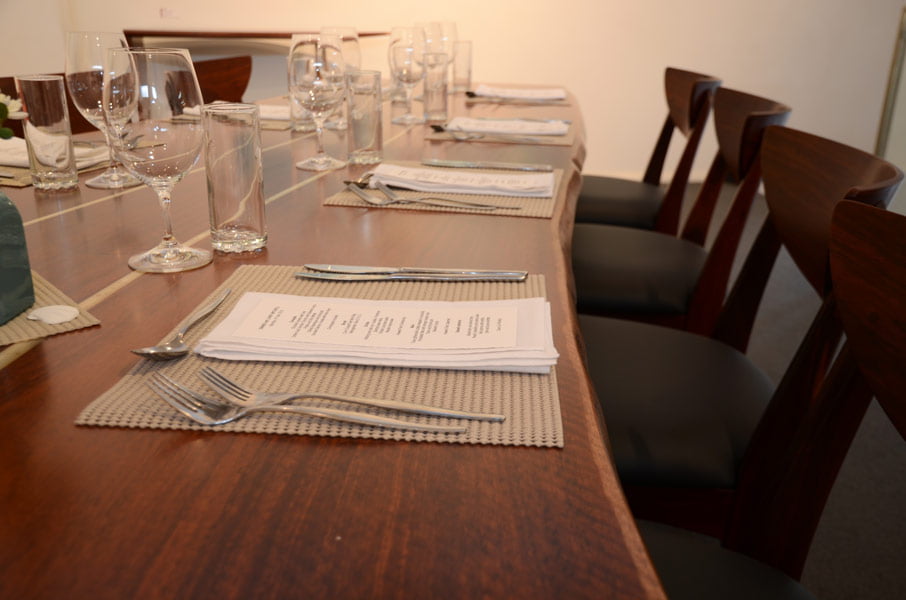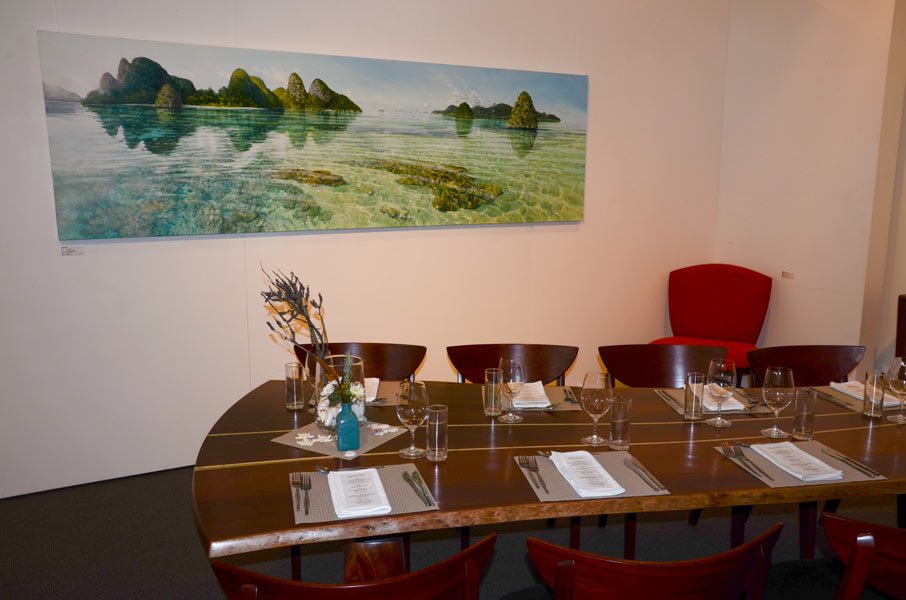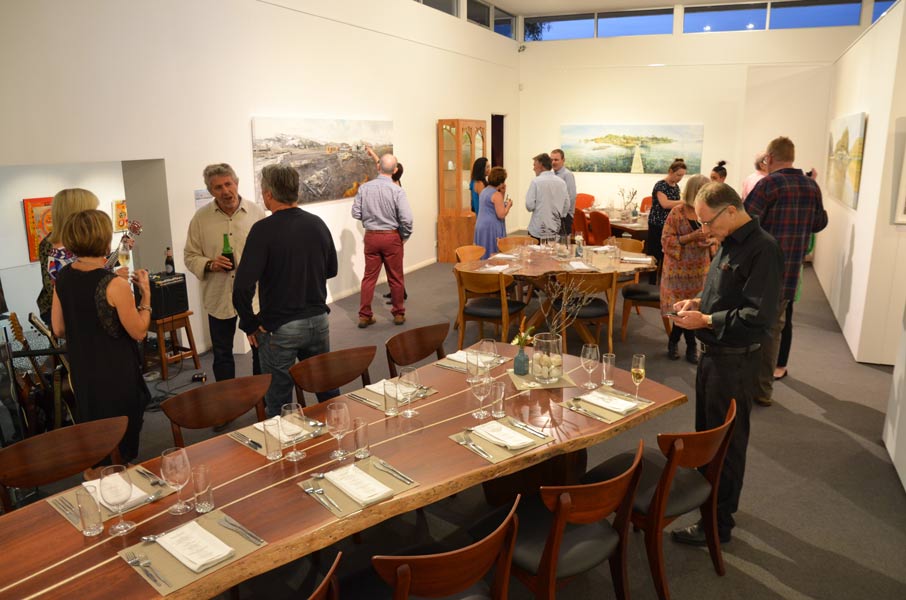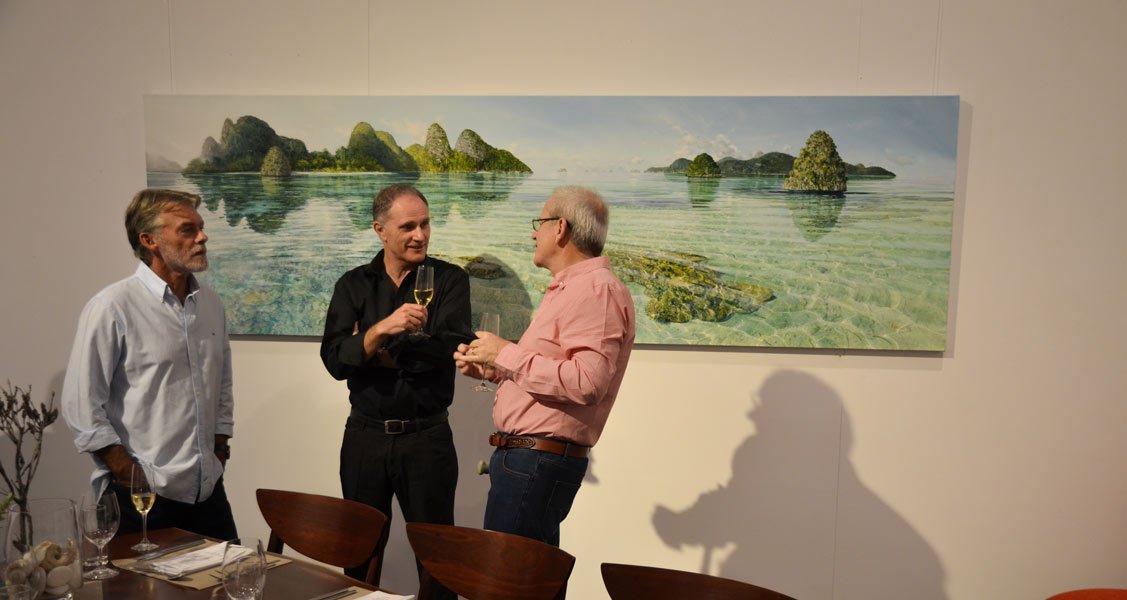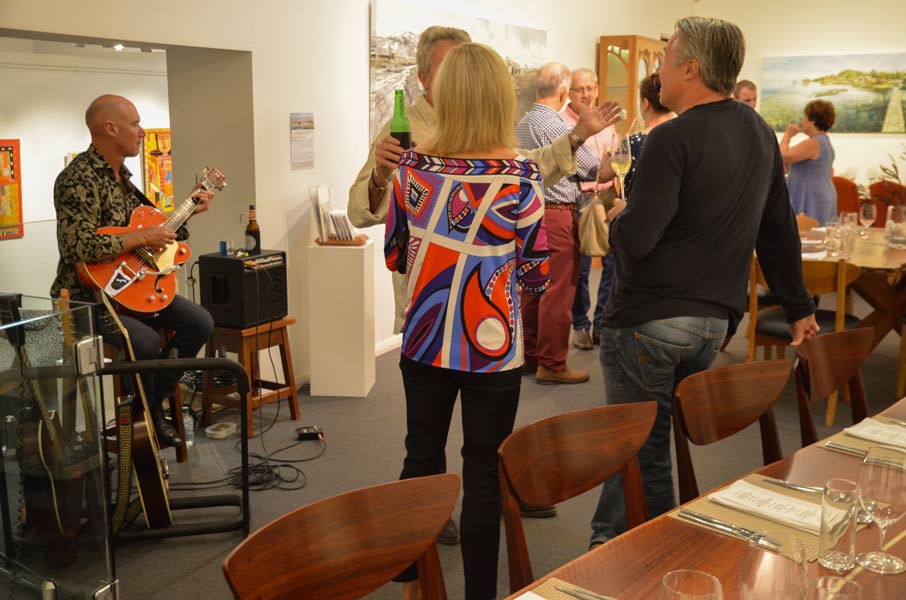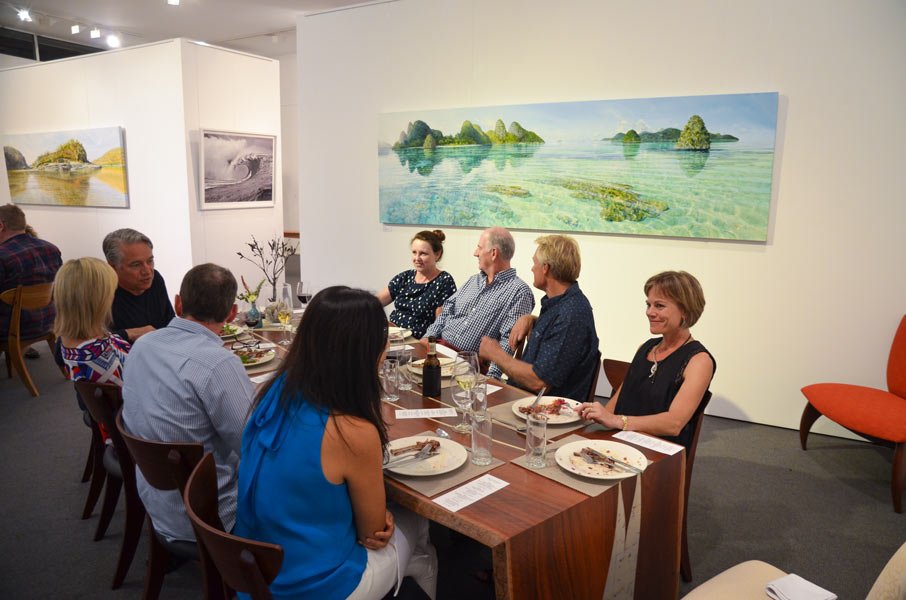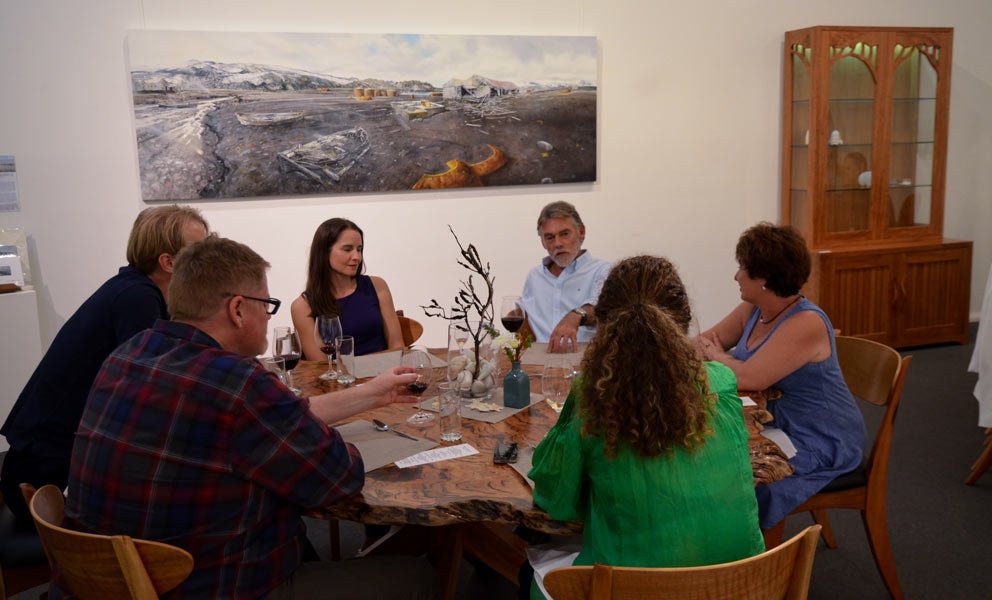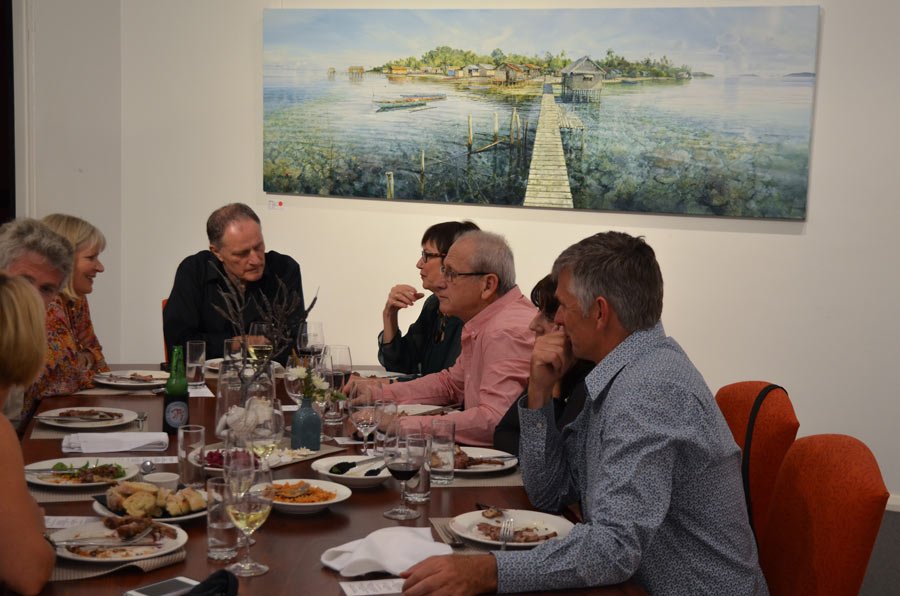 ---
With 3 of the 5 exhibition paintings sold in 4 days….be quick….
---
Excerpt from interview with Larry Mitchell as seen in Scoop Homes and Art Magazine – edition 44
Q&A LARRY MITCHELL
Self-taught artist Larry Mitchell shares some favourite locations that he has travelled to and painted, along with what's coming up next.
You claim to be a self taught artist, how did you learn to paint'
It was just a process of trial and error, really. I tried institutional learning but that just didn't suit my mentality – I had this quite individual path that the institutions weren't geared to fit.
How long do you take to create one of your pieces'
There's no set kind of time scale, but usually over a couple of weeks for the larger works – they involve preparatory sketches, water colours and travel, so i suppose the whole process is part of the production of the works. I spend about half the year travelling, not only sourcing materials for work and shows, but also looking at whats going on in these places. I keep a lot of diaries, archives and books.
What's your favourite place to travel and paint'
The islands around New Guinea interest me more than anywhere else. There are a few places there where the people hadn't really encountered contemporary man before, so to be able to have that experience in the 2000's is quite unique and quite strange.
What do you try to show through your artworks'
Most of my work is related to coastal environments and the welfare of the coast. I just try and show places that are beautiful, and hope that people might learn to love them more, and consequently look after them.
……………….
---