LEEUWIN CONCERT WEEKEND
OPENING CELEBRATION:
9th March 2019
1-4pm
All welcome to join the gallery for local cheese and fine sparkling wine.
"Intrinsic Form" is a new collaborative exhibition of:
Jewellery by Gemma Baker
Paintings by Leigh Hewson-Bower
Fine Furniture by JahRoc Furniture (Gary Bennett & David Paris).
Opening on the 9th March, coinciding with the 2019 Leeuwin Concert, all are welcome to join the gallery between 1-4pm to enjoy sparkling wine, local cheese and mixing with the artists.
Meet Gemma Baker Jeweller in the gallery on the 9th between 1-4pm. She will be available to work with you on any special jewellery designs that you have in mind. With over 30 years experience in the jewellery industry, Gemma has a unique design flare that can be compared to no-one else. Come in and discover it for yourself. Gary Bennett will also be available to discuss custom furniture design.
It is an exciting process when different artists are merged together to showcase their work collectively. One artist can resonate a certain strength on their own, but when like minded artists are brought together, the combined energy is memorable.
Gemma Baker, Leigh Hewson-Bower and Gary Bennett (JahRoc Furniture) all share a passionate love of the ocean, and this common thread creates a beautiful harmony when their work is viewed together. Using very different mediums and methods, each artist's expression of their connection with our wonderful big blue is powerfully compelling.
Leigh Hewson-Bower
Since I was commissioned last year to create a series of paintings by JahRoc for The White Rabbit Golf, a superyacht constructed at Henderson, I have been keen to create some other works which follow similar themes proscribed by the boat's design team. Around half of the works were aerial studies of the ocean which I thoroughly enjoyed researching and painting. The references for these current works were derived from various image sources on the internet, mostly stock images taken with drone cameras. The aerial perspective gives me an opportunity to improvise and embellish as I see fit, to try and capture some of the spectacle that comes with that viewpoint.
Leigh Hewson-Bower Exhibition Paintings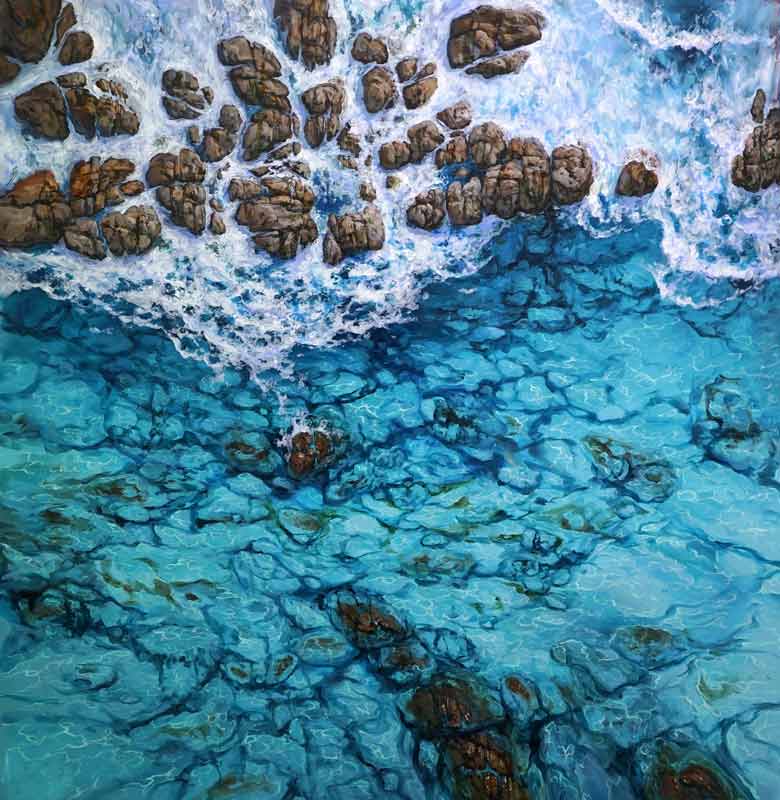 Leigh Hewson-Bower – Above The Ocean
Custom Jewellery Design by Gemma Baker – Make an appointment.
Be inspired by the unique jewellery design by Gemma Baker and ask her to custom design a piece of jewellery especially for you. Gemma will be available for appointments on Friday 8th March, Saturday 9th March and Sunday 10th March. Call and make an appointment – 08 9758 7200
Twelve years have passed since the launch of 'The Knitted Collection' at JahRoc Galleries in 2007, which was almost a 'sell-out'. Over the years, my knitted collection has evolved and proved to be a sustainable product and somewhat sort-after.


My new body of work features more Diamonds and Gemstones than ever before as well as my signature use of Abrolhos Island Pearls. Seen throughout this collection you will notice the technique of embossing the knitting into the metal. To do this I have to 'sacrifice' a new section of knitting each time, leaving a permanent impression of it in the piece, almost looking like animal-print.

Custom design is my specialty, and I can use your own gold and stones to be incorporated into a design.

Gemma Baker
Gemma Baker Exhibition Jewellery
And that is not all…
Gemma Baker will have more exciting pieces of jewellery on display and for sale during the exhibition that are not shown on this page.
Do visit the gallery to see the complete collection!
JahRoc Furniture Exhibition Furniture
I have just completed a 9'0″ hollow Balsa Surfboard with Red Cedar stringers and details, using a torsion box construction. It is a Matt Manners design. I will be showing it off in the gallery during the Leeuwin Concert Weekend and as part of our "Intrinsic Form" showcase. This beauty is not for sale but will be enjoyed in the surf by me. (Research and Development) I hope you get a chance to see it before I wax it up!

Gary Bennett