OPENING NIGHT CELEBRATION:
27th December 2018
6-8pm
All welcome to join the gallery for live music and fine wine.
"Allure" is an exhibition of new enchanting and evocative paintings by celebrated artist Wendy Arnold.
Wendy Arnold was born in New Zealand and grew up in Perth where she started her fine arts studies in painting and printmaking. As a teenager she was encouraged by her late father to pursue her love of fine art. "He is my genetic link to the arts, the most creative man I've ever known" said Wendy.
In the 1980's after a few years of extensive travel, Wendy together with 2 partners launched the highly successful fashion label Studiobaker Hawk in the UK.
Her embedded passion and foundation of the fine arts drew Wendy Arnold to settle in Sydney in the mid 90's where she has been painting full time ever since.
"I can knit, I can sew, and I'm dangerously good with a hammer, but it is the practice of painting that has allowed myself to be me… the me I wanted to be since I was a very small girl" says Wendy.
"I feel so lucky to be an artist. To have the time to smell the roses, to watch and wait, and catch beauty out in the most surprising circumstances"
Wendy continually pushes the boundaries of her techniques, using gold leaf, lace, print, French papers, methods of sanding, re-working and other decorative skills. Asian imagery laced with historical reference is a consistently strong element in her work, interweaving birds, flowers and rich patterning with the female form.
"I have named this special edition of paintings for JahRoc Galleries "Allure" because all the figures are beguiling, mostly hidden. Many reveal the nape of their necks, which by Japanese terms is the most sensual part of a women's body. I have enjoyed my little collection… and hope you do too"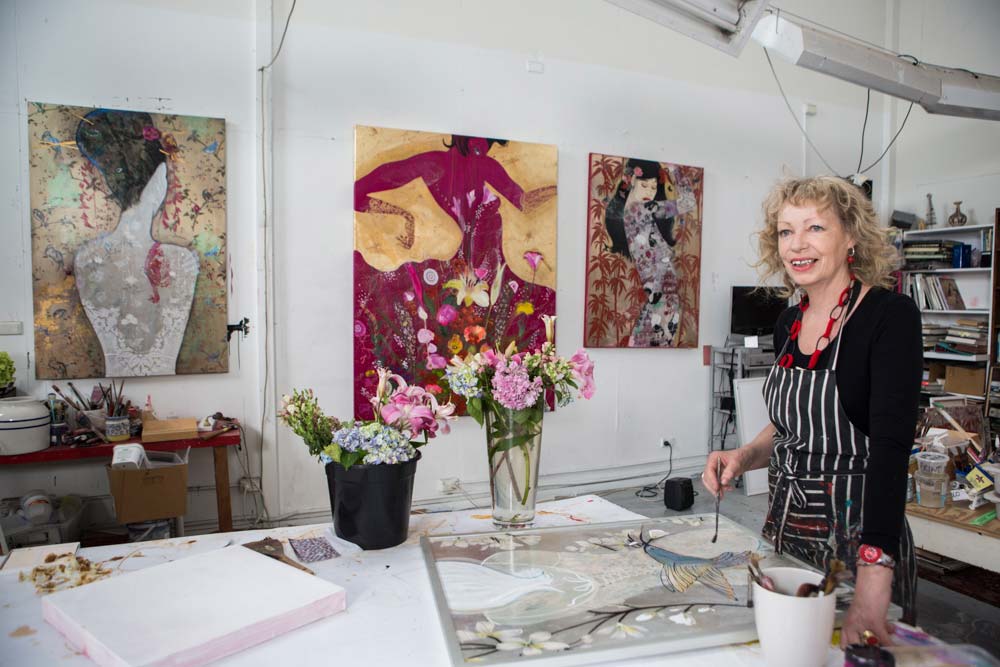 Exhibition Hanging and Opening Night
Exhibition Artworks Gallery