JahRoc Galleries are very excited to be hosting International award winning artist Joe Webster as our artist in residence for the 2019 Cabin Fever Festival.
Joe Webster is a plein-air artist from Britain, UK who paints on location using acrylic and graffiti based media that interact with the atmosphere. This will be his second visit to the Margaret River region, the first was 20 years ago when he did an undergraduate course at Murdoch University in Perth. His upcoming visit in July is made possible by a grant he won in the UK from European Union, European Regional Development Fund.
Joe Webster will be painting on location for 3 weeks between 1st July to 20th July which will culminate in an exhibition opening on the 20th July at JahRoc Galleries. We can't wait to see how he captures his Margaret River experiences onto canvas.
Find out more about "On Location, Margaret River" exhibition here…
In the Q&A below Joe tells us a bit more about himself.
Enjoy Getting to Know Joe Webster
When did you first feel the desire to be artistic and realize you had talent?
Painting for me, is a means to spend time in nature, so the origins and inspiration for my work comes from playing in my local fields and beaches as a child. I see my time exploring, adventuring and learning to identify plant species as the foundation of my artwork.
Where did you learn your art?
I trained with renowned artist Carole Vincent for 10 years and then studied at Falmouth College of Art, Nottingham Trent University and Murdoch University. As a post-graduate it was my close relationship with Galeria Corté-Real in Portugal in 2003 which probably had the most significant influence on me in terms of my current direction.
I have since mastered my craft through 15 years of working en plein-air; through many failures and discoveries my art is essentially about handling the fragile qualities of paint within the tumultuous atmosphere.
What inspires you most?
All aspects of the natural world.
I rarely plan what I am going to paint, rather I set out with my kit and walk until I find something which draws me in. I often find rapidly changing phenomena such as fast moving clouds, a sunset, an incoming storm or changing tide the most challenging and therefore inspirational because it forces me to work and respond with urgency.
What message are you sending to the viewer of your art?
Although I am thinking about this question all the time, I realise that the more you analyse a landscape the more you prevent, or avoid actually experiencing it. My work is about spending extended periods of time experiencing all that nature presents to me, from the fragile to the frantic, brutal to beautiful. I hope that to my audience my work acts as a window to the outdoors; either directly through familiar elements or suggestively, through abstracted forms.
Describe your studio…
The Great Outdoors.
I rarely re-work canvases at home and generally have an unwritten rule that when I leave a site and the paint dries that is the completion of that experience and recorded image. When I am feeling strong in myself I paint in the rain and hail, and I have once spent 10 hours painting in deep snow.
Describe your typical day of creating art…
I am constantly refining my art-kit to make it as economical and lightweight as possible – this sometimes includes pre-planning where to find water in a landscape as I set-up – this allows me to sometimes hike (or paddle) large distances with all my kit before I find the right location. This element of journeying and exploring is essential for me. Once I've selected a site, depending on how long it has been since I last painted or in other terms, how connected/disconnected I feel from the landscape I may sit and watch for a long period of time. It has strangely taken me a long time to value and build-in this travelling and watching time as I feel we are conditioned that 'doing' is productive whereas watching isn't, so I have to constantly unlearn this and change my headspace.
Once I am ready the time spent with a brush, pencil or marker is relatively short. I may carefully lay out the composition and then I work fast, intuitively, spontaneously with a swell of adrenaline and I almost always complete a piece in a day. When a piece is going really well I am in a very different psychological space where I am planning 'several colours or techniques ahead' of where I'm working and I anticipate the changing light, wind or tide.
I can never work within a set timescale so I only work on days where I have no cut-off time or other appointments. This is crucial for me, sometimes the painting is complete far earlier than I would have anticipated, with others it is pitch-black when I return home.
What mediums do you use and why?
I paint on-site using acrylics, graffiti tools and mixed media, which through interaction with the weather, capture the sense of each unique location and experience.
For example, acrylic paints are water-based, therefore rain can wash off large areas, leaving only the thickest islands of undiluted paint. Hail pebble-dashes the paint and then melts in localised areas, mist has a silent persistent drenching-washing quality whereas sun dries paint very quickly and snow forms amazing crystalline patterns and temporarily freezes the paint into lumpy textures.
I have learned through many, many failures that all of these effects need to be carefully planned and considered as the day and weather progresses, whereas graffiti media dries very quickly and is permanent in most climatic conditions. I can draw a fine line with both a brush and a pen, creating a similar effect but the speed at which I am able to create that line means that I can respond to movement and forms around me in different ways.
Not only am I putting my marks on the canvas, but through my technique I encourage the weather to do the same. The final painting is therefore a collaboration between my mark-making and the impact of the weather.
What are you working on now?
2019 has been a really exciting year for me, I am working on much larger canvases than ever before and I have already had three shows but the two biggest are happening this summer.
What excites me about this exhibition; On Location, is working in a new, unfamiliar landscape and planning the logistics of working internationally again. I really like the idea of my future shows building on this approach and the idea of journeys, such as following The Santiago de Compostela in Spain, The Silk Road across Asia or The Kumano Kodo in Japan.
Only four days after I return from my exhibition with JahRoc I am hanging a large exhibition in Kingsbridge, Devon, UK which presents a body of work created from canoeing around the Kingsbridge estuary. I have customized a sea kayak to hold my easel on the deck in front of me and to house a camera on a tripod above me which films the experience. There is something exciting about transferring my process of travelling in nature to being on the water, whilst painting, the light in the sky is reflected around and below me and the movement of the canoe translates into the movement of my wrist as I capture what I am seeing and feeling.
What are your recent career achievements you feel proud of?
I won the White Space Gallery award in 2016, published my first book in 2018 and am really excited to be working internationally again. Over the last two years I have been undertaking increasingly more ambitious projects in larger exhibition spaces and have sold and been commissioned to paint larger bolder pieces.
Gladwell's premise of it taking 10,000 hours to master a skill (or 20 hours a week for 10 years) resonates with me because over the last few years I have felt a distinct maturation of my style and technique. Whereas I have been exhibiting for 15 years I am really proud of my current work and direction, I have a really clear sense of my aesthetic, of what I am producing and where I am heading.
What do you love most about what you do?
Simply being in nature. But, I don't always love it. Ultimately I paint because it fundamentally challenges my being. It's invigorating, sometimes elating, sometimes unbearable, but it always connects me directly to something much larger and much more important than myself.
Where can you see yourself in 10 years' time?
For myself and my family, being happy and fulfilled. For our planet, living in a society which has turned a corner and is rectifying the destructive behaviour which it has been inflicting on the environment which houses and sustains us.
Shop Joe Webster Paintings
Joe Webster Image Gallery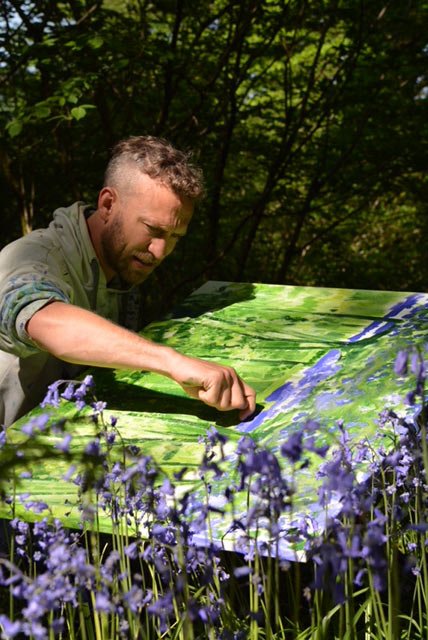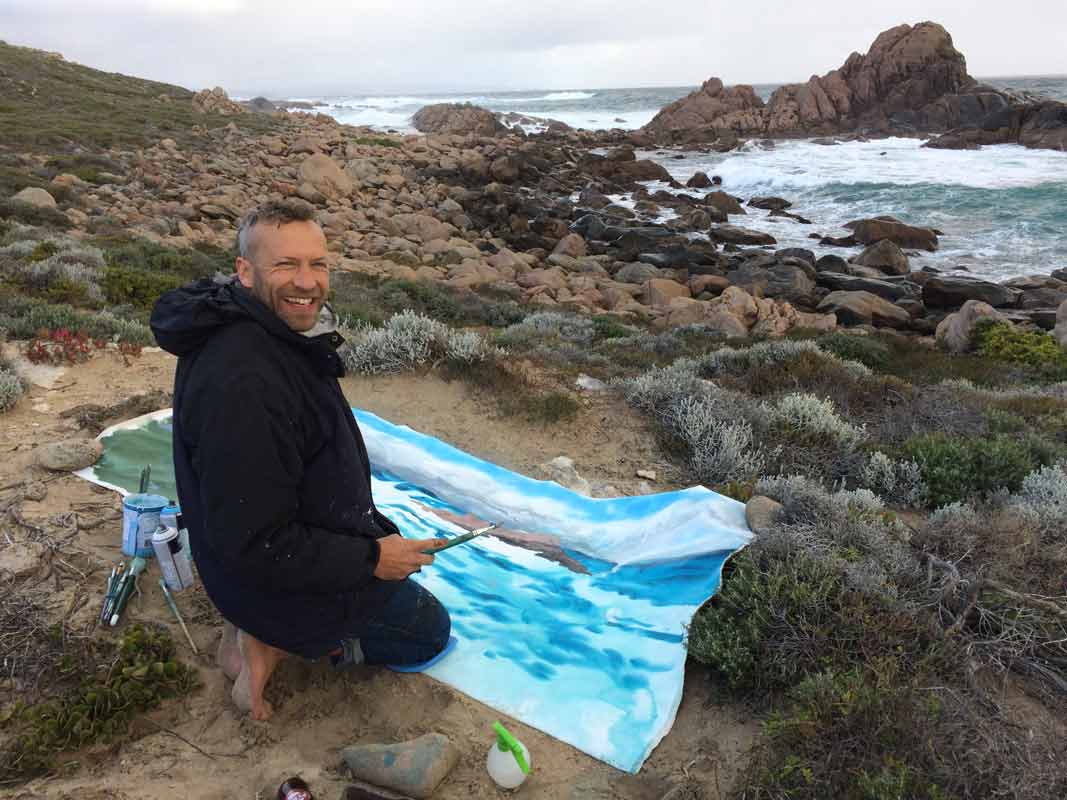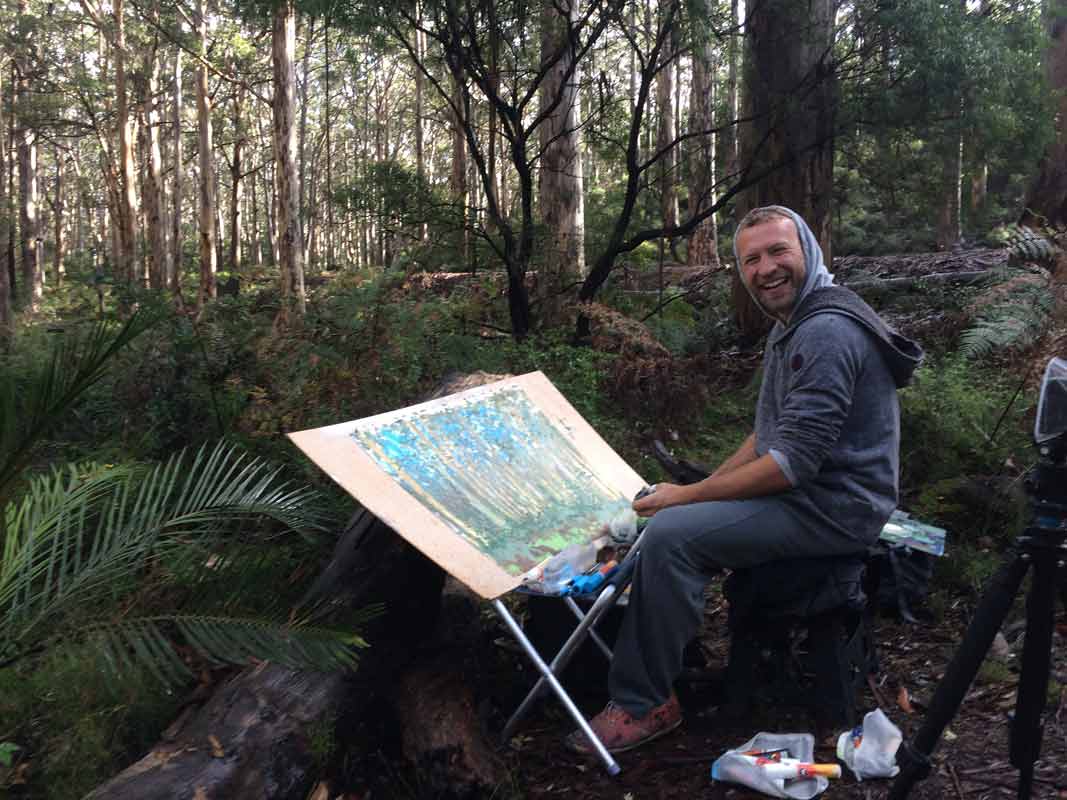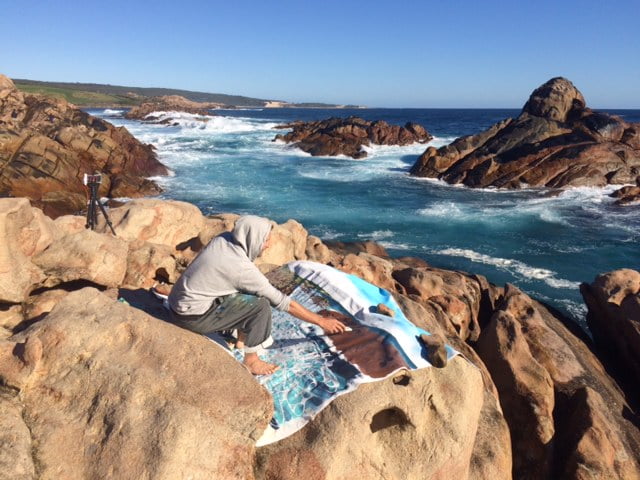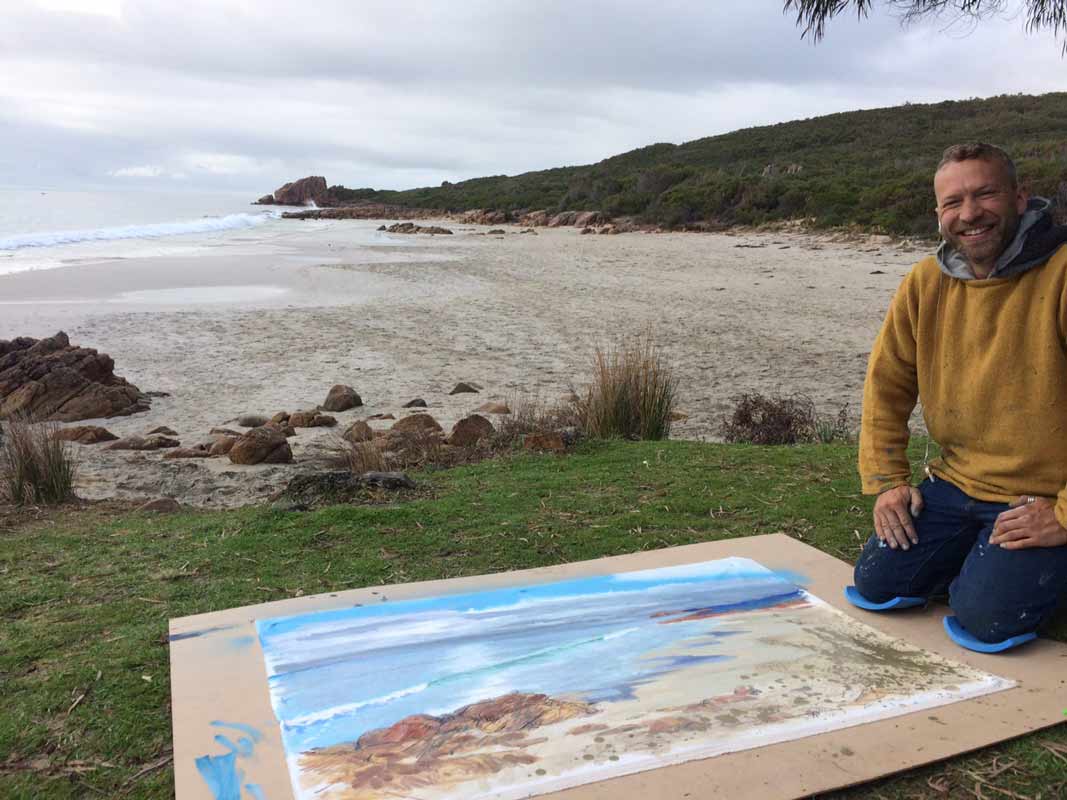 Joe Webster's Margaret River Journey is sponsored by European Union.