The JahRoc Story So Far…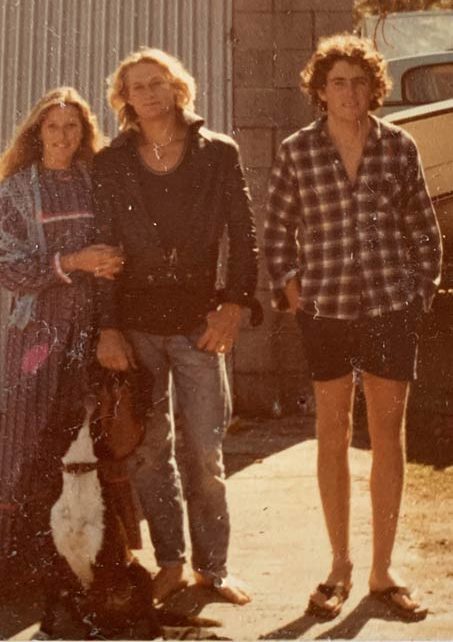 In 1982 Gary Bennett and David Paris were members of 'Bob Hawke's Surf Team' when they first bumped into each other, while searching with their girlfriends Janie Nelson and Sue Drage for spare parts for their old surfer's wagons in a wreckers yard in Nambour, Queensland. Gary was a young carpenter who had been on a working holiday in Queensland and David was a cabinet maker by trade. The girls struck up a conversation and bingo, connections were made. All were originally from Western Australia and had many things in common – surfing, mutual friends, and loathing of the education system!
Strong friendships were formed, but eventually 'the party' ended and they went their separate ways. David travelled the world for several years and Gary continued his journey around Australia, stopping along the way to help the late Shirley Strachan (ex Skyhooks and Better Homes and Gardens) to build a cedar and Oregon surf shop on Victoria's Phillip Island.
Jahroc Furniture is born 1987
Gary founded JahRoc in 1987, in his backyard shed in the Perth beachside suburb of Scarborough. Inspired by a dining and coffee table his parents had bought which was made by South West artisan Geoff Juniper, Gary got excited about what could be made using local hardwoods and simple tools. He started by making coffee tables hewn from hand split pieces of Toodyay stone and old bits of Jarrah salvaged from building sites, hence the name Jah (Jarrah) and Roc (Rock/stone). He had discovered the stone when visiting his sister Joanne at a farm where she was living while teaching in Toodyay.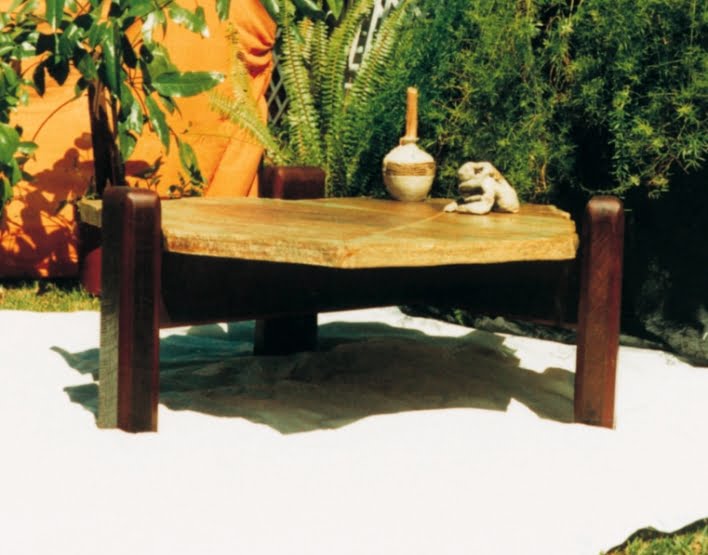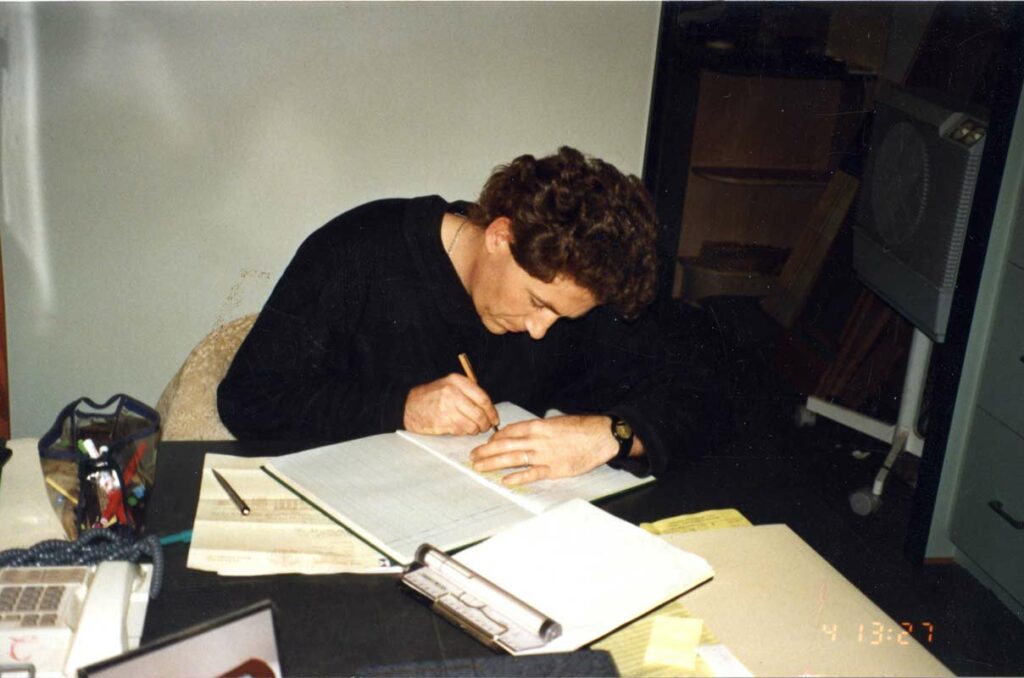 In 1988, Gary moved the business to Osborne Park, as he was literally driving his neighbours mad and rented the rear of a shed from a mate. As Gary's business grew, he soon realized that he needed some help–whilst his artistic talents were excellent, his organizational skills were lacking. At this point, David returned from his world travels and decided to buy into JahRoc and thus the partnership was formed. David also became excited about Gary's sister Joanne, and subsequently married her, cementing a family partnership! With David's cabinet making and organizational skills, JahRoc Kitchens was established to help fund the creative side of the business that Gary had been developing. 80% of their business was kitchens (which they did not particularly like doing), the other 20% was creative furniture which was their real passion.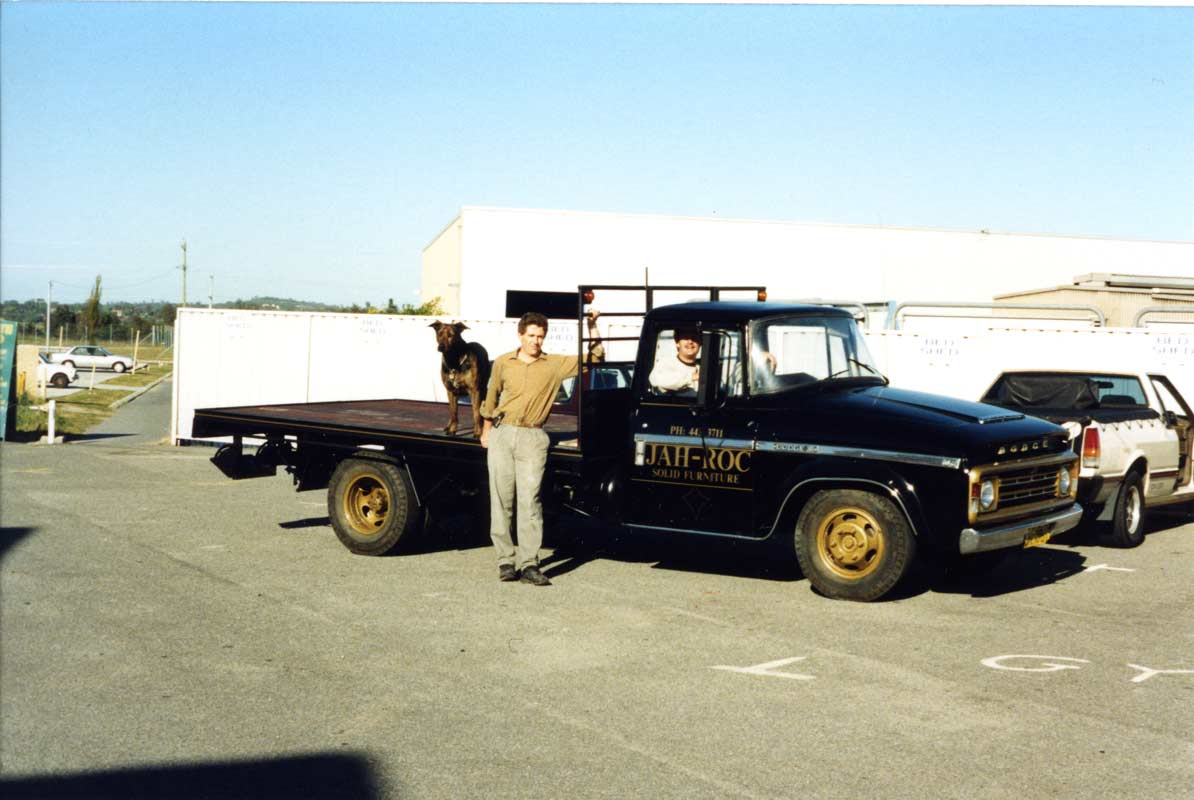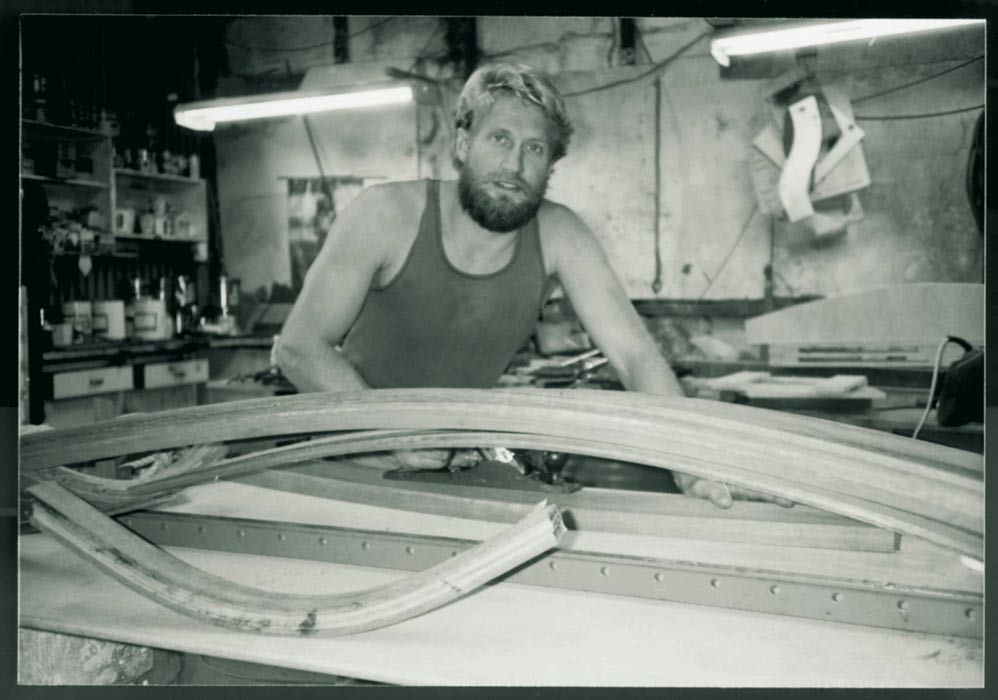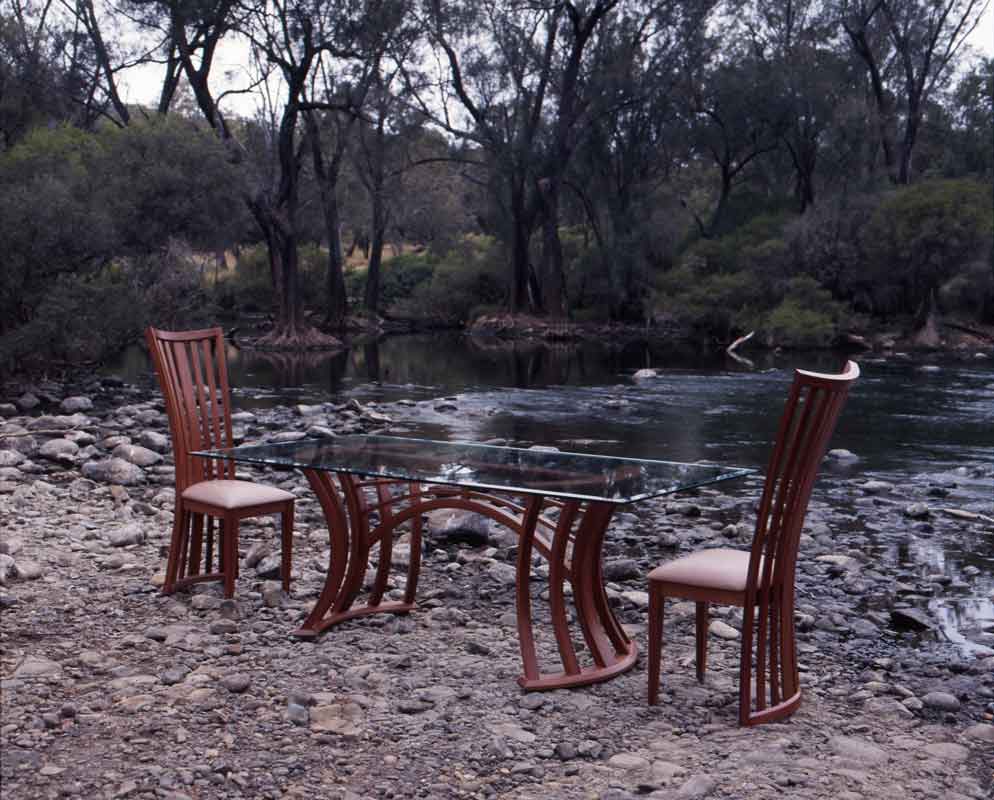 THE CREATION OF ARTISTIC FURNITURE In 1989, they decided to exhibit some of their furniture in art galleries in the South West of Western Australia. Their designs were well received and they also started to receive industry recognition. This gave them confidence that their future lay in the creation of fine and creative furniture rather than producing kitchen cabinets. Gary also took some of their furniture products to Los Angeles and went cold calling, door to door trying to find a market for their product, and was eventually invited to exhibit their work in Beverley Hills. South West artisan Peter Godden joined him on that journey. This proved successful and they began exporting to the USA on a regular basis. This followed with exhibitions in Milan, Italy and Japan in 1991, from which further sales eventuated. They also began to win awards for their work and this gave them confidence and the belief that they had a unique product.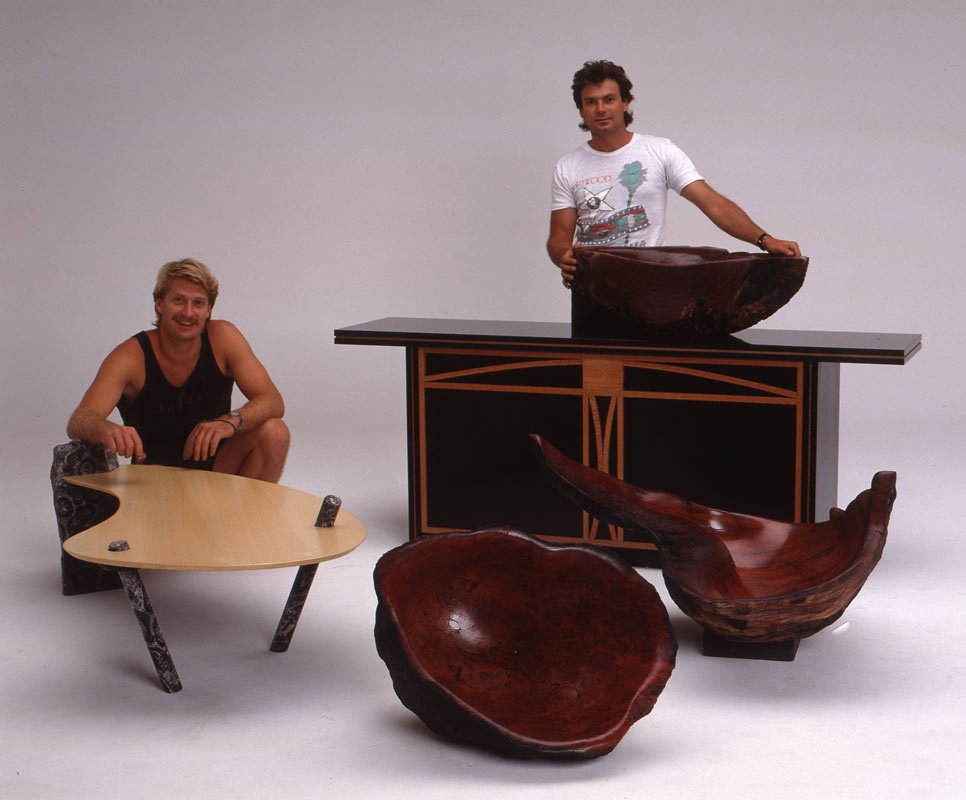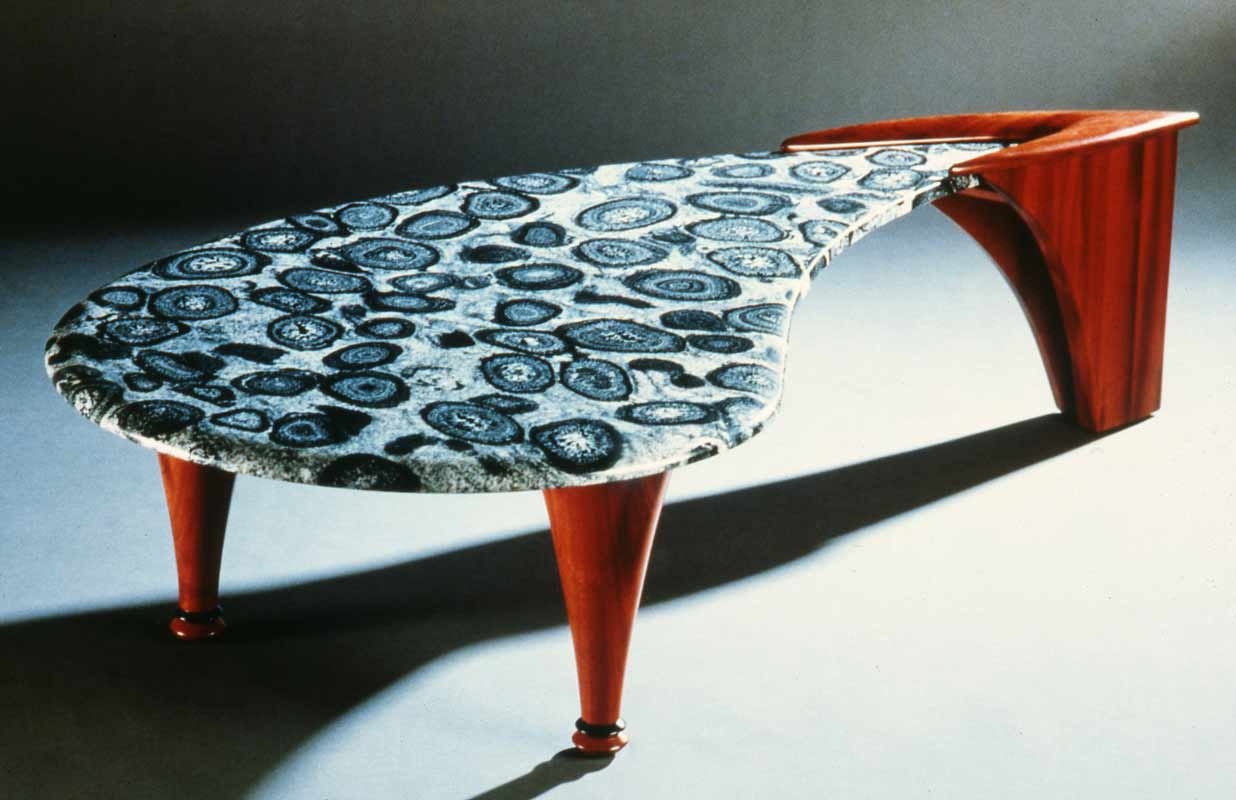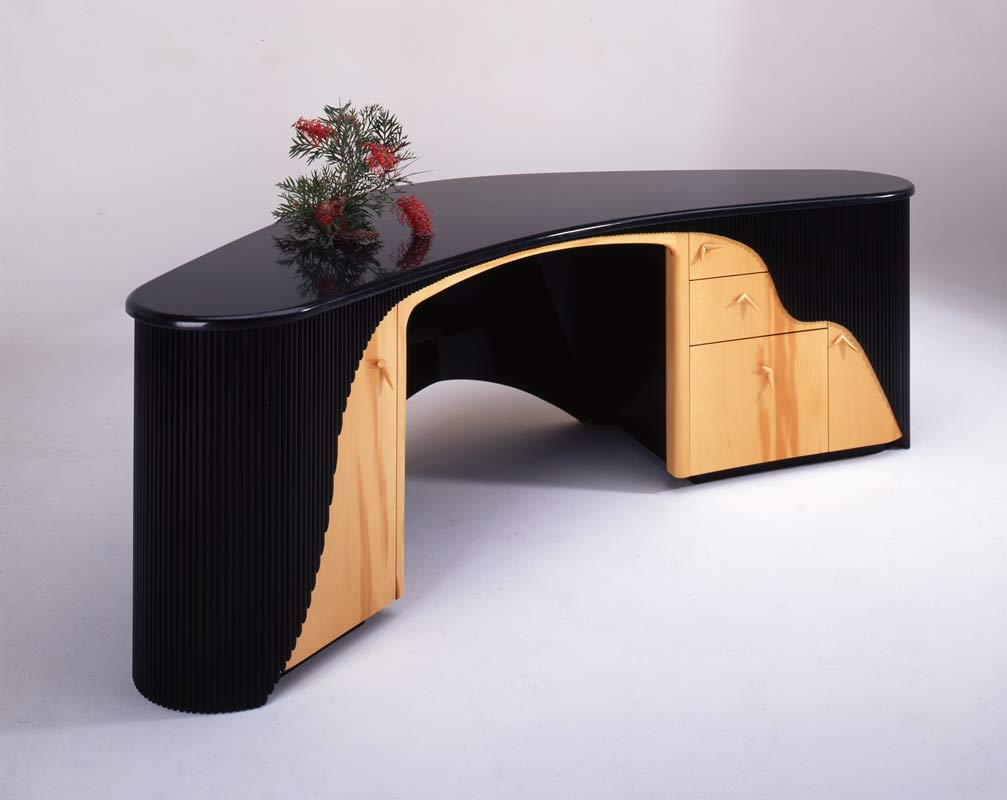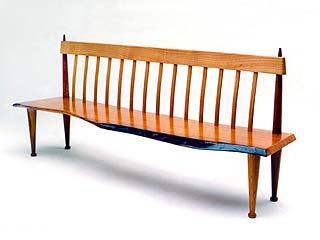 They also suffered some setbacks along the way from which they nearly did not survive, but from which they learnt some valuable, albeit expensive lessons. 1991 was a particularly bad year. A large project that they undertook for 'a friend of a friend' turned into a financial disaster when the developer went broke leaving them owing $35,000 to their suppliers. A foray into the granite quarry business was equally unsuccessful. Their accountant delivered the bad news – 'it was all over and that they should go off and do something else'. David briefly flirted with this option whilst Gary and an apprentice (Matt Hammill), who offered to work for nothing, persisted. Soon David rejoined and decided to focus on what they were passionate about and what they did best – making artistic furniture out of solid and recycled timber. Gary and David recommenced by travelling to the south coast for some creative inspiration and to do some surfing. During this trip they designed a new range of furniture and when they returned to Perth, created the prototypes and then displayed them in a number of South West galleries. The designs proved very successful, and they managed to pay off their creditors and 'survived to live another day'. In Gary's surfing language 'we got dumped, but did not suffer a complete wipeout'.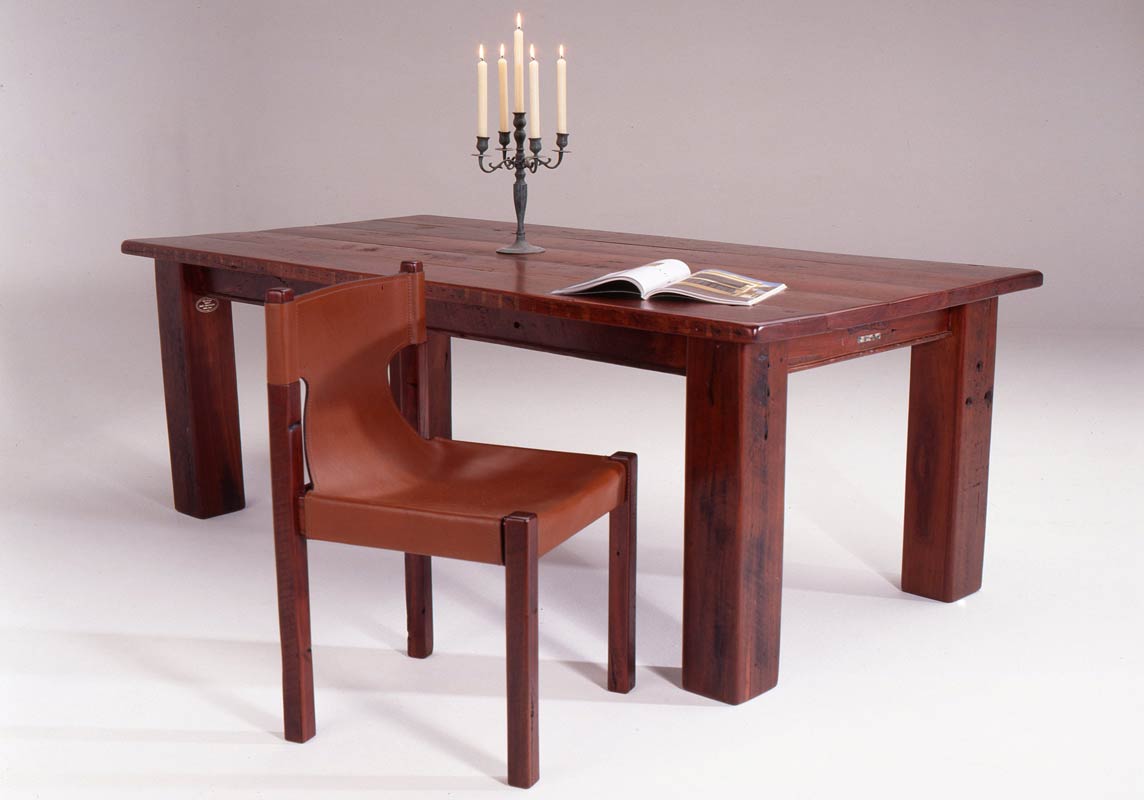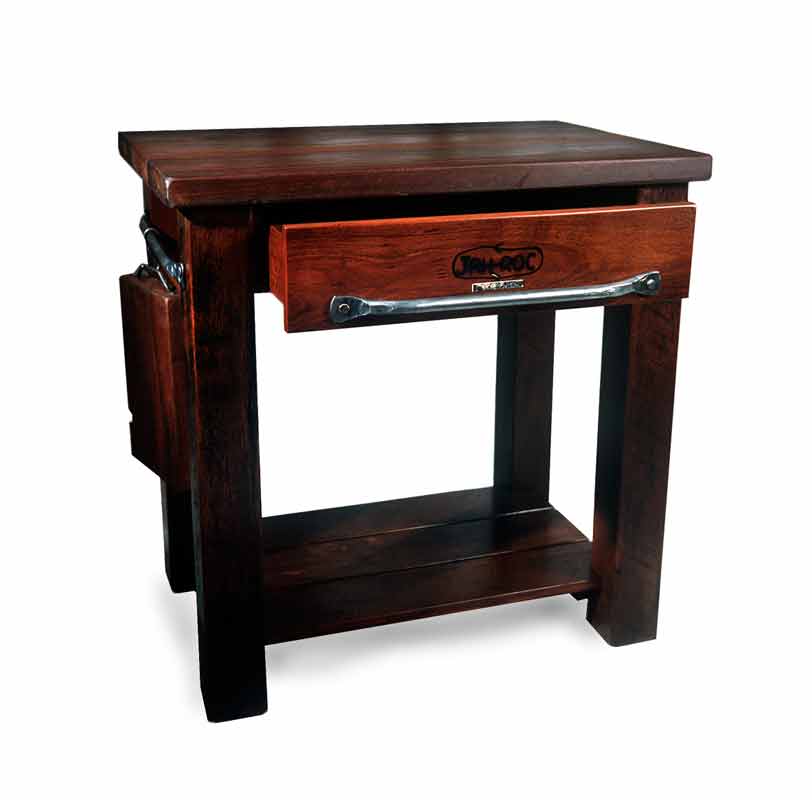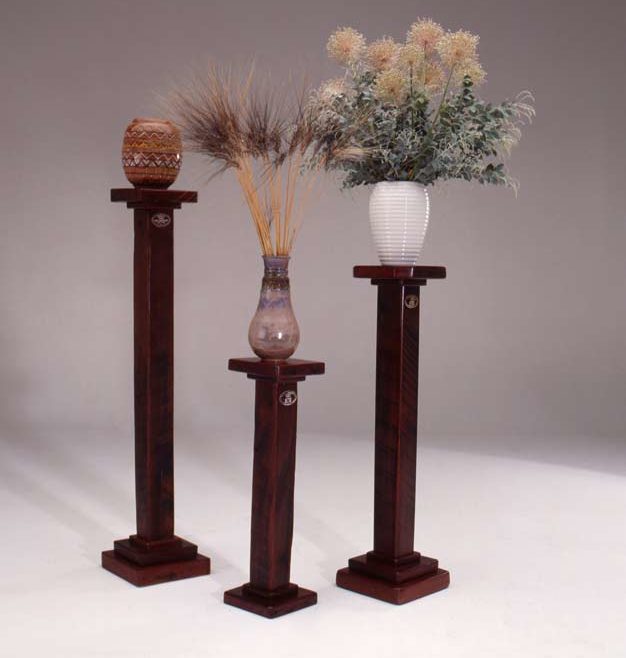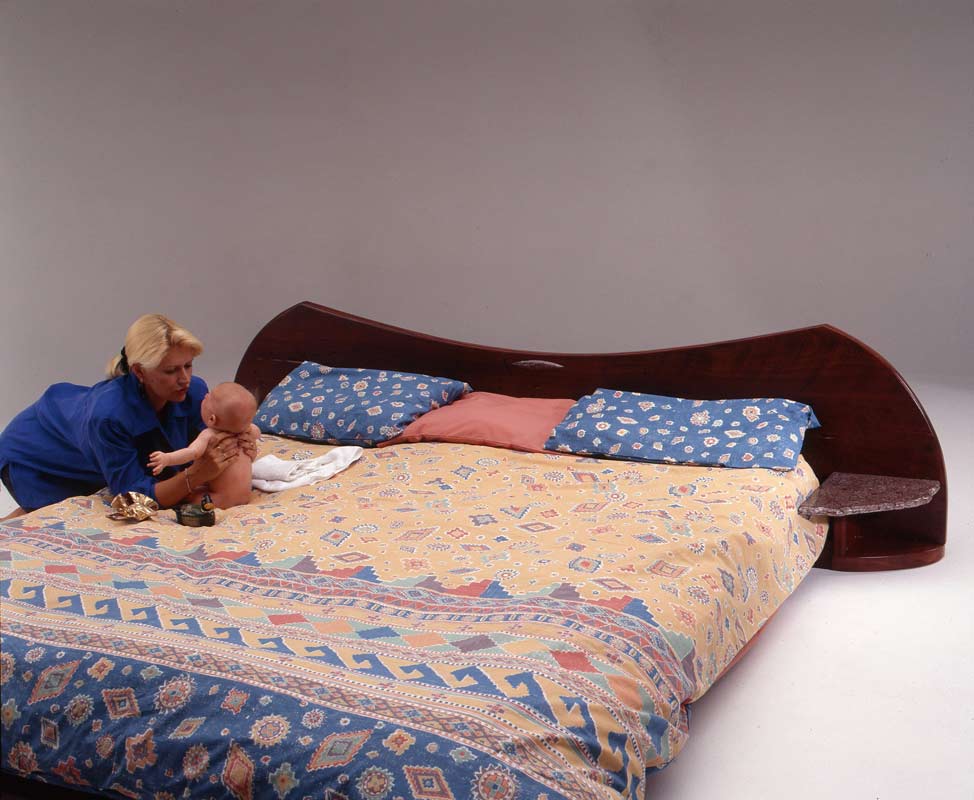 The York Chapter begins
As their business began to grow, they realized they needed new premises. Nothing around Perth was suitable. In 1993, Gary took his fiancé, Lara to visit his parents in York, a small wheat belt town where he had spent his childhood, and they discovered what was to become the new home for their business – a dilapidated old flour mill about to be auctioned.
They decided to attend the auction and bid for it. They were successful at auction and purchased it for $155,000, $1000 less than the maximum that their bank had given them approval for. Given that the losing bidder had planned to demolish the building, it was significant for both Gary and David, as well as the town of York and lovers of heritage.
The Old York Flour Mill was constructed in 1892, and dominates the entrance to the historic wheat belt town of York. It is a four story structure, built using convict hand made bricks and occupies two acres. A week after the auction, Gary and David realized the challenge they had taken on. According to Gary – 'an incredibly derelict building with missing windows, heaps of graffiti and holes in the roof and floors'. Family members and friends thought they were crazy. Their bank manager thought so too – 'why would you move from Scarborough Beach Road with 70,000 cars a day driving past, to York with only 3,000 people in total" Knowing more about the market than what their bank manager, Gary and David responded with 'Why not" They saw the huge marketing and operating potential.
Within two weeks, they were operating from their new premises and Gary and his wife Lara were literally living in a tent under one of the sheds. So the task of restoring the complex of derelict buildings began. The first goal was to 'close up the building', i.e. to fix the roof, windows, doors etc. The first twelve months were very chaotic and very hard work. It was also a case of 'sink or swim', as they could not afford to stop or slow down otherwise their business would have drowned.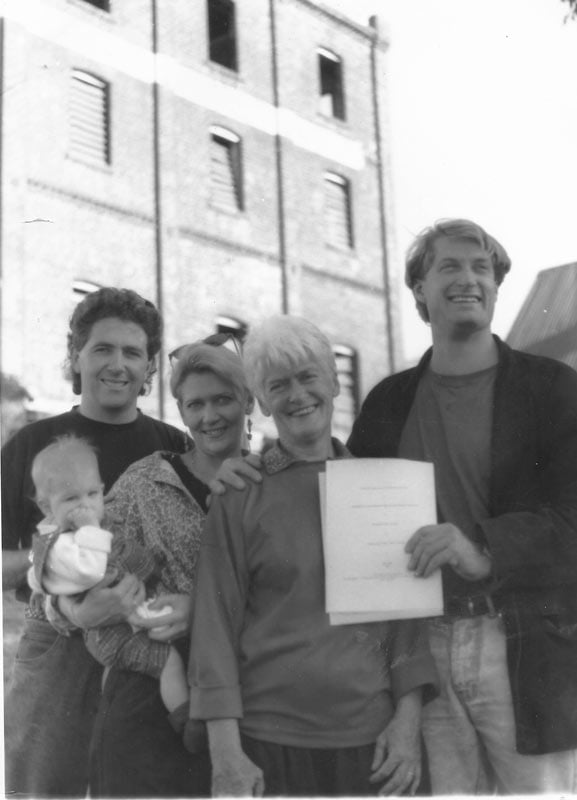 The York Flour Mill before JahRoc purchased it, a renovators delight!
Dave & Jo, Lara & Gary with Jack,1994
They had little money and what they did earn, they put back into the business. Like their furniture, which was mostly made out of recycled timber, through necessity they recycled materials that they found on site to renovate the building, which became their gallery. Apart from their own efforts, they had support from family, friends and even locals who were sympathetic to what they were trying to do, especially when they realized that they were actually restoring the building and were not pulling it down to make their furniture from it. The local 'Friends of the Old Flour Mill' group contributed $4,000 to help fund some of the 40 double hung windows that needed replacing.
Their courageous decision to move to the country and create a tourism based outlet for their business seemed to be vindicated as their turnover doubled in their first year of operations in York.
The renovations continued and as their business began to grow, so did their staff and number of visitors who came to York to view their business. In 1995, one of their visitors to the gallery was Brent Stewart, who owned a Perth marketing company called 'Market Equity'. He undertook the development of a five-year business plan. Gary remembers looking at the plan and thinking that there was no way they could reach the sales targets in the plan. Nevertheless they adopted it, and to their amazement they achieved it in three years.
Gary and David learnt quickly the value of listening to advice, albeit they were selective as they picked and chose what they thought was relevant to their market. One of those pieces of advice was to realize that they were in fact, not in the furniture business, but in the lifestyle business. Gary firmly believes that 'people who buy our furniture are buying a lifestyle'.
In 1996, a group of local jazz enthusiasts approached them to use the unused western shed for their annual Jazz Festival. The group re-roofed and re-floored the shed and three months later David and Gary found themselves wearing suits at a $175 a head show, watching James Morrison, Tommy Emmanuel and Grace Knight, whilst they ate crayfish and drank wine. The Premier arrived in a helicopter, and 1,000 people by train especially catered for the occasion. Gary remembers looking at David and saying "Oh, how your luck can change!"
Fully renovated Flour Mill 1998, a real achievement for JahRoc
Gary and David 1996
Roo Silhouette Rocking Chair 1994
JahRoc's York cavernous workshop 1994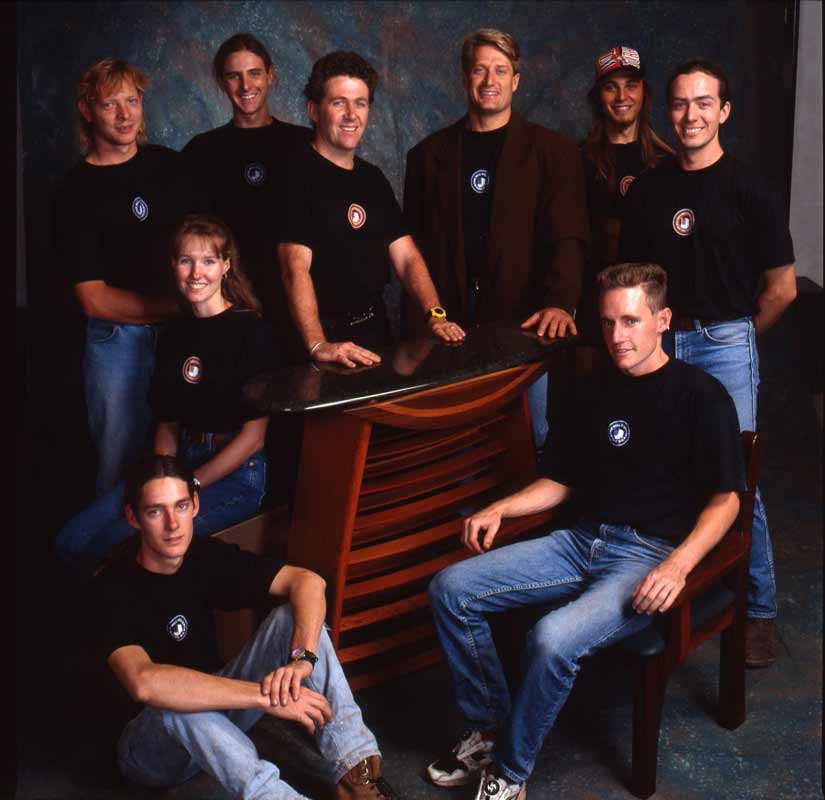 There have been many defining moments in their business and none more so than in 1995, when they decided to opt out of the production side of the business. For a long time, they believed that no one could do things better than themselves, but if the business was to grow, then they had to learn to delegate and focus on managing the business. They also realized that they had to take responsibility for those aspects of managing the business that they were individually best at – Gary would focus on the creative and marketing aspects of the business, while David the day to day organizational needs and financial control of the business.
With the growing number of visitors to the gallery, they also realized that the business and its clients would benefit from the presence of other craft businesses and a café. A café facility was created in the mill's old office complex, and rented out.
Attracted by the success of the Gallery, other businesses were introduced. Gary's father-in-law (Leon Baker) renovated the third floor of the gallery to set up his jewellery business. Other businesses included 'Errol's Forge' and Megan Gardiner's 'Card with a View'. It was apparent to them that this business cluster or "incubator" concept was a great opportunity to add value to the visitor experience and so they opened up more space for additional businesses. It was also a way of giving back, so that other artists could have the same opportunity as they were given when they paid $50 per week to rent part of someone else's shed. It also solved the problem of having to maintain some very large spaces which always needed cleaning.
By 1998, 11 other enterprises operated in the complex, including the Café, a blacksmith, hardware outlet, and hairdresser. The same year Gary decided he was too far from the surf so he and Lara purchased a block on the coast in Margaret River with the long term plan of returning to his Southwest roots.
Errol Smith in his blacksmithing forge at JahRoc York
In 1999 Gary commenced construction of what would become a 10 year project on their new home and studio by the sea in Gnarabup Beach, Margaret River. In 2001 Gary, Lara, Emily, Rose and Frank moved into the shed of their new home where they stayed for 9 months while Gary finished the top story enough to move in.
Whilst Gary was busy building he continued to design new prototypes and undertake special commissions in his studio/ workshop in the under croft of their new home. Living back near the ocean was having a very positive effect on his creativity. One very special commission was "Sue's Chaise Lounge'. Having not really ever designed any soft furnishings before, Gary wrestled a bit with this piece for Sue Ulrich and Bill Anderson. He persevered at Sue's insistence and the finished piece went on to take out not only Excellence in Lounge furniture in the 2002 National Furniture Industry of Australia Awards, JahRoc also took out the 'Best Of The Best' over all categories. Not bad for a first up effort designing lounge furniture. It was a great boost for the team and good vindication for the move back to ocean !!
" I still remember finishing that piece at about 9pm in my Marg's studio and getting tingles up my spine as I gave the oil a final polish. I knew it was special" Says Gary
In December 2002, JahRoc established an outlet in Margaret River, a coastal town in the South West of Western Australia, famous for its wineries and surfing. With Gary and his family now living in their new home/ studio at the beach it made sense to set up another gallery and with so many talented artists and creatives working in the area it was an instant success. They had returned to the area that in the early days had embraced their furniture designs and had encouraged them to pursue their passions. They bought another restored heritage building as their gallery space.
SILHOUETTES COLLABORATION
The first very successful Collaboration was "Silhouettes" in 2004, Furniture by JahRoc, Paintings by Shaun Atkinson, and Poetry by John Kinsella all inspired by the Margaret River region. It came about after Gary and Lara attended an FIAA trade mission to Italy to study the Italian Furniture design and manufacturing industry. The big take-home for them was the need to produce work that had a sense of place. The collection was exhibited in JahRoc's Margaret River Gallery, Form Gallery in Perth, and then the entire collection and it's artists were flown to Italy where it was exhibited in Florence. See the 'JahRoc Collaborations' book for the full story.
In 2005 a major addition was made to JahRoc's Margaret River Gallery with the design and construction of a 200m2 contemporary space that connected the 2 old cottages together. The rear cottage was renovated to become a manager's quarters/gallery space. The additions made it possible to not only display their own furniture, but also art works by emerging and established West Australian artists. JahRoc has undertaken several collaborative exhibitions with some of these artists, creating unique exhibitions crossing genre's such as Art, Furniture and Poetry.
2005 was also the year that David, Joanne, Olivia and Virginia decided that Margaret River would become their home as well. Having stayed at Gary and Lara's home on several occasions they found the lifestyle just too hard to pass up. They purchased a beautiful small farm between the beach and town and set about making plans to leave York.
Sue's Chaise Lounge designed 2002 and still popular today
Gary working on Silhouette Collection in his Gnarabup studio 2004
Silhouettes Exhibition 2004
VIEW SILHOUETTES COLLECTION HERE…
JahRoc Galleries Margaret River 2005
Project Abrolhos: Cray Lounge Chair
VIEW PROJECT ABROLHOS COLLECTION HERE..
PROJECT ABROLHOS COLLABORATION
In 2007 Gary and David collaborated with Larry Mitchell on 'Project Abrolhos' which was also very successful. The boys spent 2 weeks in a friends Cray fishing camp to soak the place up and upon return Larry created 8 painting and Dave and Gary created 8 pieces of furniture. The show was pretty much a sell out with some of the pieces such as the 'Cray Lounge' chair still creating strong sales 10 years later.
Project Abrolhos: Windows To The Lagoon
NEW MARGARET RIVER WORKSHOP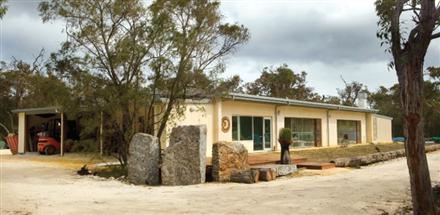 By 2007 both gallery's were selling so much work that it became very hard to keep up with the orders, so the tough decision was made to pull out of their York gallery and move the workshop to Margaret River.
A large bush block was purchased on the coast close to both Dave and Gary's home and yet another design and construction phase was entered. At this stage Dave was commuting to York to run the business while Gary was building the new workshop in Margaret River. Gary used rammed limestone for the walls and jarrah for the joinery, all of which he made in his home studio. It has lots of natural light with great bush views in all directions. The surf is only a dirt track away so the boys can get a fix without having to travel too far. Plans have been made to create at least 5 artist studios so that JahRoc can continue their collaborative approach to their craft.
In July 2008 JahRoc moved out of York completely. The Mill Gallery business was given to a friend who had moved to York so the town wouldn't lose a major tourist attraction. The knowledge that the Old York Flour Mill was left in a much better condition than when they found it made Gary, David and their families proud of the legacy they had left behind. The Flour Mill would remain a major land mark in York for many years to come. While this was a sad end of an era as far as York goes it was also an exciting new beginning for their artistic lives in Margaret River.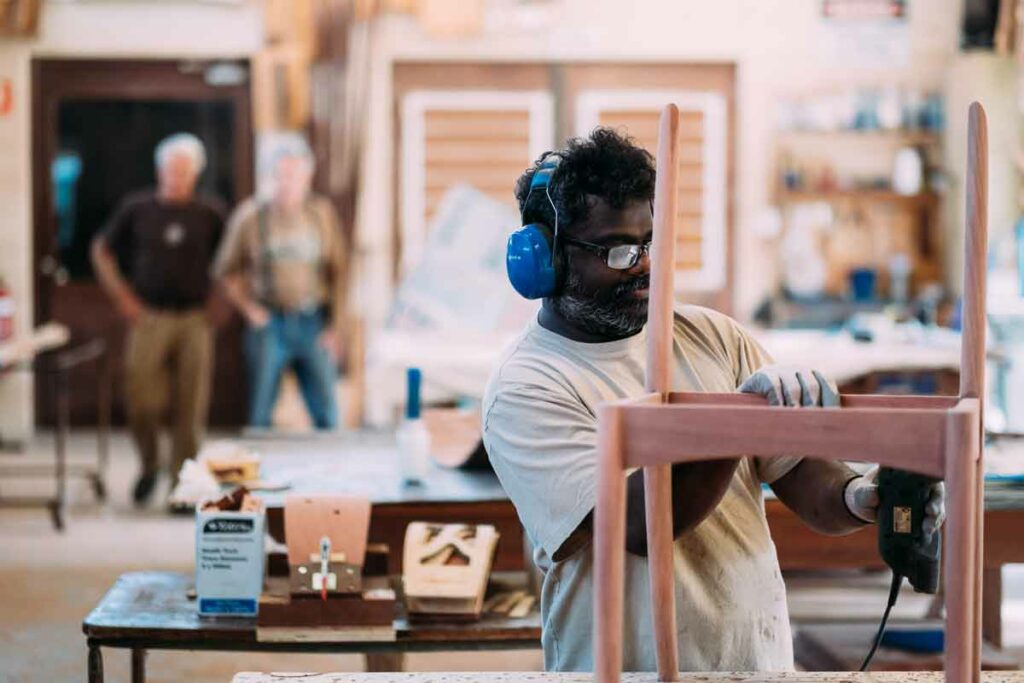 Project West Kimberley: River Flows Through Table
PROJECT WEST KIMBERLEY COLLABORATION

In 2009 the Boys once again Collaborated with Larry Mitchell but this time the inspiration was the West Kimberley's. Lara and Gary and Larry and Dianne Mitchell were lucky enough to be invited to visit the area for 2 weeks aboard the "True North' Luxury cruiser complete with helicopter !!
It was an incredible way to soak up that very special region and the work they produced was again very well received. JahRoc picked up yet another 'Best of the Best' award amongst many others in the National FIAA furniture awards.
VIEW WEST KIMBERLEY COLLECTION HERE…
Always Offshore: Fish Halltable
ALWAYS OFFSHORE COLLABORATION
In 2010 Gary embarked on a journey with renowned Australian Surfboard designer Jim Banks to create some of his beautiful surfboard designs using Australian native timbers. What has become know as project 'Always Offshore' has also spilled over into some very funky surf-inspired furniture.
VIEW ALWAYS OFFSHORE COLLECTION…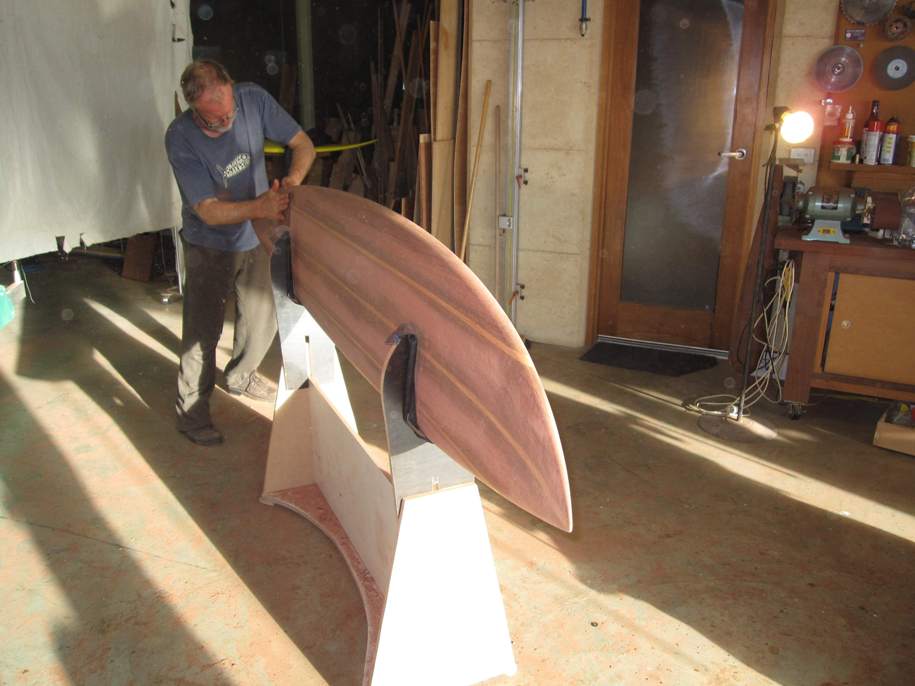 MARGARET RIVER BUSH FIRES
2011 ended badly with the devastating Margaret River fires. Over 40 houses were lost as huge blazes ripped through coastal scrub from Elensbrook to Redgate. It was a very gnarly time. The boys had to evacuate JahRoc's Kilcarnup workshop as the fire burnt straight over it taking out everything outside the workshop including a large chunk of JahRoc's best timber stock and even Bessie, the old Dodge truck that they had owned for 25 years.
Dave and Gary were in the thick of it as volunteers for the Wallcliffe Bush Fire Brigade. We considered ourselves very lucky not to lose our home in Gnarabup as 2 adjoining neighbours did and 5 other houses in our street. While no lives were lost in that fire, it was still really heartbreaking to see friend's houses that we had watched them lovingly build be destroyed by huge unrelenting flames, says Gary. One house on the hill in Gnarabup that Gary and Dave had put fires out on 3 occasions on Wednesday thinking it was saved saw it burn down the next day. They were gutted. In the aftermath, it was like living in a bit of a war zone with everything black and burnt and friends houses lying in ruins. The only good thing to come out of it was the galvanising of our community with people coming together to help each other out.
Dave standing out the front of Gary and Lara's home/ studio after returning and finding out that firefighters had saved it. It was a bitter sweet moment as their neighbour Ernie & Karen's home in the background could not be saved.
There used to be about 150m3 of beautiful timber stacked up to 5m high stored in this part of JahRoc's workshop yard. The fire burnt so hot you couldn't even see where the timber had been. Nothing but ash and their old truck left. Another example showing the heat of the fire is that the windscreen of the truck melted onto the dashboard. Apparently it takes temperature around 700 degrees Celsius to do that!
CAPE TO CAPE MARGARET RIVER COLLABORATION
In 2012 Gary and Dave Collaborated with Larry Mitchell again using the stretch between Cape Leeuwin and Cape Naturalist for inspiration. It was a widely embraced body of work with pieces being shipped around the globe as a result.
We had struggled a bit to find suitable timber to replace what we had lost in the fires, said Gary, but being the great community that it is that we live in, a friend offered us some really nice Jarrah that had been salvaged after a storm some 15 years earlier in Boyup Brook. From that we were able to produce some wonderful designs that were very well received.
VIEW MARGARET RIVER COLLECTION HERE…
Project Margaret River: The Branching Out Desk design was led by the natural form of the jarrah salvaged from a Boyup Brook storm.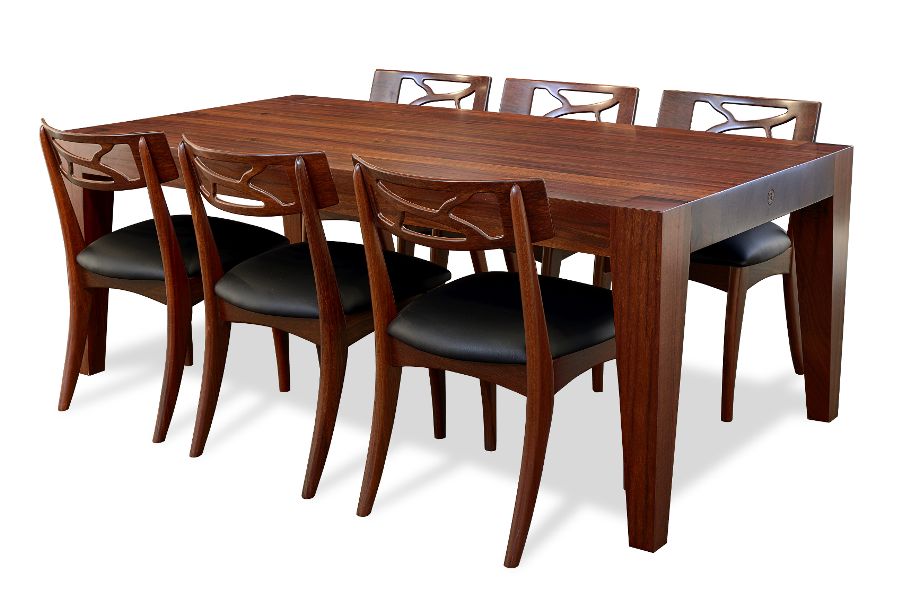 Project Margaret River: "The Block" Dining table was a tip of the hat to Geoff Juniper who was an early inspiration for Gary with his simple yet imposing designs. The filigree chair celebrates the sculptural forms of branches found just below the forest canopy's so prevalent in our region.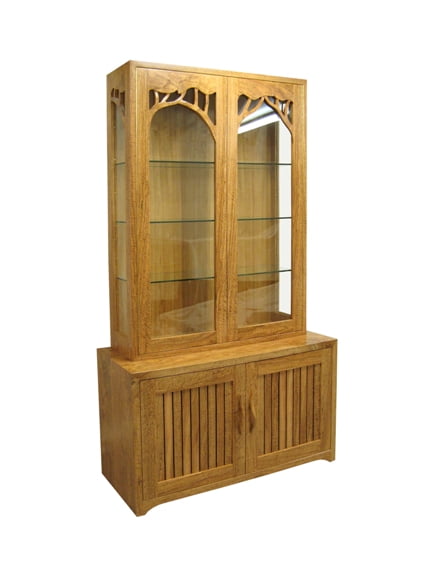 THE SPIRIT OF THE TIMBER JahRoc continues to reinvent themselves and lately have been doing a lot of work creating designs that are led by the amazing forms found in our native timbers. The 'Folded Ranges Desk" was made by cutting and folding a very unusual shaped burl. The burl sat in Gary's workshop for 2 years before he finally decided what should be made from it. These pieces of timber are so special, says Gary, that we can't afford to make an incision until we are sure we can do them justice. VIEW FOLDED RANGES DESK HERE…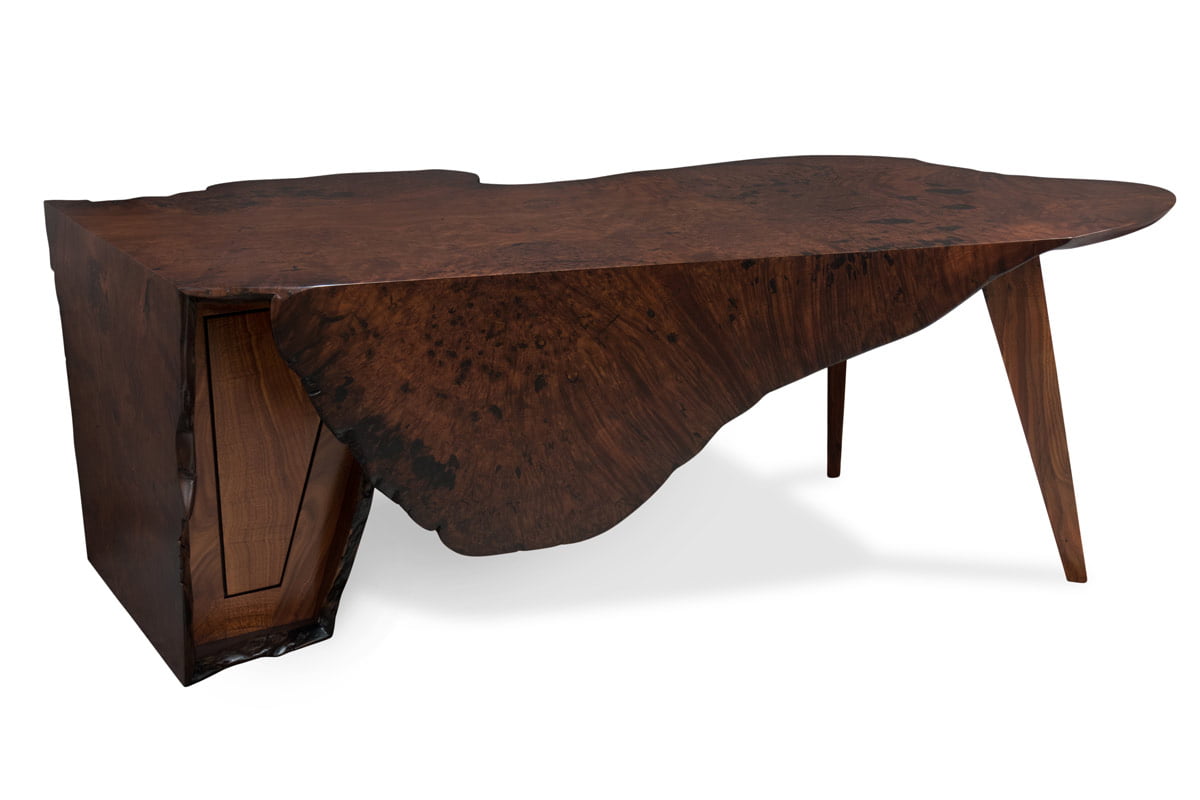 AWARD WINNERS
JahRoc has received over 50 awards, but probably the most significant and proudest awards have been their first 'Best of the Best at the FIAA, Australian Furniture of the Year Awards 2002 with a piece entitled 'Sue's Chaise Lounge', in 2003, 'Best First Generation Business Award' and in 2005, 'FIAA Western Australia Award for "Best of the Best – Overall Categories" with the new Silhouettes Range and FIAA Australian Award for "Best of the Best – overall categories in 2009 with their Kimberley Range.
Today, it could be said that Gary and David are surfing the 'crest of a wave'.