JahRoc Fine Furniture & Art Galleries
Margaret River, Western Australia
Few modern furniture & art galleries in Australia can celebrate the abundance of artistic talent on show at JahRoc Galleries, boasting exquisite bespoke Western Australian timber furniture and one-off artworks, JahRoc is a contemporary art gallery with an edge of exclusivity.
The gallery is owned and run by the original founders of JahRoc Furniture (Est.1987) and is the exclusive retail outlet for their Internationally recognised designer furniture. Gary Bennett and David Paris work together producing their award-winning fine furniture using ethically sourced local hardwoods, and have forged a reputation as being a leading influence in custom made furniture design and manufacture in Australia.
You will find JahRoc Galleries on the main shopping strip of Margaret River, which is one of Western Australia's most popular holiday destinations. JahRoc is possibly the largest furniture and art gallery in Australia with over 400m2 of floor space equating to nearly 700m2 of wall art hanging space and a unique racking system that holds a further 200m2 of painting hanging display. Showcasing a massive variety of artworks including Paintings, Glass, Jewellery, Sculpture, Fine Art, and Fine Furniture makes JahRoc Galleries a one-stop gallery destination.
JahRoc's fine furniture & art gallery spaces are beautifully displayed throughout two split level historic buildings that were one of the first built on the main street of Margaret River.
---
A cavernous contemporary gallery space joins the two historic buildings together, creating 3 separate galleries for visitors to meander through. This tasteful renovation has maintained the character of the older buildings whilst the 4.5m high ceilings and elevated window designs in the new gallery space provide a flood of natural light creating a wonderful ambiance for viewing and selecting exquisite furniture and artwork.
With a collaborative approach to showcasing their own designer furniture with an extensive collection of fine artworks throughout the gallery, the discerning purchaser can be assisted in viewing a painting sitting over a sideboard for example, and with this crossing of genres helping them to visualise its size and placement in their own home or office.
With Fine artists such as Larry Mitchell, Shaun Atkinson, David Bromley, Astrid Dahl, Shannon Hamilton, and Janine Daddo along with a stable of over 100 emerging plus well-known local and Australian artists, JahRoc Galleries simply must be seen when visiting the Margaret River region in Western Australia.
JahRoc arranges a comprehensive packaging and shipping service which means if you fall in love with something in their gallery getting it home is a mere formality.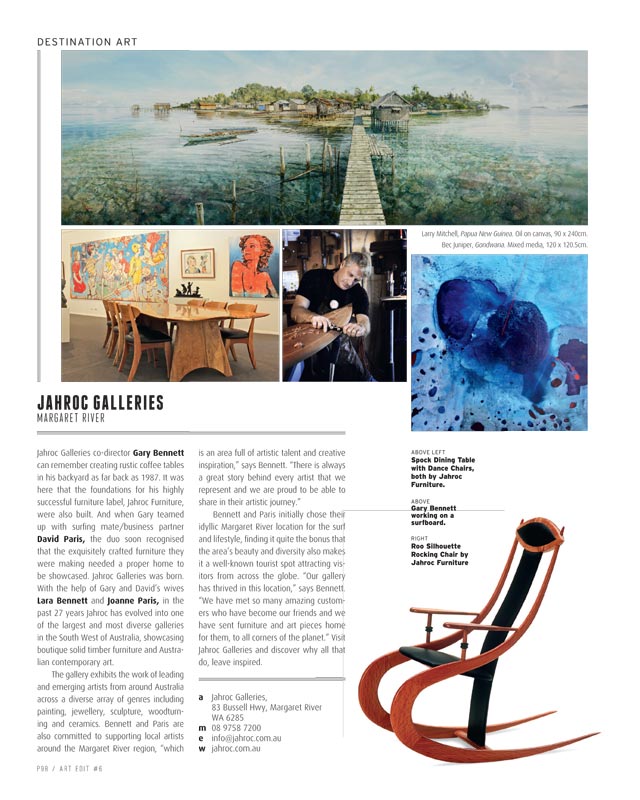 JahRoc Galleries co-director Gary Bennett can remember creating rustic coffee tables in his backyard as far back as 1987. It was here that the foundations for his highly successful furniture label, JahRoc Furniture, were also built. And when Gary teamed up with surfing mate/business partner David Paris, the duo soon recognised that the exquisitely crafted furniture they were making needed a proper home to be showcased. JahRoc Galleries was born. With the help of Gary and Dave's wives Lara Bennett and Joanne Paris, in the past 27 years JahRoc has evolved into one of the largest and most diverse galleries in the South West of Australia, showcasing boutique solid timber furniture and Australian contemporary art.
– Art Edit Magazine 2015
---
Contact JahRoc today to find out more about their online gallery and contemporary in-store gallery