Contemporary landscape painter Rowena Keall Walsh has a strong connection with the South West WA which has contributed to her love of the environment and passion to take care of the natural world. Her soft semi abstracted oil landscapes capture the essence of areas such as Cottesloe, Point Peron, Swan River, Augusta, Boranup and Busselton.
Through my paintings I would really like to bring people closer to nature, to appreciate and respect the amazing qualities that it has to offer our society
Enjoy getting to know Rowena Keall Walsh
When did you first feel the desire to be artistic and realise you had talent?
Right from an early age. My mum is an artist and very creative and I used to muck around with her in her studio. We were always making something whether it was sewing, cooking, playing with clay or painting.
Where did you learn your art?
Apart from my mum, I went to Claremont School of Art when it was a dedicated art school, it was amazing just a small campus with all these cool artists as teachers. I majored in sculpture and printmaking and it wasn't until later that I discovered oils. I also studied printmaking and drawing at the Gordon, Geelong, Victoria.
What inspires you most?
I love nature and the landscape and I'm very interested in conservation. All my paintings reflect the importance of nature as an essential part of our lives.
What message are you sending to the viewer of your art?
I hope that the viewer can see beauty in my paintings and that this may influence the way they see and care for our landscape.
Describe your studio…
I have a 50yr old small shed out the back of our house. We lined, re-clad (it was asbestos) and re-stumped it! It sits next to an enormous cypress pine tree that has been slowly pushing the shed over. We have had to cut a piece out of the roof to accommodate the growing tree. It has natural jarrah floorboards and we have put in big windows that capture the northern light.
Describe your typical day of creating art…
I always start my day with a walk on the beach or in the bush. We have some amazing bushland reserves in Perth and it reminds me how important it is to keep these pockets of nature in the city to retain the balance. I also find it very inspiring before hitting the studio!
What mediums do you use and why?
Oil paint. I love oils they are so luscious and forgiving and have a wonderful natural sheen to them. I also love to draw and have recently rediscovered pastels. At art school I was obsessed with pastels!
What are you working on now?
I always have lots of things on the go but I am excited about a project that will take me to the Great Western Woodland for a conservation and kids education journey. We will all be learning about conservation and indigenous culture as well as have lots of fun!!
What are your recent career achievements you feel proud of?
I have won a couple of prizes and done some big corporate commissions but I also love that I have been invited to be artist in residence at various schools and organisations. I love that I can teach kids through art about the environment and the importance of conservation.
What do you love most about what you do?
It's great being my own boss and the flexibility of being able to be there for my family as well as do something that I love.
Where can you see yourself in 10 years time?
Travelling Australia and the world painting!!
x
Rowena Keall Walsh Image Gallery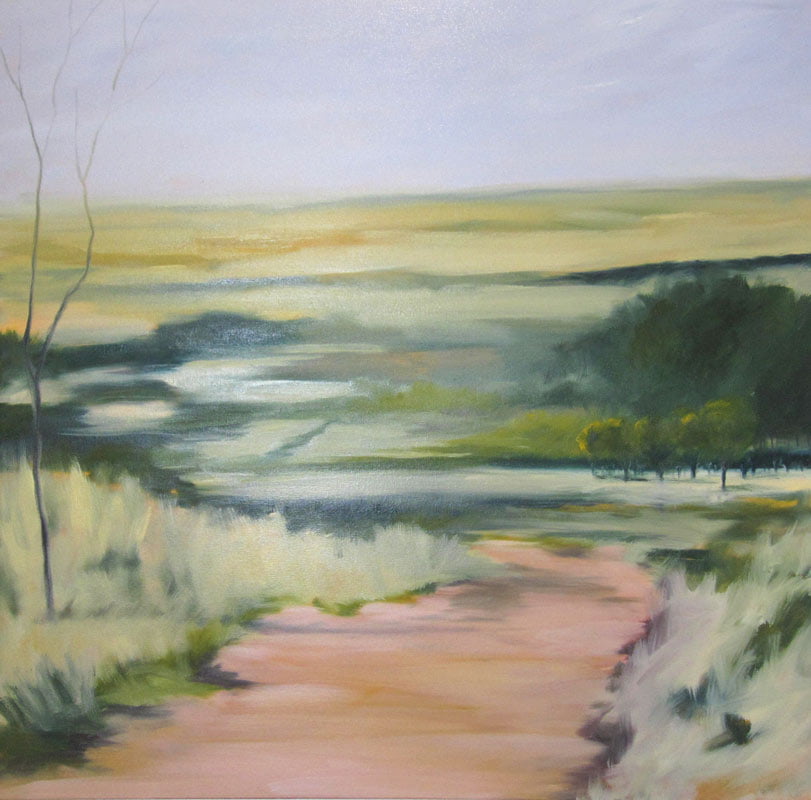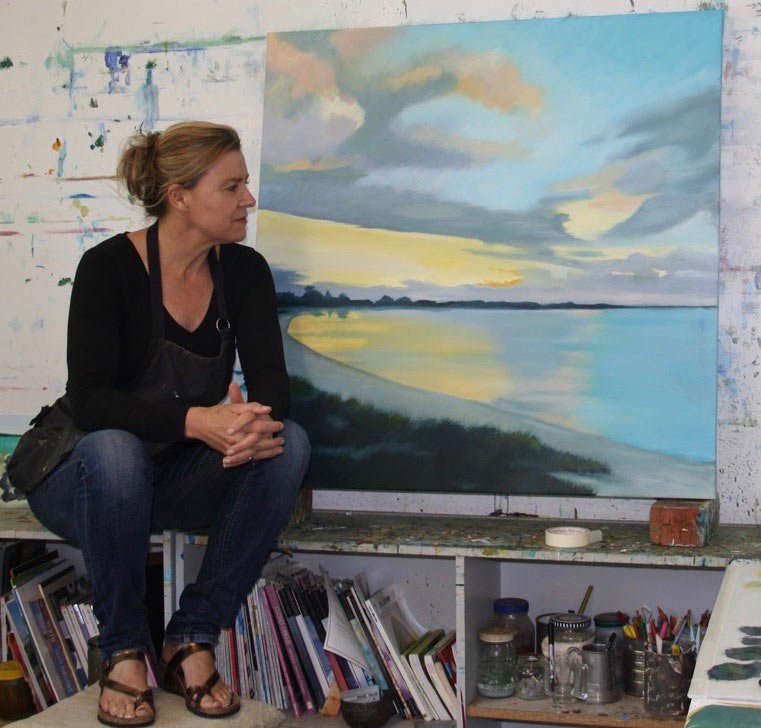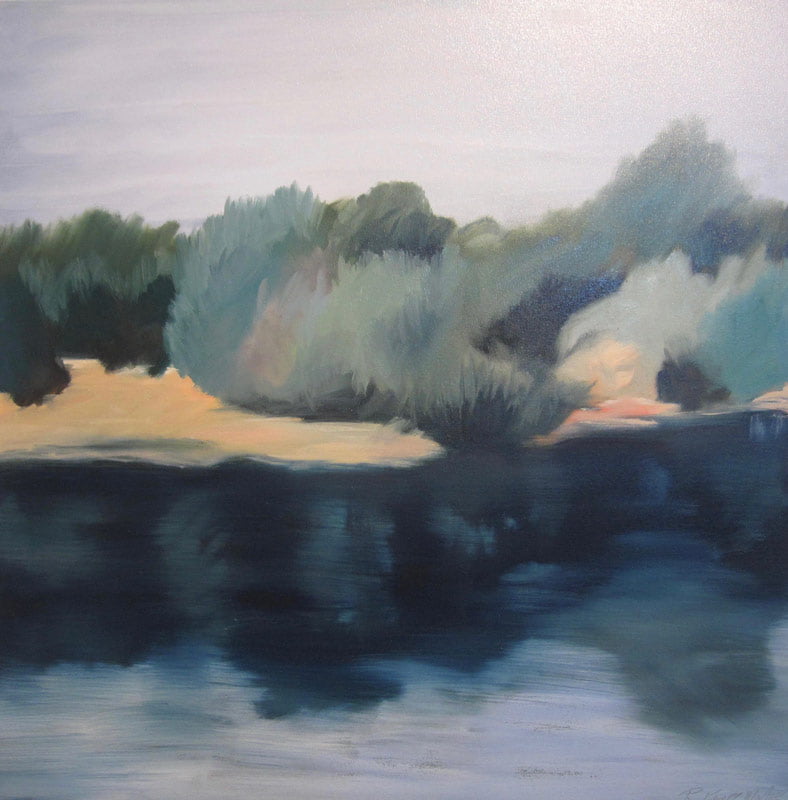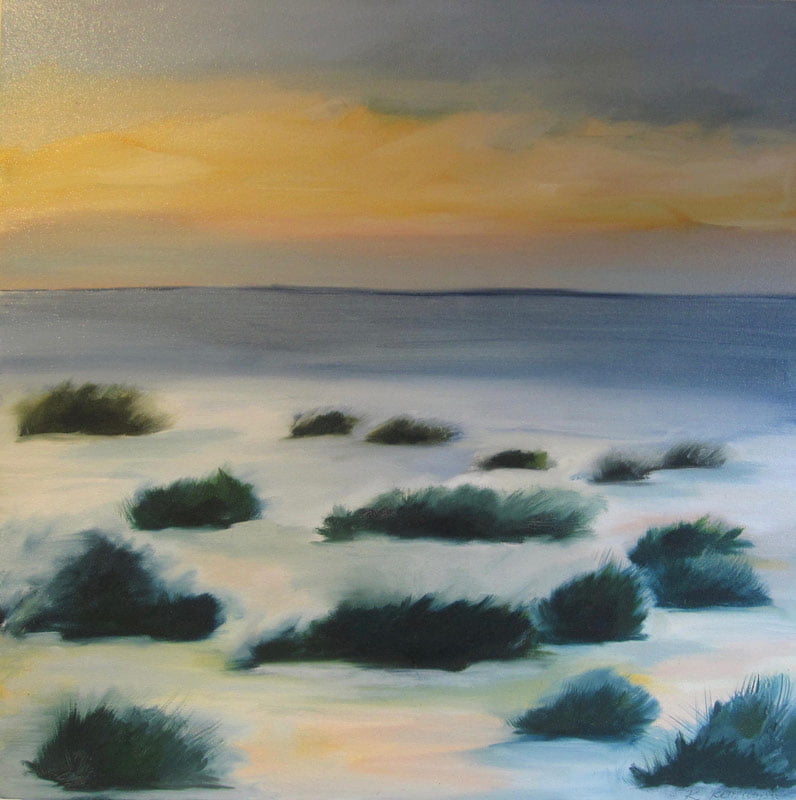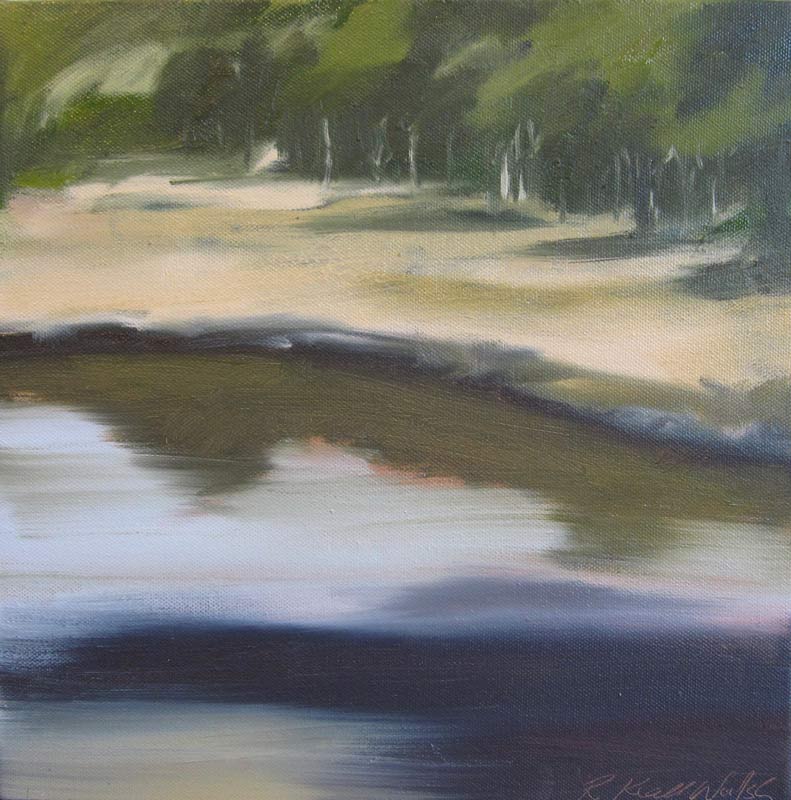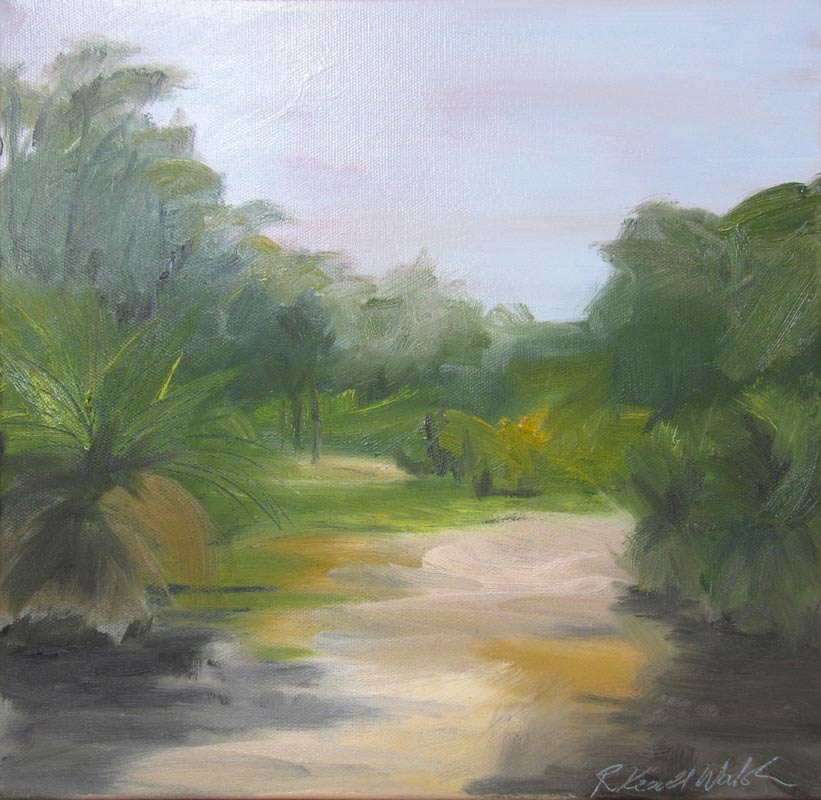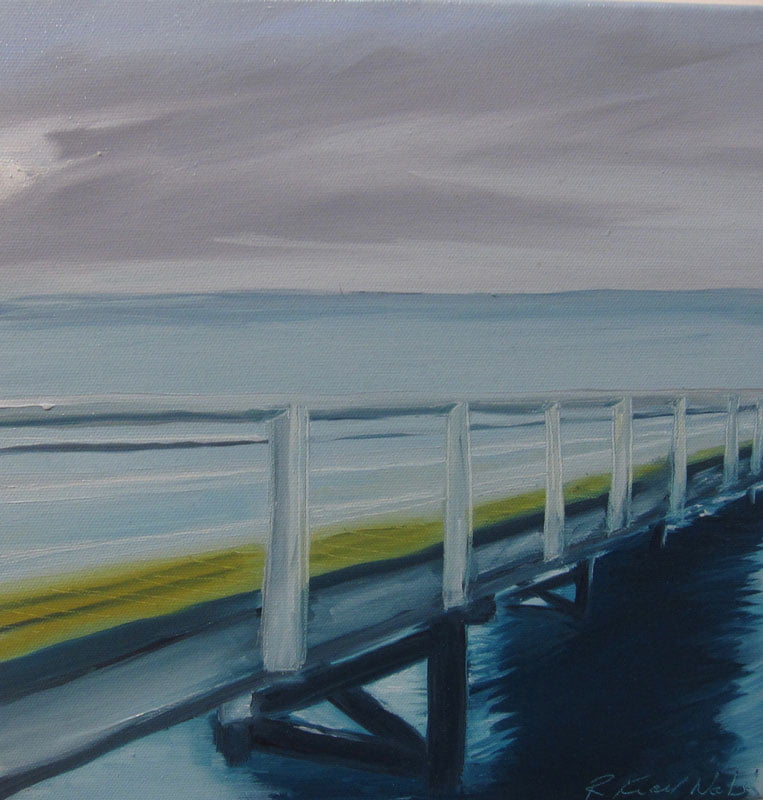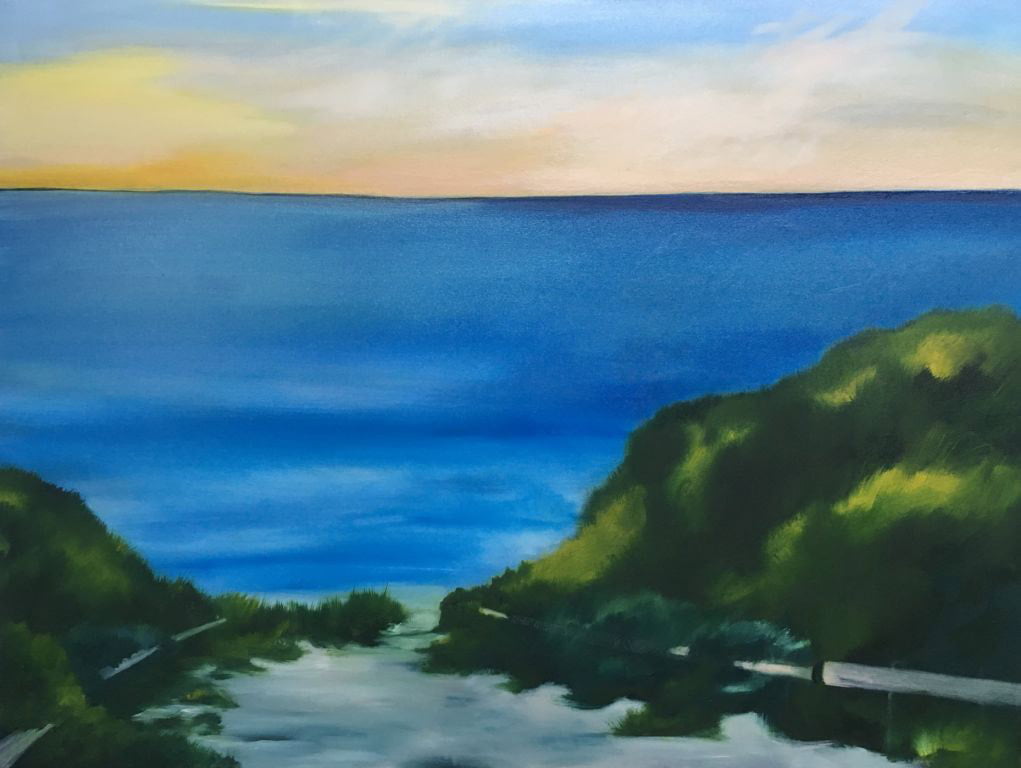 Rowena Keal Walsh – CV
Perth Artist Rowena Keall Walsh has enjoyed successful mixed and solo exhibitions both locally and interstate and has been collected by many corporate collections including a fit out of 23 paintings for the Galaxy Casino Hotel in China. Her paintings are inspired by the feelings and emotions that the natural work evoke in Rowena and she uses many layers of oil paint to build up the image to then etch into the paint creating intricate patterns. Her vision is for people to live and progress in harmony and balance with nature.
Rowena Keall Walsh majored in sculpture and painting at Claremont School of Art and is a competent oil painter. She has had five solo exhibitions, completed two major corporate public art projects as well as three artist in residencies over the past seven years.
Rowena Keall Walsh is deeply passionate about the relationship between communities and our ever changing environment. Her work is inspired by the feelings and emotions that the natural world evoke. Underlying her paintings is the vision is to see people live and progress in harmony and balance with nature. In her painting practice she endeavors to understand the Australian landscape as well as reflect the splendor and presence of nature in the urban and innate landscape.
Rowena uses layers of oil paint, to build up her paintings. Details are etched, drawn and scraped into the deepest layers of the paint revealing the foundation of the canvas.
Rowena Keall Walsh – Artist Biography
b. 1968 Perth, Western Australia, currently lives and works in Perth Western Australia
1992 Further studies in Art Diploma, Claremont School of Art, Perth
1990 Studied life drawing and screen printing at The Gordon TAFE, Geelong, Victoria
1987 Fine Art Diploma, Claremont School of Art
1986 Fashion design, diploma course, Bentley Technical College
1985 Completed secondary education at Saint Hilda's
Solo Exhibitions
2015″Vanishing Point" Cullity Gallery, Faculty of Architecture, Landscape & Visual Arts The University of Western Australia Nedlands
2014 "Sense of Balance" Central Park Lobby, St Georges Tce, Perth WA
2013 "Urban shades" Cullity Gallery, Faculty of Architecture, Landscape & Visual Arts The University of Western Australia Nedlands
2007 "Precious Little" Private residence, Nedlands
2007 "Clear Conscience", Elements Art Gallery, Subiaco
2006 "Behind the Fence", Elements Art Gallery, Subiaco
2005 "Aspects Four", Moores Building Contemporary Art Gallery, Fremantle
2004 "Merging Places", Gallows Gallery, Mosman Park
2002 "Shifting Lands", Gallows Gallery, Mosman Park
2001 "Paintings at a Glimpse", El Nino Café, Perth
Group Exhibitions
2013 City of Wanneroo Art Prize
2012 Perth College Art exhibition
2012 My Community, Cullity Gallery Faculty of Architecture, Landscape & Visual Arts The University of Western Australia Nedlands
2008 Lake Claremont Environmental painting project and exhibition at Scotch College, Swanbourne, Western Australia
2007 "Foreshore". Environmental painting project and exhibition Christ Church Grammar school Gallery, Claremont WA
2007 Artitude, Burswood Entertainment Complex, Perth
2007 City of Melville Art Prize
2007 City of Stirling Art Prize
2006 Gorepani Art Gallery Albany, Western Australia
2006 Elements Art Gallery eclectic collection
2006 Artitude, Perth Convention Centre
2005 Artitude, Perth Convention Centre
2005 Artopia, Gorepani Art Gallery, Albany, Western Australia
2004 Margaret River Gallery, Margaret River
2004 Katsui Studio, Claremont, Perth
2004 Table and Chair, Subiaco, Perth
2004 Affordable Art Show, Sydney
2004 Graphis Gallery, Woollahra, Sydney
2002 Gunyulgup Gallery, Margaret River, Western Australia
2001 Margaret River Gallery, Margaret River, Western Australia
1999 Millbrook Gallery, Williams, Western Australia
Prizes
2013 City of Wanneroo open art award
Corporate Commissions and Collections
2014 Honourable William (Bill) Richard Marmion MLA, BE, MBA Minister for Mines and Petroleum; Housing. Member for Nedlands.
2013 City of Wanneroo
2012 Commission of 2 large paintings for St Louis Estate, Continuing Health Care
2010 Commission of 23 paintings and 900 giclee print reproductions for 5-star Galaxy Casino Hotel, Macau, China
2008 Westralia Airport Commission – Perth Airport stage 1 commissioned eleven paintings for the new Corporate Headquarters building.
2008 Westralia Airport Commission – Perth Airport stage 2 commission of twelve paintings for Corporate Headquarters building.
I was chosen for this commission because of the nature of my work to capture the essence of Perth Airport's native bushland with a focus on both its rare species as well as those
that typify the natural flora.
2006 Mirvac Fini Collection
Private Commissions
I have undertaken a number of private commissions. Further information and images are available upon request.
Community Projects and Employment
2013 Artist in Residence Hollywood Primary School
2008 Artist in Residence at Scotch College, Perth WA
2007 Artist in Residence at Christ Church grammar School
2003 Art exhibition coordinator Hollywood Primary School
2002 Painting workshop at Hollywood Primary School
2001 Painting (insects) workshop Hollywood Early Learning Centre 2000 Art Coordinator at Frankland Primary
School
1991-2001 Own business in floral design.
Selected Bibliography
2013 Scoop galleries Choice
2013 West Australian News Paper- Arts, Stephen Bevis
2007 Perth Vita, Culture
2007 Insite, Exhibition
2007 Perth Woman, Feature Article by Krystal Griffiths
2007 Post Newspapers, Arts Feature
2007 Sunday Times, Prestige Property, Feature Article by Phoebe Sinclair 2006 Insite Magazine, Galleries Choice
2006 Post Newspaper, Arts Feature
2005 Living Instyle, feature article by Kandina Terrar
2005 Western Suburbs "Four Aspects" by Louise Fisher
2004 Habitat, West Australian, By Sally-Ann Jones
2003 Scoop Magazine – Visual Arts Calendar review
2002 Post Newspaper feature article
JahRoc Galleries currently have no Rowena Keall Walsh painting for sale.