JahRoc Galleries invites you to the opening of
"MARGARET RIVER SERIES"
by
SHAUN ATKINSON
Saturday 28th July 2007 from 6-8pm
Exhibition will be opened by JOHN KINSELLA who will recite poetry that relates to Atkinson's paintings
---
On the 28th of July JahRoc Galleries will host the first solo exhibition by Shaun Atkinson in Margaret River for 14 years.
Atkinson, who's extensive CV includes some major collectors including the State Gallery, has lived in Margaret River since the mid 70's. In recent years Atkinson has travelled extensively and exhibited in Florence, Dubai, Jakarta, Bali, Hong Kong, the UK and North America with a high degree of success. His last major exhibition at Greenhill Galleries in Perth in 2005 was a virtual sell out.
John Kinsella, who has written poetry relating to early Australian landscape artists such as Boyd, and Blackman, became aware of Atkinson's work when he wrote poetry for Silhouettes at JahRoc in 2004. John had recently published 'Peripheral Light' in America and was quite taken with Shaun's exploration of the peripheral view in his abstracted landscapes. Kinsella immediately agreed to open 'Margaret River Series' for Shaun as well as writing some new poem's which he will recite on the night.
'Margaret River Series' is a coming home for Shaun as he explores the effect of light and dark on the land and sea scapes in the region that surrounds his Studio. The physical properties of the work evoke the strength and conflict within nature. The shadow, which is ever present in Atkinson's work, is a vehicle that explores territories of the subconscious.
By painting these sometimes very large works on panels it gives the opportunity for them to be hung in varying configurations. They are ultimately connected by a horizon but can travel around a room creating landscapes with a peripheral view.
Artistically this will be an exceptional evening. The power of Atkinson's large scale dynamic works shown in JahRoc's cavernous new gallery space introduced with poetic intensity by John Kinsella will be a cultural feast for the eye's and ears.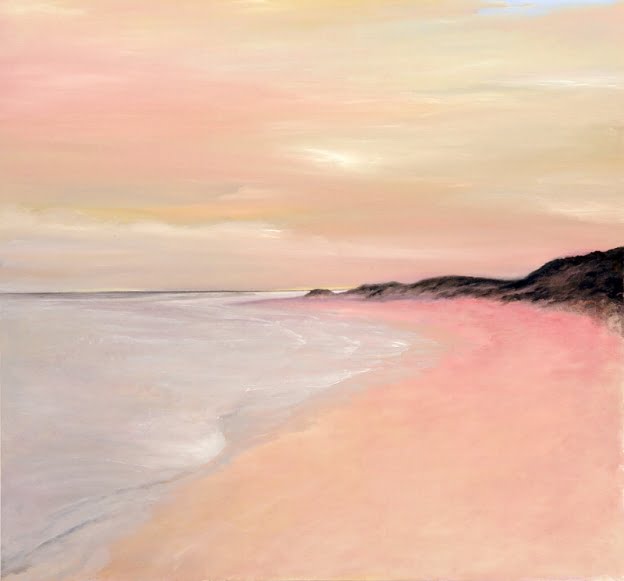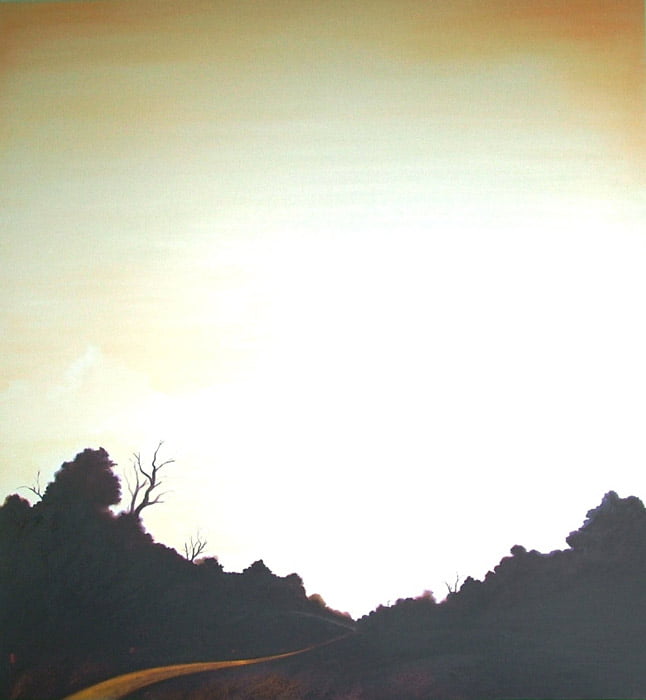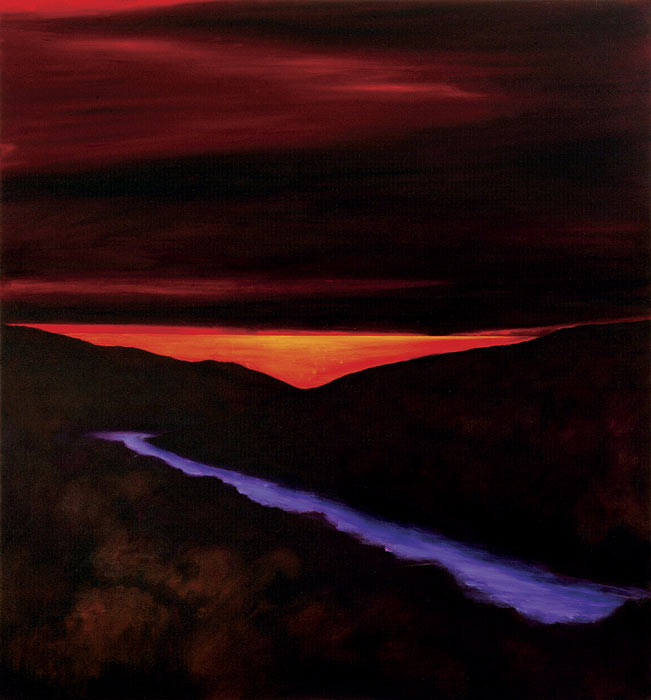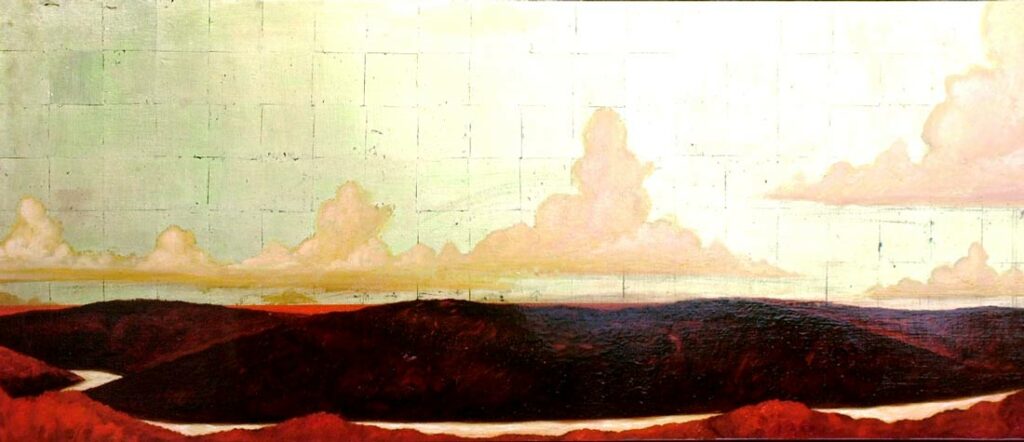 Opening Speech by John Kinsella
I first came across Shaun Atkinson's work when I collaborated with Gary Bennett's and Ian Bailey's furniture visualisations, or envisionings, of waves, and Shaun's paintings of edges, connectors of light and space. This was the Silhouettes exhibition. I wrote a longish poem that explored shifts of light and motion in borderline landscapes – between sky and sea, sea and land, sky and land, and the liminality in which all operate together. This was a direct response to the work of my fellow artists and craftsmen, and, for me, was a sharing of different mediums with similar end results in mind.
For me, the medium is text. For Shaun Atkinson, the medium is painting, but neither of us, I'm sure (and I'd include Gary in this, of course), feels that our practice is limited by the medium we operate in. Shaun has long been concerned about the peripheral in his work, and about peripheries when viewing, seeing, experiencing. Recently via email he described his works as "atmospheres" and "not literal landscapes". Here I feel a great kinship with him, because a landscape as mediated by human intervention and experience, though "lived in", can be left strangely bereft and abandoned.
Shaun Atkinson's way of seeing and translating on to the panels he works so passionately is a way of reinvesting a place once seen, once visited, with that moment of connection, of interaction. For Shaun, the "decorative" surface effects of a painting are signs for entry into a rolling depth, something that can never be captured in a photo, despite the illusion of depth, and only rarely is in painting. Utilising the flatness of a panel surface, laying silver and gold leaf (leaf becomes symbolic of the living here as well, though flattened and thinned beyond all "dimension"), Shaun creates a sense of wonder and compulsion on the viewer's part, to go beyond, to create depth. He does not require special effects for this; the special effects are in the sympathy of viewing, the connection with atmosphere of place. This is a poetic vision, but one extremely conscious of what in poetry we term prosody, the ways and means of writing and arranging the poem.
Interestingly, like the poet, or this poet at least, Shaun says it "feels like you're in another zone and something that you create has come from somewhere else". So the painter, like the poet, becomes the medium, the conduit for a message from "elsewhere". This might sound somewhat spiritualist, and maybe, in a way it is. There is a sense of being "caught in the moment", and the moment taking over aspects of these works. But the "prosody" (or technique) is important: that's not by chance. That's just hard work, like designing a good poem. How to make something seem available, immediate, tranquil, even tormented, is all part of controlling that vision "from somewhere else". It becomes the here and now, the "in through the out door" paradox.
Working the gold leaf with his scratchings and markings, with his sprays and plumes of paint that drift against the more decorative and patterned cloud formations – their sense of floating paradoxically operating against the sense of their fixed and even eternal presence – creates a mystery. The iconic becomes iconoclastic, the calm becomes risky. This is intelligent and well-planned work. The word "work" is vital here.
I remember the artist Karl Wiebke talking to me about how painting for him is about processes of "work". That nothing translates without that aspect of process. Work bridges the work of Wiebke and Atkinson, though they are such different artists. Or are they? 'Maybe they are working with different ways of representation, but in the end are concerned with texture and form as openings to what makes creativity, makes someone travelling through "place" receptive to shape and form, intensities and subtleties of light and dark around them'. Shaun says he needs to work at painting though he's been doing it most of his life, and he finds the techniques constantly challenging and generative of their own tensions and contradictions. I particularly admire the integrity of this statement: "… you notice with the leaf works that I'm quite rough with them, meaning that I work the surface a lot, by scratching and staining. This is to contrast against the lacquer, I don't like them to be too slick, which I think can be a problem with using leaf and lacquer."
I first met Shaun at his home down by the mouth of the river when he was working on paintings that would form part of the Silhouettes exhibition, and now this solo exhibition. The arrangement of the panels on the white walls he works on, their arrangements on painting spaces (easels etc) so that he could look out onto the river, and most important, into the light, and also with the light behind him (it seemed to vary), told me about his work ethic, and his creativity. Their inseparability. Working with lines and curves, with horizons and open spaces edged by scrub, clouds, banks, hills, trees, and other "forms", he melted them into his pictures. There is always a sense of engagement with place, sometimes a saturation or enmeshment, but also the surprise of discovery. Of something being "new" every time it is seen and experienced. In some ways one is reminded, in an emblematical way, of early colonial paintings of the Swan River and coastline, and even of paintings made in the early days of the Van Diemen's Land colony (particularly his works on paper). Having said this, Shaun's paintings resonate with a responsibility and a respect for what has been deleted, "settled", and replaced. The essence of these still moments on the journey is that they are also homages to the land's essence, to the dreaming of others.
Shaun's river pictures make the river lyrical and of many moods. The river ties a story together. The sandbar separating it from the sea becomes the break in the music, always waiting to open, to resume. It's a calmed tension. His rivers lick towards the sea. They are veins and arteries: they breathe, they crave the heart of water, the ocean, and yet have their own intactness. There is tautology in the waters, in the flow, in stillness. The river/s cut through an ancient chthonic land shaped by erosion and, I think Sean's paintings suggest, spiritual forces. His long paintings work through spectra of light, bandwidths of sound. The sky is expansive or cropped to the hill-lines. Either way, the vision extends in all directions.
For me, his work became an act of Dante-esque movement through Inferno, Purgatorio, and Paradiso: a spiritual journey of self-enlightenment, the artist being guided to a seat of celestial enlightenment, confronting the blinding beauty of creativity. This sounds lush, but there is a compulsion to vision even in the calmest of Shaun's paintings. As part of his response to my email queries regarding his work, Shaun was particularly passionate about the Wallcliffe Road series of paintings. It had struck me that these are an ars poetica, that they investigate what he wants to say across his oeuvre as a connection with "place" and the telling of a larger story of belonging, and, indeed loss (or dispossession). He said, "I have been driving this road for years and it has given me great pleasure. Sometimes I wonder whether I ever really concentrate on driving as I seem to get lost in a world of shapes and light… and then I end up in town… if you know what I mean." Indeed, I do, having written many "drive poems".
What fascinates me is how Shaun creates stills from a narrative. In the poem I connect the different scenes, the different "shapes and light" with articles and conjunctions, whereas Shaun lets the space between each painting speak for itself. It's in the silences, as we often hear about music. As we go from frame to frame, we connect the moments of visualisation. He continues, "So I thought it fitting to do a little series, on this wonderful road. It could be a road we get lost on anywhere, metaphorically." This is vital. Even when we are specific: a place being reproduced or represented in a painting, or the names of flora and fauna and place in a poem, we wish it to transfer onto the universal. This is the local expanding, taking in all horizons, while retaining its own integrity. He then says, vitally: "As you have noticed, I work a lot with skeletal trees. I see these 'dead trees' as a very iconic part of our Australian landscape. I love the lineal and decorative aspects, sometimes looking like fingers reaching to the sky or beautiful filigree pattern dancing across a ridge." These dead trees might also give the impression of European deciduous trees waiting to come back to "life" with a change of season. There is a sublimated sense of the indigenous in tension with the "colonial" in the deceptive calm of these paintings.
I "saw" these aspects of the Wallcliffe Road paintings before receiving Shaun's email reply; indeed I'd written it in poems in response to the paintings. They speak his claims very clearly. And yet, the dead trees are also living: as shadows of the living that have their own energy, their own impetus. In the same way that his large panel paintings capture what's outside the frame, keep the line of vision stretching, rendering the curve of sight into the plane of experientiality, so the living-dead trees connect with a haunting of the land, as sense of loss that can be rekindled by choosing to see it. The indigenous artist Julie Dowling once said to me, as I often repeat because it affected me so much, something like "no matter what the white fellas do to change the surface of the land, they can't erase the signs of presence. It's just how you choose to look." And Shaun Atkinson shows us different ways of seeing.
It struck me too, and this was confirmed by Shaun, that there is an immensely strong influence of Asian art, in many forms, on Shaun's paintings. He refers to the influence of Japanese wood block prints and Indian miniatures, which I think is clear to most viewers. Here there's a sensitivity to histories of differing art cultures and culturalisms, but most relevantly, there is an empathy of mood, with a diverse way of seeing. "Australian" art and the iconicity he mentions is not simply a borrowed cultural register from "settler" engagements with place, but a broader internationalist and cross-cultural sense of how place might be viewed and translated. Especially interesting to me is the influence of Icon painting on the works.
In recent times, I have been working with the Russian Icon painter Alexander Deriev, and creating poems out of his icons. They become degrees of separation from their original scriptural origins, telling stories of the history of their creation, changes in ways of seeing and interpreting the same "things". Shaun's work does this as well. His triptych peripheral paintings build the possibility, and indeed inevitability and expectation, of change: the paintings continue through time, along all horizon lines. They are like medieval European and Renaissance altar pieces in their expanding of the storyline, embellishing the central "main" panel.
The moment is connected. This is apparent in the use of leaf, the segmentation and panelling, the bold designs crossing these lines, but it is also in the transfigurative nature of the stories being told in these works. Shaun's paintings or "works" are guides to a spirituality of place; and quietly they speak for preservation and respect. Quietly becomes loudly. Pleasure becomes beauty becomes transfiguration. The caught moment is made universal, the exquisite sunset broods with warning. But we are never "told". Shaun Atkinson is too subtle an artist to tell us – rather, he shares his luminous vision with us, his public.
Poems by John Kinsella On Shaun Atkinson's Paintings
Wallcliffe Road Series
Red
Our red memories plane
cloud-base
we rise red to shape – a smudge, a blur, reaching out with bony fingers to fingerprint the cold. Each leaf
our screen, endless stretch of sky
until it stops.
Yellow
Trinity grasping lightly, swarm
of pollen
lighter and thinner than cloud. How much shapes the risen always up to where
it must grow lean
to vacuum, breaking
through the domed, upped horizon
and scarcity
of brood.
Blue
Vapour foliates and shapes
as imagined cloud might
be left to build, draw silver into blue, draw frame
to mimic, to condense all oceans all skies
all flows. There, top-heavy world
fear cool comfort, fear
the season.
Wallcliffe Road Series 2
Staggering weight
of blood cells, formed
fine as snow, up-
point. We reflect, looking up: dark mirror, red hearts beating still,
a shape let loose
to shape.
That scratch
of growth: deadwood,
to burst out living, we know can happen.
Wallcliffe Road Series 1
The blue will happen,
take place, event,
cause effect
build make tribute,
weak at white edges, patches, to break away. How
do we breathe
a narrow space' We heat the roof with breath.
We rise as fire,
black to shadow,
ash the clouds.
Breathe
First Version:
As if quicksilver
can do no harm
is beneficial
makes the body calm not mad with side-effects.
Second Version:
What qualities of eclipse
does the flesh-coloured beach hold against the spine of rock, the headland' We think
we balance ocean, skies,
hot and cold flushes.
The sky here is breath of all people
all animals
all plants
all that dwell on land all that dwell in sea
all that dwell in sky all that dwell between.
Different styles of breathing, different exhalations, different in what they take in. Their breath
fills everywhere, like an eclipse.
All colours are the lungs, throat
mouth
lips
gills
fronds
leaves. The beach, the ocean, the sky, the spine of rocks, a partial
eclipse.
---