Landscape artist Kerry Nobbs has been exhibiting at JahRoc Galleries for over 7 years and is admired for his realist oil paintings of our local scenes. Kerry does a road trip to WA from Queensland nearly every year to gather further inspiration and subject matter that he takes home and turns into stunning canvases.
With a painting career spanning over 33 years, Kerry's ability to capture our unique Australian light and record beautiful moments is recognised by his many collectors world wide.
Enjoy Getting to Know Kerry Nobbs …
When did you first feel the desire to be artistic and realise you had talent?
My earliest memory is drawing at around the age of eight. I was always influenced by my surroundings and current interests. I started with pencils and moved on to acrylics and eventually oils. It was my Art teacher in High School who actually said I could make a living out of my art
Where did you learn your art?
I never had a formal lesson. I just did the normal art classes provided at High School. I developed by looking at other artist works including the early Australian Artists like Streeton, Roberts and Gruner.
What inspires you most?
I draw inspiration from the general landscape, particularly where atmosphere and light play an important part.
What message are you sending to the viewer of your art?
I try to let the viewer discover a path into my work and let them just get lost in the image so they can forget about their stresses in the day. Not everyone can get away for a few days to recharge so I hope they can sit in front of my painting at the end of the day and let their mind relax.
Describe your studio…
I paint in the corner of our lounge room. I have all my reference photos around me and either the radio or TV on in the background. The good thing is the kitchen isn't far away!
Describe your typical day of creating art ..
While I have breakfast I look at the painting I'm working on or the canvas I'm about to start. From there I gather my thoughts and work out what needs to be changed or adjusted. Each day depends on what else I have planned for the day. Sometimes I'll paint all day with just breaks for the occasional cuppa and meals. Other days I might only get a few hours in after dinner. Most days I'll paint.
What mediums do you use and why?
Oil Paints. I've used oils for most of my life. I guess in my mind oil paintings are more traditional and I prefer wet on wet application.
What are you working on now?
Another seascape at the moment but I've been collecting subjects for a possible sky series as well.
What are your recent career achievements you feel proud of?
I'm proud that I have made a living from my art without having to teach or do workshops.
What do you love most about what you do?
I love the freedom of working when I feel like working. I love travelling to visit new places, to get more inspiration for new works. But painting isn't just my profession, it is my passion too.
Where can you see yourself in 10 years time?
Painting and travelling as usual, as long as I can.
Kerry Nobbs Image Gallery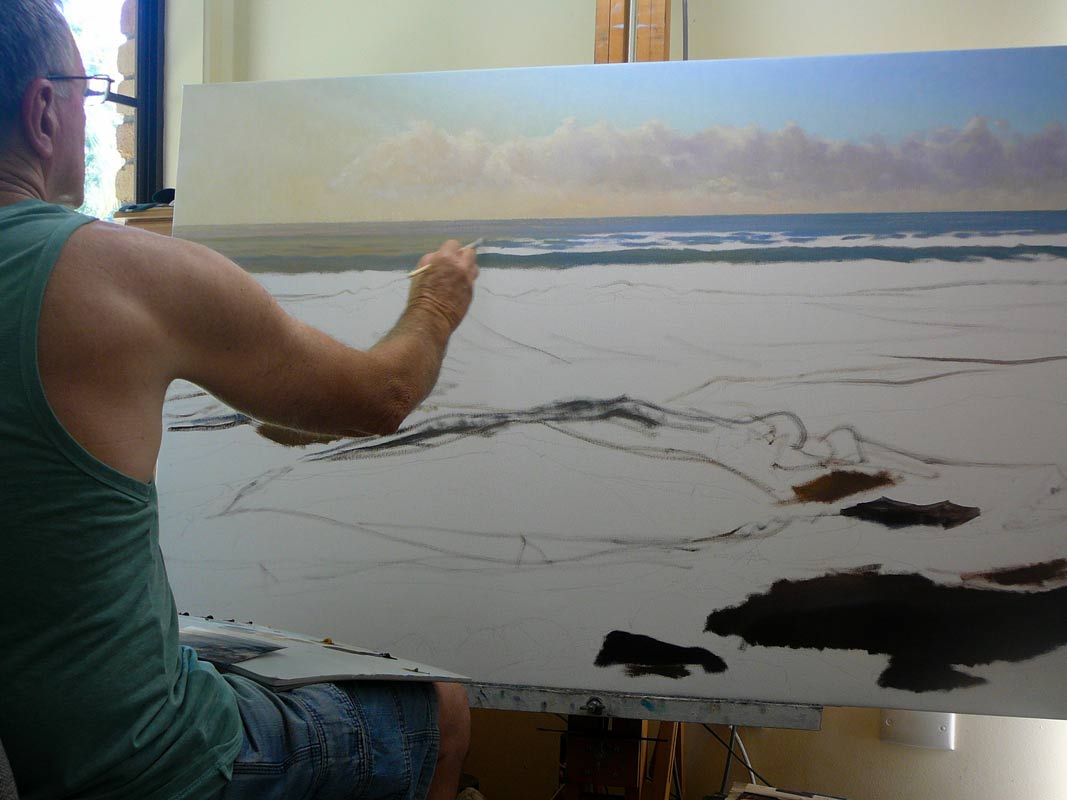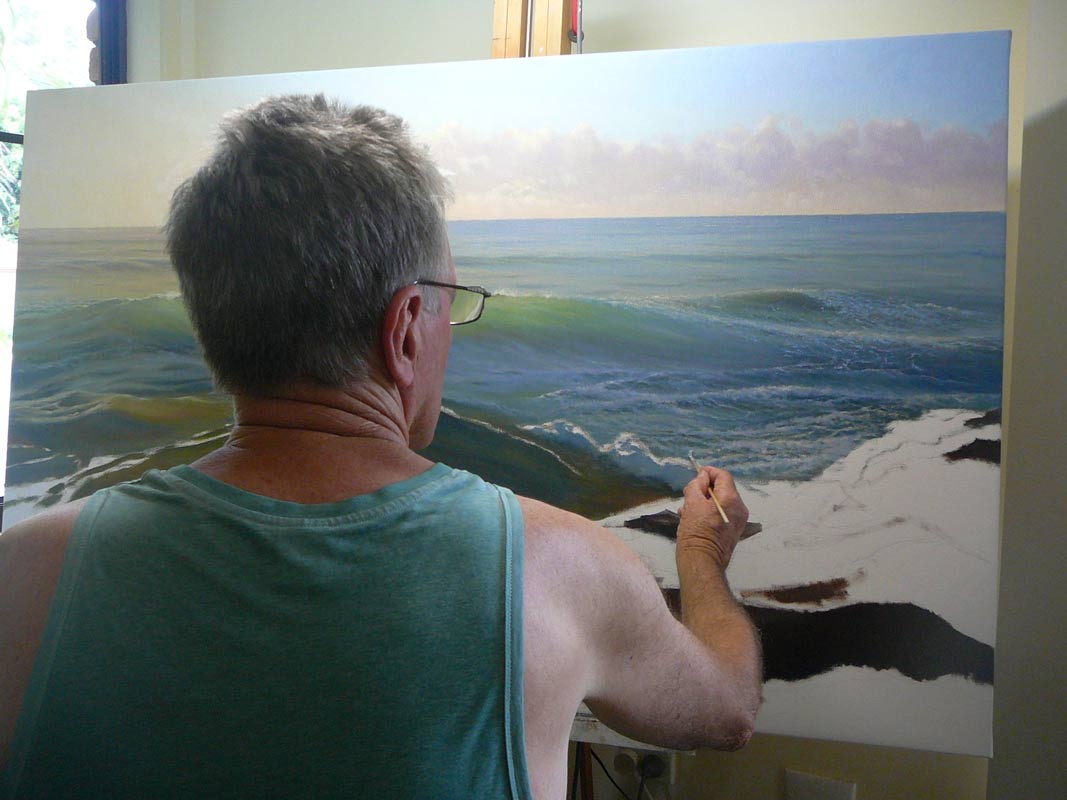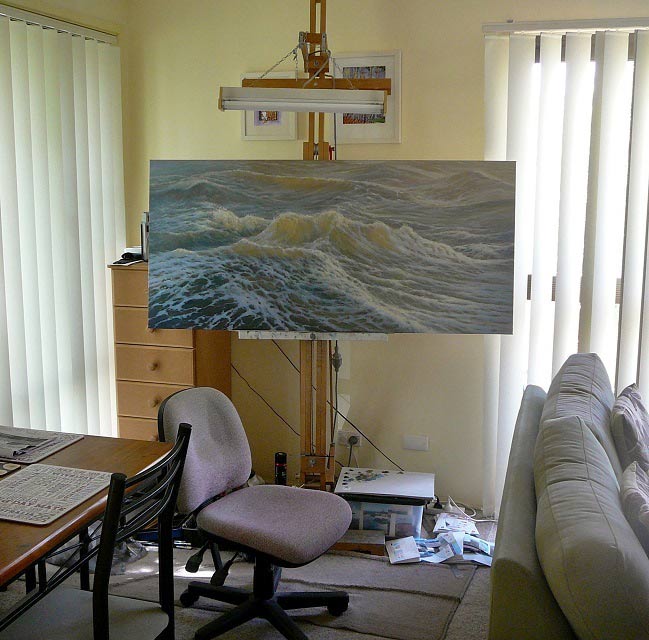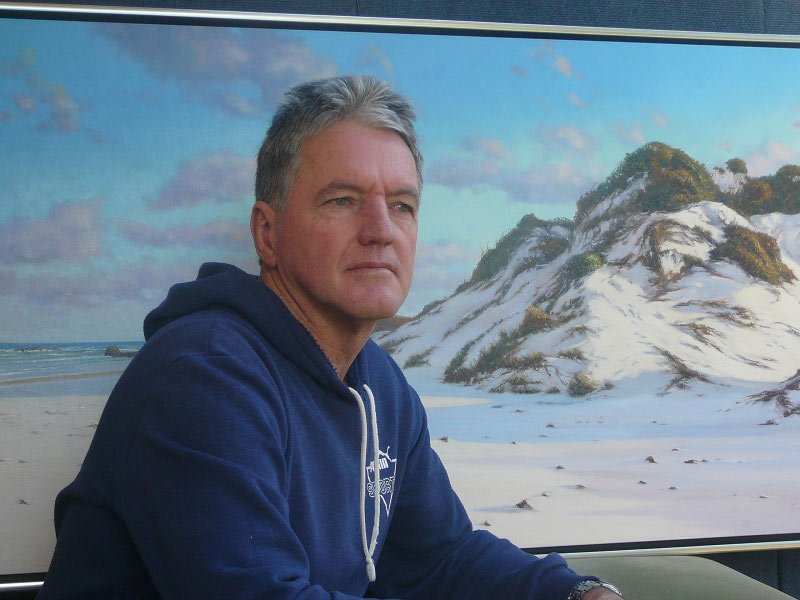 Kerry Nobbs Artworks – All Sold
---
Kerry Nobbs – CV Artist Biography
Kerry Nobbs – Artist – Paintings
Kerry Nobbs paints rugged mountain ranges and remote coastlines across our wonderful continent. Light and atmosphere are an important feature in his works. Kerry has won many awards and his paintings feature in collections world wide. "I fell in love with the pristine coast lines of Western Australia on my first visit in the year 2000 and have returned every year since in search of new subjects, especially in the South West. By combining my love of light and atmosphere with the secluded beaches, it has inspired me to produce this current collection of paintings. I hope you enjoy them"
Kerry Nobbs – Artist Biography
Kerry Nobbs was Born in Brisbane in 1952 and grew up in the Tweed – Gold Coast regions. He is a self taught artist who painted many regional murals in his early career. Kerry Nobbs has been professionally painting in oils since 1984, painting traditional landscapes and seascapes in which light and atmosphere are an important feature. Rugged mountain ranges, remote valleys and especially rocky, deserted and pristine ocean areas are my main source of inspiration. Kerry has won many awards in his career, and his paintings feature in collections world wide.
Awards & Commissions
1984-10 Various Acquisition Prizes and Highly Commended
1984 Nerang Art Prize
1985 Trinity Lutheran Art Prize
1985 Tweed Valley Art Festival Art Prize
1985 Marymount Art Prize
1990 – 91 Commissioned by G.C.C.C. to paint 3 historical Paintings of selected electorates
1991 St Kevin's of Benowa Art Prize
1991 St Hilda's Art Prize Acquisition
1992 Currumbin Festival Art Prize
1993 Currumbin Festival Art Prize
1994 Anglican Church Art Prize
1995 Currumbin Festival Art Prize
1995 Invitation-Tattersalls Landscape Prize
1996 Currumbin Festival Art Prize-Open
1996 Invitation-Tattersalls Landscape Prize
1997 Tweed Valley Art Prize
1997 Currumbin Festival Art Prize
1997 Invitation-Tattersalls L/scape Prize
1998 Tweed Valley Art Prize – Open
1998 Invitation-Tattersalls L/scape Prize
1999 Commissioned by Bradford Exchange to paint 6 Aust. Icon landscapes for plates
1999 The Pines Shopping Centre Exhibition
1999 Australian Red Cross Art Comp.
1999 Palm Beach School Art Festival
2001 Pines Shopping Centre Exhibition
Group Exhibitions
1984 Eight person exhibition – Through the Eyes of Artists – Gold Coast Council Chambers
1986 Two person exhibition – Shubert Gallery – Gold Coast
1987 Three person exhibition – Visions Gallery – Gold Coast
1988 Three person exhibition – Galloway Gallery – Brisbane
1988 Mixed exhibition – Gallery Nino Tucci – Gold Coast
1993 Two person exhibition – Galloway Gallery – Brisbane
1995 Eight person exhibition – Crafters Gallery – Mt Tamborine
1996 Two person exhibition – Paradise Point Gallery – Gold Coast
Solo Exhibitions
1988 Gallery Nino Tucci – Gold Coast 1990 Griffith Park Gallery – Tweed Valley
1992 Galloway Gallery – Brisbane 1992 Riverina Gallery – Wagga
1992 Crafters Gallery – Mt Tamborine 1993 F.O.L. – Noumea
1993 Galloway Gallery – Brisbane 1994 Cadrin Gallery – Noumea
2006 Bruce Watling Galleries – Brisbane 2007 Linton & Kay Fine Art Gallery – Subiaco
2007 Linton & Kay Fine Art Gallery – Subiaco
2012 JahRoc Galleries – Margaret River WA
2013 JahRoc Galleries – Dunes and Sea
2018 JahRoc Galleries – Spirit of the Ocean – Margaret RIver WA
REPRESENTED
Gold Coast City Council Tweed Shire Council
Various School Collections Various Corporate Collections
Private Collections (Australia, Britain, Canada, Costa Rica, France, Greece, Hong Kong, Japan, New Caledonia, New Zealand, and USA)

JahRoc Galleries currently have no Kerry Nobbs painting for sale.