Margaret River Artist Kay Gibson tells us all about her life as an artist. In this feature we are getting to know how it all began for Kay's artistic journey and what lays ahead.
Stunning paintings of the beautiful and unique birdlife of the South West by Kay Gibson, Margaret River will be on show at JahRoc Galleries on the 18th November for Kay's 2014 solo exhibition titled "A Brush With Birds".
Read the below and find out what inspires Kay Gibson to create…

Enjoy Getting to know….Kay Gibson
When did you first feel the desire to be artistic and realise you had talent?
My grandfather, who lived just down the road from us, would always draw with me and I remember how well he drew animals and from there the love of art and nature stayed with me.
Where did you learn your art?
When I left high school I enrolled in Graphic Design at James Street Technical College where there was a lot of practical tuition from the lecturers who were well respected practicing artists. As a fifteen year old student I thought the atmosphere was very bohemian with a lot of art being produced. Many years later I completed a Visual Arts degree at Edith Cowan University and began art lecturing for the South West Institute of TAFE.
What inspires you most?
The natural environment has always inspired me the most. I also love travel with the opportunity to view different artworks, cultures and environments.
What message are you sending to the viewer of your art?
My art aims to celebrate the natural world and in a way to advocate for its importance and preservation.
Describe your studio…
My studio is a 15 minute drive from my home in Margaret River. It is a large insulated shed in the Light Industrial Area in Cowaramup where it is surprisingly quiet. It has plenty of light and space allowing me to spread out and work on a number of pieces at once. I have two large tables on wheels, a fantastic etching press and plenty of wall space to surround myself with my work.
Describe your typical day of creating art…
I like to arrive around 8.30am and put on a coffee, pack my lunch into the fridge, turn on the radio and the laptop and think about the work I will do for the day.
I have a good collection of reference books, particularly on natural history and art and when I am working these get strewn over my coffee table. I will either prepare some paper to work on or begin drawing and painting.
I have usually thought about what I will do in the studio the day before and I may make some sketches to plan a composition or visualize an idea. I also have sketchbooks from field trips to refresh my memory and photographs on my laptop. If I need to emboss some paper I will drive down the road and collect some plant material from the bush to run through the etching press.
I have got into the practice of leaving the studio ready so that I can start where I left off the day before. If I have deadlines to meet my day may finish at 6pm.
What mediums do you use and why?
My art is a combination of drawing, painting and printmaking. I try to match my materials with my subject. All my current work is on paper which I sometimes emboss with endemic plants and use a 'fumage' technique to create the image, mostly of birds. The imprint of the plant and the smoking of the paper relates to fire and regeneration, a constant process in the environment. I have been using a combination of traditional and contemporary etching methods on zinc plates. The resulting prints incorporate old maps that relate to the birds habitats.
What are you working on now?
I am currently putting in a lot of time working toward an exhibition that depicts some of my favourite birds of the south west of WA. The exhibition 'A Brush with Birds' includes etched bird portraits on old maps, paintings on paper and drawings on embossed paper using fumage,a smoking technique. Some of the works are narrative and include memories that indirectly reflect the influences in my childhood that led to my love of nature. My mother, who was passionate about the natural environment and my uncle, who was Curator of vertebrates at the WA Museum, were instrumental in fostering this love. I have printed etched images of cockatoos, ravens, magpies and others onto pages from a 60 year old atlas (it was falling apart) that belonged to my uncle. Other works include special objects of my mother's that have been passed down to me. The images float on backgrounds that incorporate prints of endemic flora and colours of the natural environment.
What do you love most about what you do?
I love the fact that I need to experience nature in order to make my works and I also love the challenge of finding ways to represent my subjects through the techniques I use.
Where can you see yourself in 10 years time?
I can see myself still making art and creating it in different ways.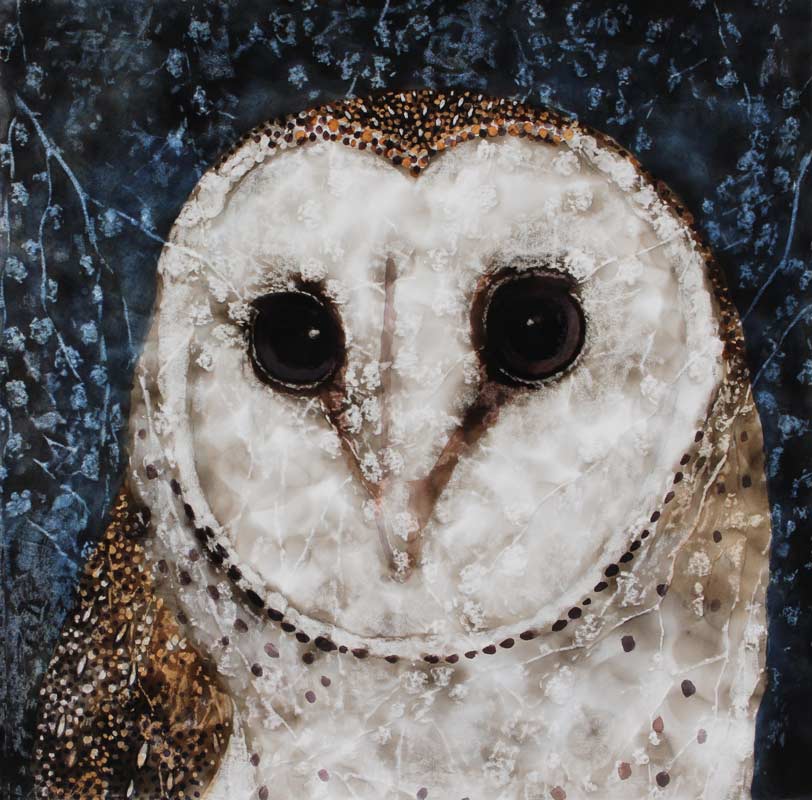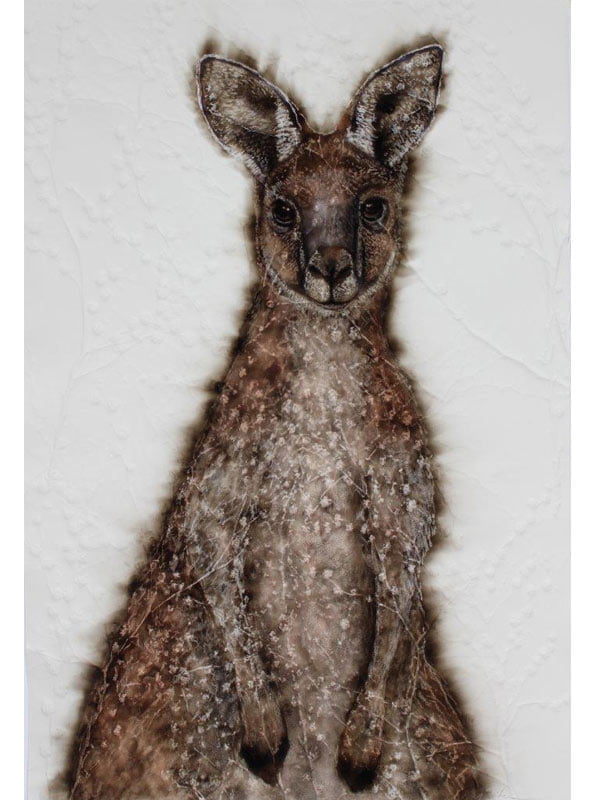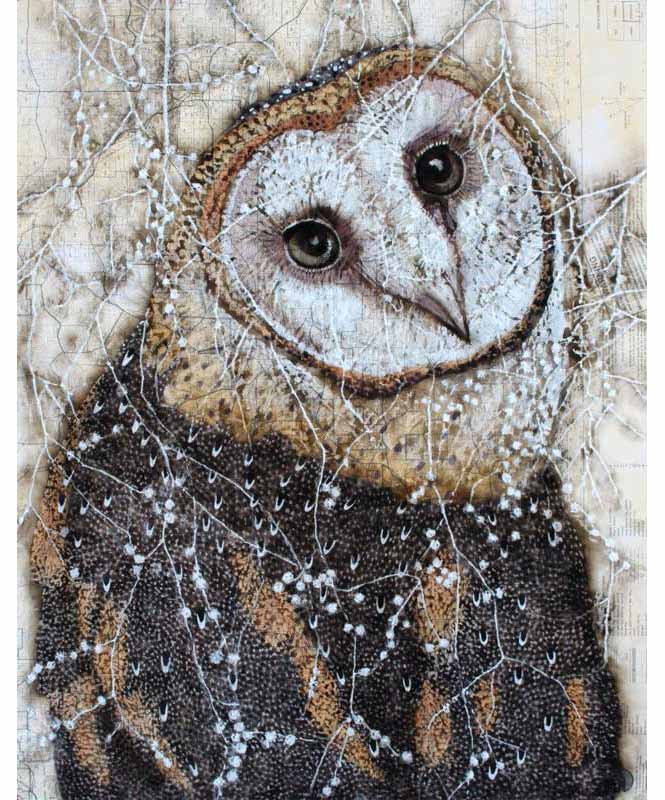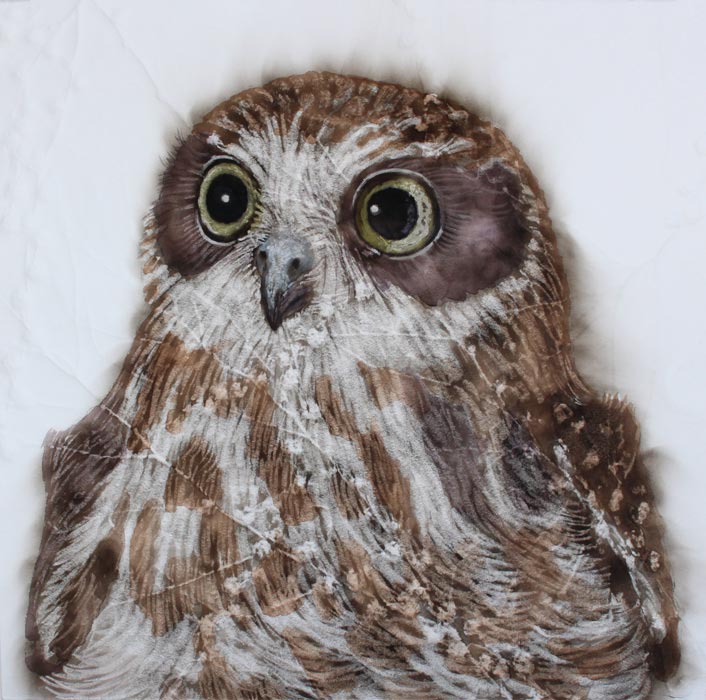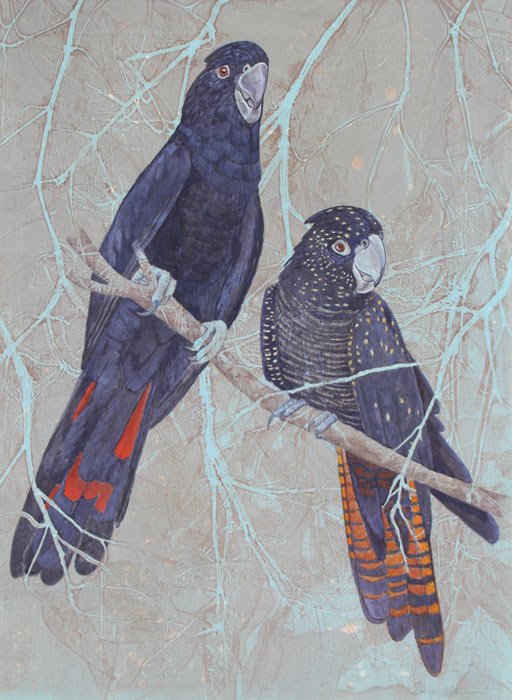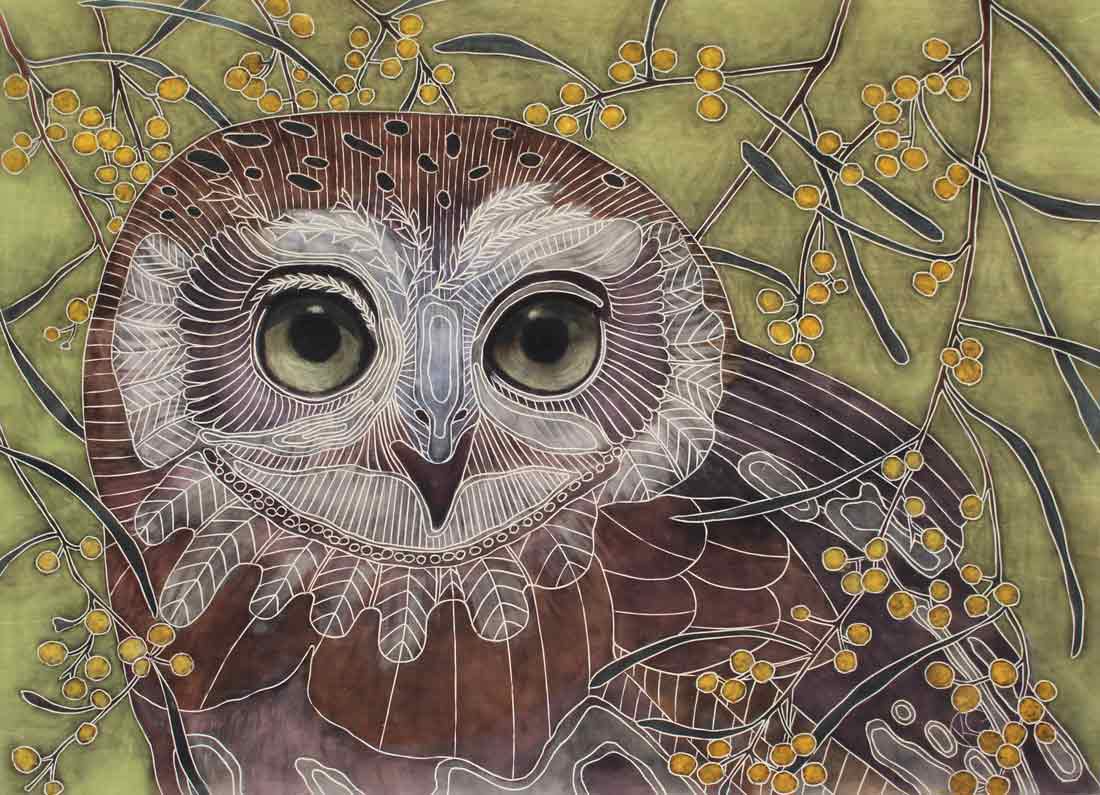 JahRoc Galleries currently have no Kay Gibson paintings for sale