Katie Gordon's hyper realistic still life drawings are spectacular in their vibrancy and delivery. Using Prismalcolor wax pencils and black pigment ink Katie captures the intricacy of rose petals, the lustre of leaves and the play of light on the subject.
Her work is meticulously produced requiring much time and dedication to create. With a strong desire to produce work that is both beautiful and meaningful with lasting appeal, emerging artist Katie Gordon is on her path of a long artistic career!
Enjoy Getting to Know Katie Gordon…
When did you first feel the desire to be artistic and realise you had talent?
I grew up in a creative family; both mum and dad love photography and my aunty is an artist (I have some fond childhood memories of painting with her beneath the huge mulberry tree in her backyard). My parents enrolled me in a high school with a strong arts program when we moved to Perth from Zimbabwe, and as my creativity was nurtured and encouraged, I found myself winning the school art awards each year. After graduation I undertook some commercial mural painting and studied Theatre Design for a year at WAAPA before going down the route of a career in accounting (I enjoyed maths almost as equally as art) before finally coming back to my long held dream of being a full time artist.
Where did you learn your art?
Having never studied a Fine Art degree at university, most of what I've learned has come from things I picked up in high school and in my year studying design at WAAPA, as well as from teaching myself.
What inspires you most?
I am a true 'homebody' so time spent pottering around in my garden as well as in the kitchen baking and cooking, is always refreshing and a constant source of inspiration for my work. I also love flower arranging, treasure hunting in second-hand stores, taking long walks with my dog Charlie, and movie nights at home with my husband.
What message are you sending to the viewer of your art?
I hope my work speaks to the viewer about my passion for life's seemingly simple pleasures, and encourages a certain slowing down and an absorbing of the details and the beauty surrounding us.
Describe your studio…
I am fortunate to have a large studio at home, attached to the house but with it's own separate entry. It has beautiful light in the afternoons and a lovely high-pitched ceiling. I painted the back wall a deep black so that it would act as the perfect backdrop to the reference photos I take for my drawings. The rest of the room is a crisp white and filled with re-purposed furniture that I've sourced and painted myself. I am a bit of a neat freak and try to keep the space as tidy and organised as possible. I find I don't work very well if I'm surrounded by clutter!
Describe your typical day of creating art…
Ha! I've found that I rarely have a typical day as an artist. At first this was a source of constant frustration for me, as I was previously an accountant and therefore routine was what I was most familiar with. But when it comes to creating art, I've been learning to embrace the freedom of no two days necessarily being the same. My time is mostly split between sourcing subject matter (flowers or pretty objects), taking reference photos, completing drawings, tidying the studio, replying to emails, updating my blog and social media, running workshops, and also working at the local art gallery as their gallery coordinator.
What mediums do you use and why?
I use black pigment ink pen for the dark backgrounds in my work, and Prismacolor Premiere wax pencils for the subject matter itself. The pens are archival (waterproof and lightfast) and they create a lovely intense black, but also have a very slight shimmery quality. When applied in a swirling pattern, they give a beautiful texture that is more captivating and magical than plain black. The Prismacolor pencils have a velvety waxiness and allow for the layering and blending of multiple colours to achieve an exact shade. This is obviously an essential element in photo-realism where colour and detail needs to be captured perfectly. I love the practical nature of pencils; the ability to get to work with no set up or pack down time is extremely useful. The contrast of the soft pencil against the black pen is punchy and attention grabbing and is my own contemporary take on the traditional work of the Dutch still life painters of the 17th century.
What are you working on now?
I'm excited to be expanding my subject matter beyond the realm of flowers, and have been collecting pretty vintage and antique items to include in my drawings. The piece I'm currently working on features a gorgeous copper plate from the 70's with a reflection of white orchids. I'm especially interested in capturing light and shadow in my future drawings, and will most likely be moving away from the black backgrounds to do so.
What are your recent career achievements you feel proud of?
To be honest, I'm really proud of the transition I undertook from a career as an accountant to that of an artist. It was incredibly challenging in a number of ways, and demanded spoonfuls of courage on a daily basis. Beyond that, in terms of my achievements as an artist, I think completing beautiful work is a continually satisfying and rewarding feeling. The other achievements (working in a gallery, selling through Jah Roc and The Block Shop, exhibiting at City of Joondalup's Urban Couture 2018 and Hale Fine Art, running successful workshops, becoming a committee member for the Mandorla Art Award) are certainly encouraging, but ultimately the work itself is the most gratifying component.
What do you love most about what you do?
I love the flexibility of working for myself and spending my time doing work that is meaningful to me, and that corresponds to my own personal values. I also love the people I've met along the way and the wonderful opportunities I've been given, that I couldn't have foreseen for myself when I first started out on this journey.
Where can you see yourself in 10 years time?
I hope to still be leading a quiet but meaningful life, producing work of value that brings joy and beauty to people's lives and of which I can be proud to say I produced. My husband and I are currently expecting our first baby, so in 10 years time I will most likely have at least a couple of children and be juggling life as a mum with time in the studio!
Katie Gordon Image Gallery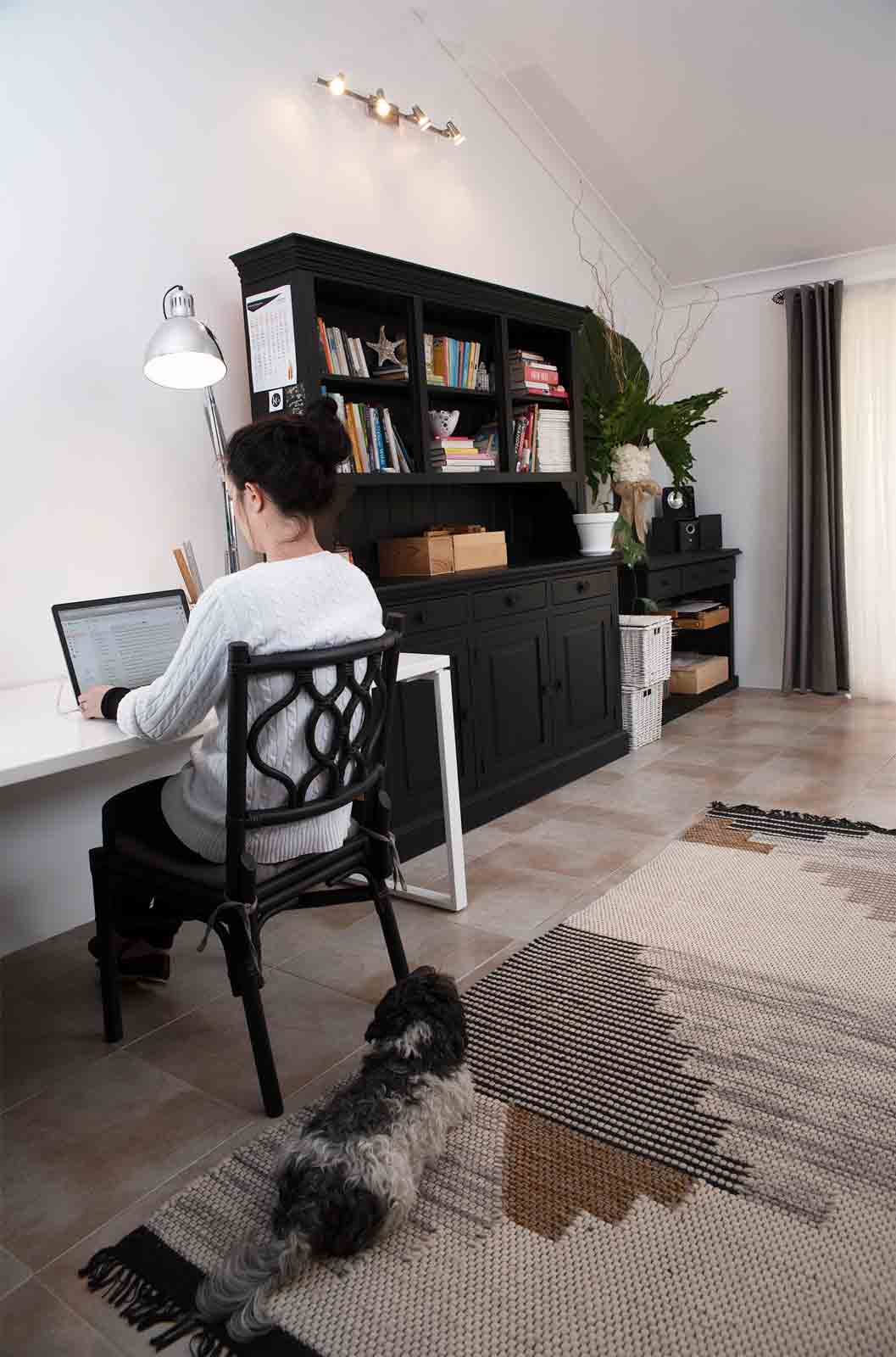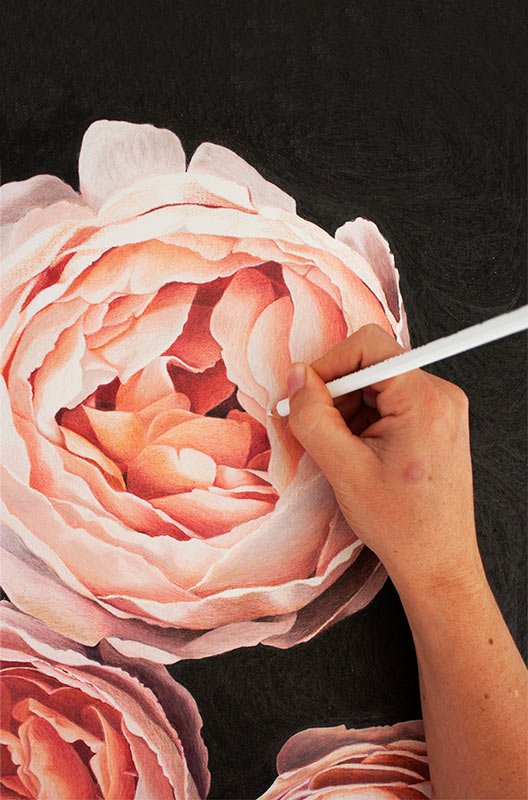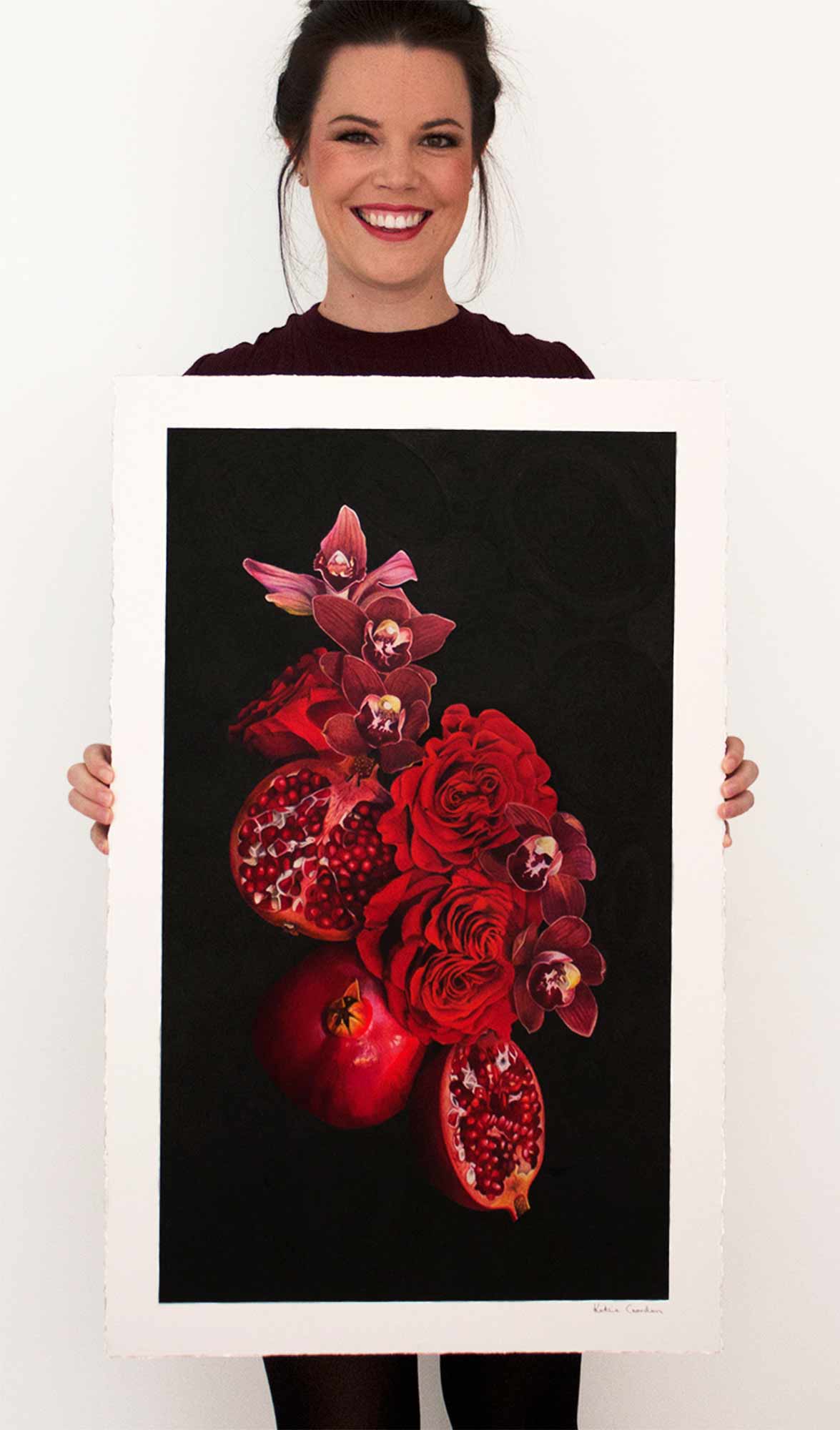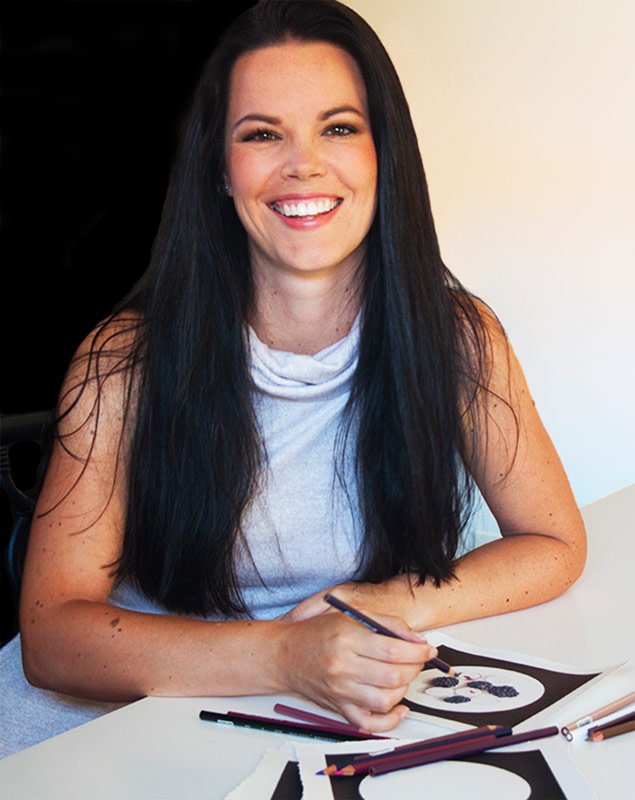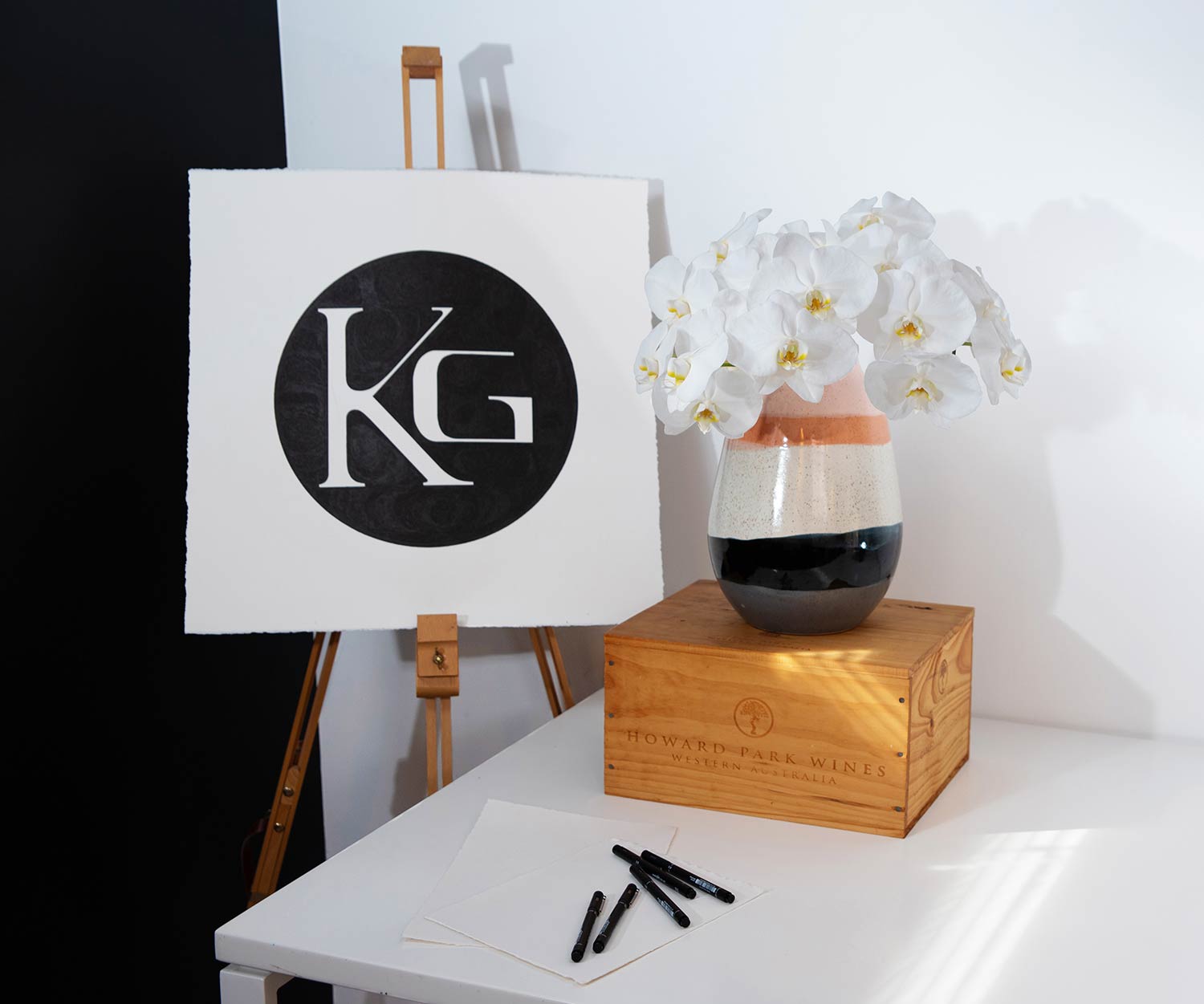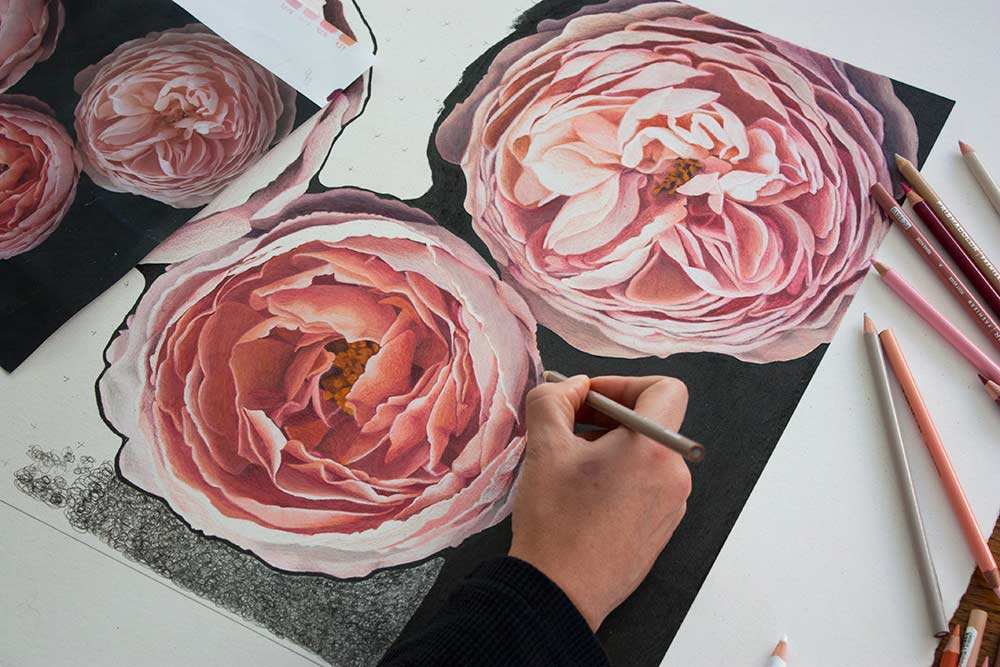 ---
Katie Gordon Artworks – all sold
---
Katie Gordon – CV Artist Biography
Born in 1989 and originally from a small farming town in Zimbabwe, Perth-based artist Katie Gordon creates stunning, photo-realistic coloured pencil drawings celebrating the beauty found in nature and life's everyday simple pleasures. With a love for art that blossomed throughout high school, alongside a tug towards more academic pursuits, Katie studied Theatre Design for a year at the West Australian Academy of Performing Arts in 2008, before enrolling in a Bachelor of Business. After graduation, she worked for three years as a Corporate Accountant, prior to taking a leap of faith and resigning from her job in 2016 to focus on combining her two passions for creativity and business.
Alongside her arts practice, Katie works part-time as Co-ordinator at Joondalup Art Gallery, affording her the opportunity for a hands-on role in supporting the local arts community.
EDUCATION
2018 (currently completing): Australia Online Courses: Advanced Certificate of Art Curator Studies
2009 – 2012: Edith Cowan University, Joondalup Campus: Bachelor of Business (Accounting)
2008: Western Australian Academy of Performing Arts: Advanced Diploma of Design for Live Production, Theatre and Events (Completed first year)
2002 – 2006: Carine Senior High School TER: 95.95
RELEVANT WORK HISTORY
March 2016 – Present: Self-employed Visual Artist: Katie Gordon Gallery Hyper-realistic still-life drawings
June & October 2017: Gallery Attendant for City of Joondalup
January 2017 – Present: Gallery Co-ordinator, Joondalup Art Gallery 4/48 Central Walk Joondalup, WA.
January 2013 – March 2016: Corporate Accountant, Nexia Perth, WA.
EXHIBITIONS:
2018: 'Our Land, Our Hands, Our Minds and Our Eyes' group exhibition for City of Joondalup Urban Couture (Invitational)
June 2017: City of Joondalup Community Art Exhibition
October 2017: City of Joondalup Community Invitation Art Award
JahRoc Galleries currently have no Katie Gordon painting for sale.