Australian Glass Artist Erin Conron uses the simplicity of a perfect blown shape, then builds upon it creating layers and depth. Erin relates her finished pieces to the complexity of human life, the process of building layers upon layers which reflect memories and experiences in each individual. The result is contemplative, looking through the glass to hidden meanings and beauty.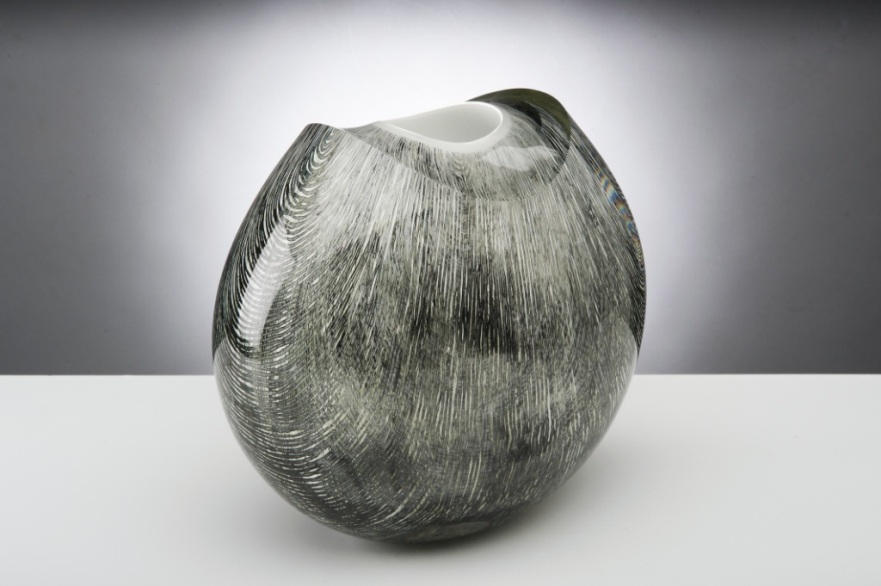 Artist Statement
I am interested in the way we are affected individually by common experiences. It is the similarities in life that ultimately result in creating our differences. Simple, daily experiences in life leave marks, traces and memories that accumulate within us to form and shape our complex identities. The development of my work has been a consideration of the collective and the personal, the interior and the exterior, seeking balance in the combination of elements. These ideas are reflected in my working process. Each piece is created over time through a series of steps, which unite to result in depth and complexity through the layering of simple linear pattern. The vehicle for expression in this work is the blown glass vessel, which acts as a canvas for the layering of linear pattern. The layered pattern evokes a lifetime of experiences and memories that have built up to shape the identity of an individual.
Curriculum Vitae
Education
2007 – 2008 Honours, Visual Arts, Glass Major, Canberra School of Art, ANU
2004 – 2007 Bachelor Visual Arts, Glass Major, Canberra School of Art, ANU
2003 Cert IV, Design Studies, Canberra Institute Technology
Selected Exhibitions
2011
The Waterhouse Natural History Art Prize, South Australian Museum and National Archives, ACT
Drink! Canberra Glassworks
Erin Conron and Linzie Ellis, M16 Artspace
Kaleidascope, Ausglass Conference Exhibition
2009
Limited Lines, Canberra Glassworks
Talente, Design Exhibition, Munich, Germany
2008
Salute IV: Sabbia's Stable, Sabbia Gallery
Canberra School of Art Graduating Student Exhibition, Canberra School of Art, ANU
Layer: Reflections on Place, Erin Conron and Ruth Oliphant, Canberra Glassworks
Ranamok Glass Prize, finalist, touring Australia
Mid Year Honours Grad Show, SofA Gallery, ANU
National Gallery of Australia, Emerging Artsist Award, representation in gallery retail space
Cowra Festival Art Awards, Cowra Regional Gallery
Open Slather, Ausglass Conference, SofA Gallery, ANU
2007
Canberra School of Art Graduating Student Exhibition, Canberra School of Art, ANU
Ceremonial Vessels for the Drinking of Water, in conjunction with ANU School of Art, Canberra City
Collections
Kaplan Ostergard Glass Collection, Palm Springs Art Museum, Palm Springs, CA, USA
Publications
2010 New Glass Review 31, Published by the Corning Museum of Glass, Corning New York.
2009 Talent 2009 Exhibition Catalogue, 2009, published in association with the International Crafts Fair in Munich, Germany.
Professional Positions, Awards and Activities
2011
Highly Commended, Waterhouse Natural History Art Prize.
State Representative for Ausglass, Australian Glass Artists Association.
2010
Selected Artist, New Glass Review, published by the Corning Museum of Glass, Corning, NY
State representative for Ausglass
Tutor, teaching assistant and studio assistant Canberra Glassworks
2009
Finalist, Talente, International Design Competition, Munich, Germany
Tutor, teaching assistant and studio assistant Canberra Glassworks
2008
Finalist, Ranamok Glass Prize, national touring exhibition throughout Australia.
Acquisition Award, Canberra School of Art Graduating Exhibition.
Kugler Award for Innovation at Ausglass Conference Exhibition
Technical Assistant to Jessica Loughlin spring master class Transition: Idea to Object Canberra Glassworks,
Tutor, teaching assistant and studio assistant Canberra Glassworks
Co-ordinator Ausglass Conference Exhibition
2007
National Gallery of Australia Emerging Artist Award
Technical Assistant to Giles Bettison Canberra School of Art Summer Education Program

---
JahRoc Galleries currently have no Erin Conron Glass Art for Sale