JahRoc Galleries have been representing Larry Mitchell for over 20 years and over this time we have built a solid reputation as the gallery to go to for clients who are looking for a special piece by this renown artist.
Over the years Gary Bennett and David Paris of JahRoc Furniture have delivered numerous collaborative projects together with Larry Mitchell where they all travel to a region that they connect with, and from that exploration they produce a body of work that speaks of that region. The exhibitions of the resulting fine furniture and paintings are shown at JahRoc Galleries and are inevitably a sell out.
Larry Mitchell is passionate about the environment. His paintings are in effect a way for him to document our ocean areas and to watch for any changes. Larry also loves to travel, and he only paints scenery that he has a connection with. You can often find him in bare feet, and camera in hand, and taking in the world preferably in the company of only his special friends and family.
JahRoc Galleries have connected a huge amount of happy clients with Larry Mitchell when they have wanted a specific scene painted in a particular size. The process is seamless, and Larry inevitably delivers exactly what the client has requested, and in every case has exceeded their expectations.
Ask JahRoc Galleries today about commissioning a Larry Mitchell painting of your choice.
Scroll through an enormous collection of Larry Mitchell paintings all sold by JahRoc Galleries.
Rowley Shoals
Chicken Reef, Rottnest Island
Drysdale River, Kimberley

Hunter River, West Kimberley
Coronation Island, Abrolhos
Basile Island, Abrolhos
Abrolhos
Coming Into Westside, Abrolhos
Glass Out, Southern Group, Abrolhos
Basile Island, Abrolhos
Cable Beach, Broome
Off Varanus Island, Western Australia
Pilbara Islands 2, Western Australia
Pilbara Islands, Western Australia
Cenderawasih Bay, West Papua New Guinea
Raja Ampat, West Papua New Guinea
Kris Villiage, West Papua New Guinea
Tiny Island Bismark Sea, West Papua New Guinea
Eagle Bay Summer, Western Australia
Southern Group, Abrolhos
The Nook, Abrolhos
Sandy Island
Abrolhos
Wyadup Rocks
Cobblestones
Early Morning Road In
Injidup
Rivermouth Rockpools
South Of The Rivermouth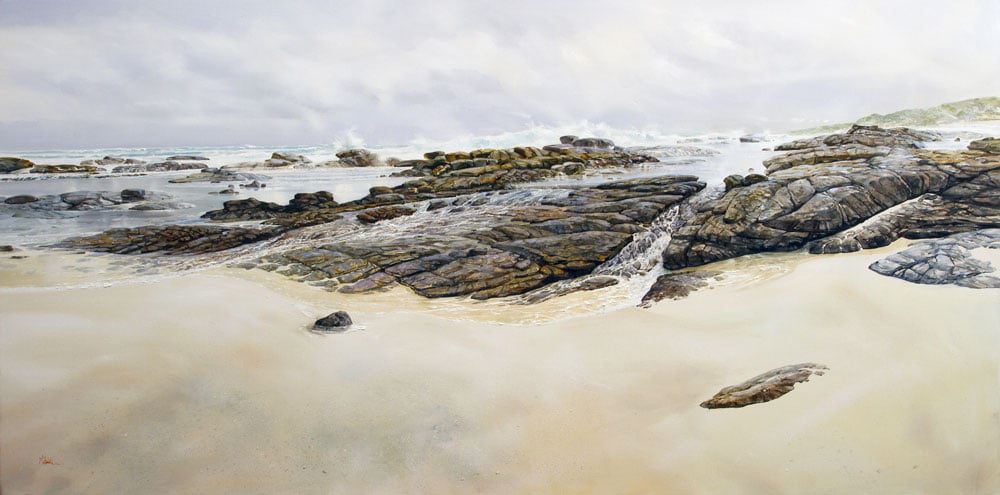 Buccaneer Archipeligo
Kimberley Coast
King George Falls

Mitchell Falls
Montgomery Reef
The Kimberley
Tide Line
West Kimberley Morning
Post Office Lagoon Outside, Abrolhos Islands
Little Rat Island, Abrolhos
Evening On The Reef
Burnett Island Lagoon
Post Office Lagoon Inside
Reefs Edge
Mangrove Island, Abrolhos
Morning On Big Rat, Abrolhos Islands
Light Side Jetty Abrolhos
Big Rat, Abrolhos