Hi Gary
Dimitry and I spent a relaxed day in York yesterday; a much needed respite from our home open preparations!
We enjoyed meeting Susan who is perfect for her job because she so obviously loves it and her enthusiasm is infectious.
She took great pride and pleasure in showing us the pieces that were sold and waiting to be shipped.
The sheoak table which positively shimmers was stunning.
We had never considered sheoak or marri until we saw some of your pieces.
The piece de resistance was uncovering our black butt kitchen work bench!
I had been uncertain if we should have ordered the entire piece with straight edges but when we saw how the edge softened the effect and looked natural and not black and plastic like so many you see on the market we were really pleased.
Both of us were impressed with the workmanship and your selection of timber for the top wood is beautiful.
The size is perfect.
We will have a very special piece of WA timber and skilled workmanship to display with pride in our home on Vancouver Island.
Many thanks for taking the time and effort to produce something unique, functional, aesthetically pleasing and meaningful.
p.s. There was a sheoak desk and coffee table at the gallery that are tempting us…as well as the chairs.
We'll talk it over asap and decide what to add.
We hope to get to Margaret River soon incase there is something there we should buy.
Thanks again, Gary!
Karen and Dimitry Markov, Vancouver Island, Canada, July 2006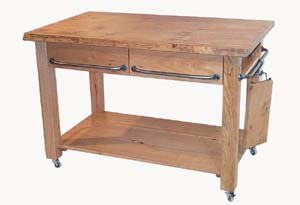 Large Kitchen Work Bench, custom made and delivered to Vancouver Island, Canada