Dear Gary and Lara,
Congratulations! You and your Company have given us form, art and function all in the shape and shades of the Margret River region. Our buffet unit, table and chairs, are truly magnificent.
Many thanks to you and your staff for the excellent products and service. Its not often that Companies go the whole way with customer care and satisfaction, but yours certainly has. We have recommended JahRoc to all our friends and business associates. On a personal level, thanks for allowing us the input into design, and understanding our special needs. We look forward to seeing you both soon.
By the way, when in Perth, just call in and have a glass of wine with us. Once again, thanks for making us something special.
Helene Molten and John Van den Akker, Perth WA, 2004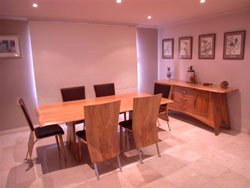 Spock Dining Table, Silhouette Dining Chairs and Spock Sideboard custom made and delivered to Perth, WA