CONGRATULATIONS TO JAH-ROC FURNITURE
We have just taken possession of our second piece of furniture from JAH-ROC and are absolutely thrilled and satisfied with our purchase.
We have followed JAH-ROC's progress throughout the years after first discovering them at a furniture exhibition at Ascot and then on the York when they took over the Old York Flour Mill. York has always been a favourite haunt of ours and we have never missed a visit to the Flour Mill to delight in JAH-ROC's latest designs as well as displays from other arts and craftsmen.
Being discerning purchasers of fine furniture, we found in JAH-ROC the quality and excellent workmanship we desired. We like especially JAH-ROC's use of recycled wood and the added touch of forged ironwork which suits our home ideally.
Our first purchase in 1995 consisted of the Murchison Dining Table made of timber from the old Chittering Bridge and Bunbury Jetty complete with benches. We can entertain at least 14 people at one sitting!! Now, to complete our "rustic" look, we have installed a bar, again from recycled wood and the added touch of "mini-orb" panels, and finished off with ironwork matching the table.
As mentioned previously, we are very thrilled with our choice of JAH-ROC furniture as we have never been able to find anything to compare in Perth with the design and quality of workmanship we demand.
Thank you, JAH-ROC for an excellent product. Keep up the good work, fellas. We will watch with enthusiasm your progress and will not hesitate to refer you to our family and friends.
Audrey and Lorenz Schibli, Mt Pleasant, Perth WA, 2003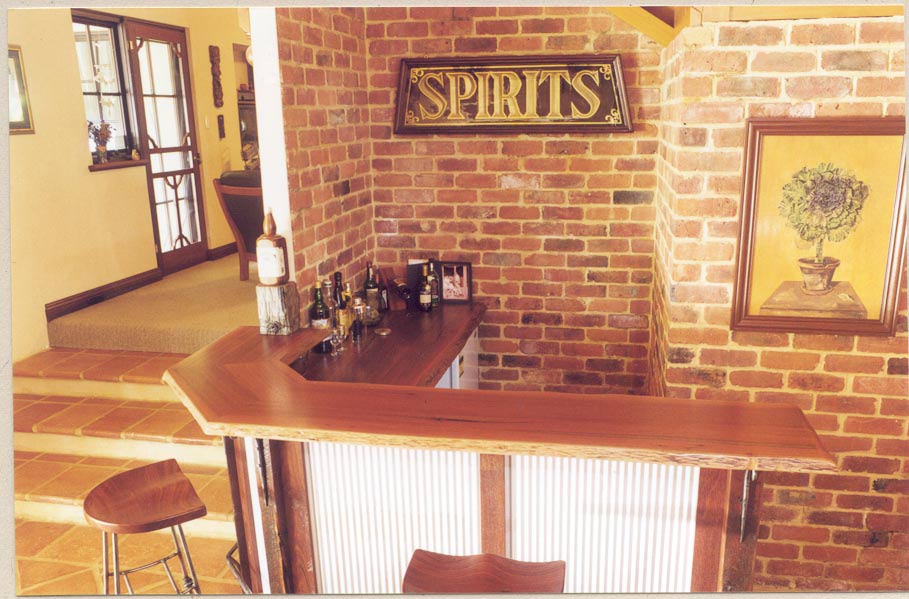 Jarrah timber and mini orb built in bar, custom made and delivered to Mt Pleasant, Perth, WA